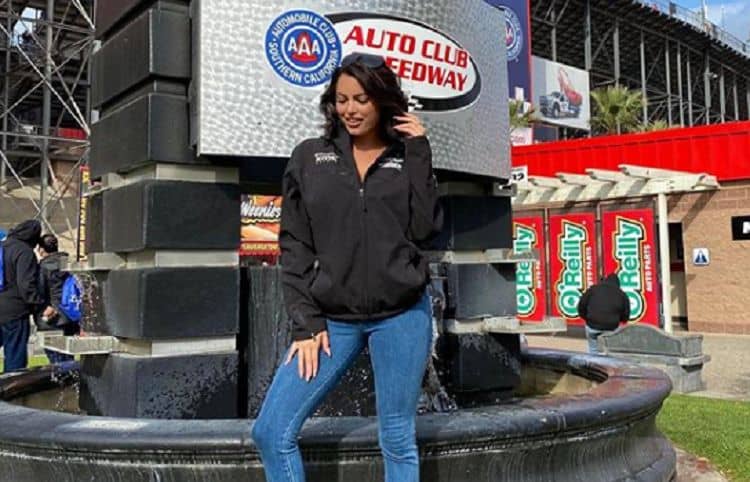 Constance Nunes is a former model turned mechanic from Los Angeles. She is best known for appearing on the Netflix show Car Masters: Rust To Riches. Here are ten things about her that you may not know.
1. She Is Of Portugese Descent
She was born and raised in Los Angeles, but she has Portuguese descent on her father's side. You can see some of her heritage in her tanned skin and dark hair. There have also been suggestions that the fact she grew up in a multicultural household meant that she became more inquisitive about the world around her. This may have led to her becoming interested in things such as car repair that are not traditionally seen as hobbies for girls.
2. She Became Interested In Cars Because Of Her Father
It was her father who first got her interested in cars. He used to work as a mechanic and when she was young she used to help him out in the garage. Her father also used to race cars and she attended some of these race meets alongside him. Her modelling career got started when she was spotted at one of these events, but she has always remained more interested in fixing cars. Modeling was something she was able to do to make money to fund her hobby.
3. She Is Married To Jared Toller
She married her boyfriend Jared Toller in 2019 after they had been engaged for about a year. Tires Meet Road reported that the couple did not follow tradition for their wedding. The color theme of the wedding was black instead of white and Constance even wore a black dress. Cars and motorbikes both featured very heavily in the wedding photographs. Jared tends to keep himself out of the spotlight but he does appear in several of her Instagram posts and the couple seem very happy together.
4. She Owns A 1964 Ford Mustang
She is the proud owner of a 1964 Ford Mustang that she calls Babystang. She has owned this car since she was sixteen years old and has worked on it constantly since this time to keep it in great condition. The car was originally a white color but Constance resprayed it so that it was darker. All of the parts that she uses in the car are original Ford parts and this means that the car remains as authentic as possible. Her favorite part of the car is the six cylinder engine and she works hard to keep this engine running as well as possible.
5. She Has Worked As A Stuntwoman
According to Hot Car, she has worked as stuntwoman on a number of films including Bring It On and Dodgeball. She also had a small role in the background of Dodgeball. She has never really had any ambitions to become an actress but she did have a lot of fun filming this movie. As well as starring in films she has also appeared in several commercials. Her appearances on Car Masters have all been as herself and this is the type of appearance that she prefers.
6. She Appeared In A Superbowl Commercial
If she were going to appear in any commercial at the Superbowl, it was always going to be one for cars. This is exactly what happened in 2016 when she starred in the commercial for Kia that was first aired during the game. The star of this advert was actor Christopher Walken and it would have been an experience for Constance to work with him on the commercial. This commercial aired before she began appearing on Car Masters and so it is not likely that many people would have recognized her at the time.
7. She Usually Takes Up Two Parking Spaces
She confesses that when she is out and about in her Mustang that she will park over two spaces if there is enough room. This is because she believes that a lot of people in Los Angeles don't respect classic cars. She does not want to risk her car becoming damaged because other people swing their doors open too wide. She has also spoken out about the bad driving that she sees in LA on a regular basis. She even joked that she was considering starting her own driving school so that she could teach people how to drive properly.
8. She Has A Dog Named Buff
She has a dog named Buff that she shares photos of with her fans on Instagram. It is clear from these photos that he is an important part of her life and that she loves him very much. Buff joins in with all the celebrations that Constance and her husband take part in such as Christmas, Halloween and vacations. Constance took Buff on a vacation into mountains where they both experienced playing in snow for the first time.
9. She Likes To Treat Herself With Cheat Food
Constance likes to keep herself fit and healthy, but that does not mean that she does not enjoy some cheat food every now and again. She told Maxim that she sometimes makes excuses not to go out so that she can stay home and eat unhealthy food. This is not something that she does on a regular basis, but every now and again she does decide to treat herself to things that she would not normally eat.
10. She Is Proud To Be The Only Female Mechanic On Car Masters
She is the only female mechanic on Car Masters and this is something that she is very proud of. She likes to make it clear to people that she has earned her role as part of the Car Masters team because of her talent with cars rather than her looks. The team that Mark Towle put together are all experts in car restoration and this includes Constance as well. She has been working in the car industry for many years and this has always been her great passion.