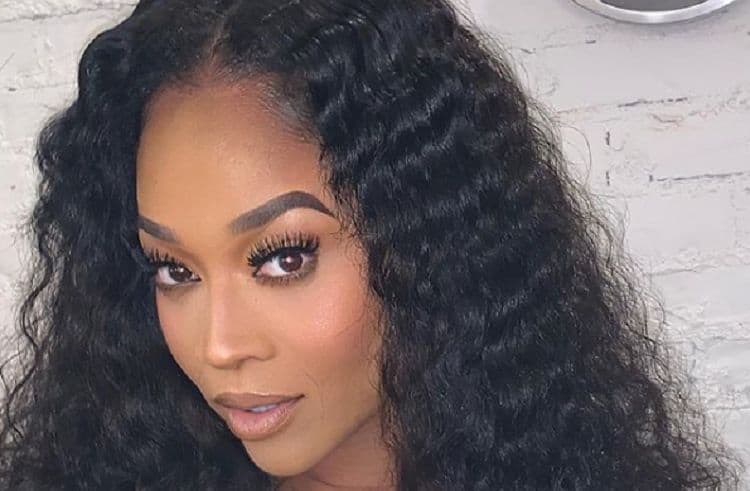 One thing you can say about Mimi Faust is that she didn't have the easiest time when it came to being a young woman since her mother chose her religion over her and showed her early on that if she wanted something in this world she would have to work for it. Being that she was still a teenager and still very young though it would seem that Mimi had to do just about anything to make it in the world since few if any people were bound to help her at first. Since that time however she's forged ahead and made something of her life as she's seen fit. While she has made some mistakes in the past it's fair to say that she's come a long, long way from where she started and has learned how to handle herself as a celebrity and a successful businesswoman that knows how to get things done.
Here are a few things about Mimi you might not have known.
10. She didn't meet her biological father until she was 16.
Mimi was raised believing another man was her father for a long while until she finally met her biological father when she was sixteen years old. After developing a relationship with him she ended up taking his last name. He passed away in 2014.
9. Mimi was raised in Scientology.
She was raised in the religion by her mother and the church they belonged to. Unfortunately when she turned 13 they kicked her out since apparently she didn't sign a contract saying that she would contribute to the church and they thought she was being a freeloader. Imagine being turned out of a place you though was home at the age of 13 and having your own mother turn her back on you.
8. She did endure a scandal with a sex tape.
Khalea Underwood from US was one of those that reported on the fact that Mimi revealed that a sex tape that she'd earned $30,000 for and had 'accidentally' misplaced was in fact staged. Some folks had an issue with this but a lot just shook their heads and let it go.
7. Mimi has been featured in a few music videos.
She's managed to get in on a few videos with a few very famous musicians, thereby kind of solidifying her place just a bit more in stardom. It's kind of hard whether to know whether to be impressed by her at times or when to just shake your head and move on.
6. She's starred on Love & Hip Hop: Atlanta.
If you're a fan of the show then you've seen her quite often since she happens to be one of the biggest stars. This, like so many other reality shows however, is just one more in a long line that seems poised to show real life in a way that's anything but.
5. Mimi is very prominent on social media.
She does have over three million followers and it's not too surprising since a lot of her life seems to be centered around drama of one sort or another be it for good or ill. People are going to gravitate around drama most of the time since it takes them away from their own life and lets them experience another person's for a short time.
4. She's been having financial issues over the years.
Paying your taxes is still necessary when you're a celebrity and she seems to be one of those folks that's forgotten that fact. Just because you're a popular and well known celebrity doesn't mean you get to skimp out on what you owe the government, and it would appear that, according to Ryan Naumann from Blast that she's ended up owing the federal government well into the hundreds of thousands of dollars in taxes.
3. There's been some controversy as to whether she was hot at during a home invasion.
Fans have been throwing a lot of suspicion at the plot holes that seem to have risen in her explanation of a home invasion in which she was shot at, and the fact that she's changed the narrative just slightly seems to have made it worse. Fans will likely have a lot of concern for those that tell the truth, but if it becomes a story then they tend to take that rather personally.
2. She's been in a lesbian relationship since 2016.
Mimi has kept this relationship away from the show largely because she doesn't trust that it would survive the experience of being brought into light on LHHA since she tends to think that relationships, of hers at least, don't last too long when they're put out in the open for people to see.
1. Her net worth is around $2.5 million.
This isn't too bad for a woman that came from the ground up to be honest. Considering where and how she started it's actually rather impressive.
Like her or not, she's become one of the more prominent members of reality TV over the years.
Tell us what's wrong with this post? How could we improve it? :)
Let us improve this post!