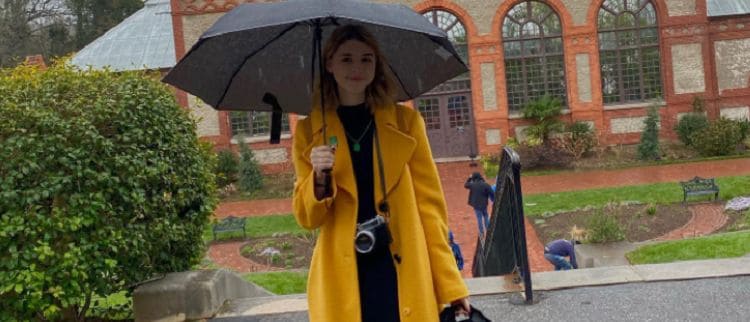 Callie Haverda has been leaving fans impressed since making her on-screen debut in the 2015 film The Adventures of Pepper and Paula. Even though she is only 15 years old, Callie has shown that she has what it takes to be one of the biggest actors of her generation. Now, she's getting another major opportunity to share her talents with the world thanks to the upcoming Netflix sitcom That 90s Show. Although the show's release date hasn't been revealed yet, fans of That 70s Show are really looking forward to seeing what this spin-off has in store. If the show turns out to be a success, it could lead to great things for Callie. Continue reading to learn 10 things you didn't know about Callie Haverda.
1. She's a Texas Native
Throughout her career, Callie has remained very quiet when it comes to the details of her personal life. As a result, there isn't much known about her outside of her work. However, we do know that she was born and raised in the Austin, TX area. It's unclear if she still lives in Texas or has relocated to Los Angeles.
2. She's A Cat Person
Sorry to all of the dog lovers out there, but there's evidence on Callie's Instagram profile to suggest that she's more of a cat person. However, that doesn't necessarily mean that she doesn't have love for dogs, too. That said, it's unclear whether she has a pet of her own.
3. She Likes Fashion
As a creative person, it goes without saying that self-expression is very important to Callie. However, acting isn't the only way she likes to do that. She also has a good eye for fashion and she likes to share her personality through her clothing. She also isn't afraid to switch things up every once in a while.
4. She's Worked With Some Major Brands
At this point in her career, most people know Callie for her film and TV work. However, commercials have also been a really big part of her career. She has been in more than 20 commercials and she has gotten to work with some very well-known brands along the way including Hyundai, Kentucky Fried Chicken, and Shutterfly.
5. She Has Theater Experience
Building a successful on-screen career is the goal for most actors due to the compensation and recognition. However, the stage is where many actors fall in love with acting. Callie is no exception. She has been a part of several plays over the years and those opportunities allowed her to sharpen her acting skills.
6. She Loves Horrors/Thrillers
Every actor has a genre that they prefer. For Callie, that genre is horror. In an interview with Texas Lifestyle Magazine, Callie said, "I mostly prefer to work on horror/thrillers. A very hard scene for me was a scene in the TV show, Shut Eye. I was with Isabella Rossellini and Havana Guppy who play my grandmother and sister, and we had just found our house burned to a crisp. The scene was especially challenging because our 'house' was just a huge green screen. So all of our emotions were made while staring at a big screen in a parking lot!"
7. She's a Writer
Acting has been Callie's top priority for most of her life, but she also enjoys writing. In fact, writing is one of her favorite ways to spend her free time. Unfortunately, we were able to find any details on what kinds of things she likes to write, but maybe we'll see her do some screenwriting in the future.
8. She Likes Ventriloquism
Are you a fan of puppets? If so, you and Callie have something in common. Callie told Texas Lifestyle Magazine, "I do enjoy ventriloquism, [although] it's just a side hobby of mine. I have these little puppet animals including a mouse that my brother and I used to make videos with, trying out our ventriloquist skills".
9. She Has Advice for Up and Coming Actors
Callie may be young, but she already has a good idea of what it takes to be successful in the entertainment industry. When asked if she had any advice, she told Texas Lifestyle Magazine, "The business can be very tough. and you are really challenged when you're an actor. But just keep pushing forward because something will come, and even though there are so many people auditioning for the same thing there is only one you, and if it's right it will work out."
10. She's Had Formal Acting Training
There are some actors who go through their entire careers without studying acting in a formal setting. However, Callie isn't one of them. She has studied acting quite a bit over the years. Some of the places she's studied Marnie Cooper's School of Acting and Talent House Academy.
Tell us what's wrong with this post? How could we improve it? :)
Let us improve this post!