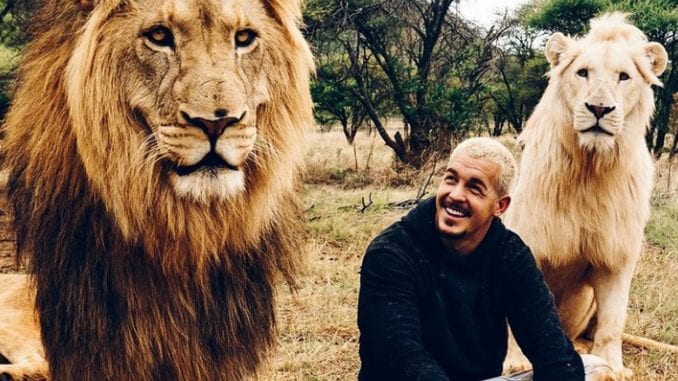 Disney fans and anyone not living under a rock their entire life knows the Lion King. It's a sad one – but aren't all Disney movies sad being that no one ever has parents? However, we imagine that you might not know much about the other Lion King. He's a man called Dean Schneider by those who know him best, and he's an online internet sensation who has a thing for big, wild, dangerous animals. He's been in the press more than a few times over this animal antics, and the world wants to know how this guy has become such a Lion King.
1. He's Young
When you realize all that Dean Schneider has accomplished in his life, you might assume he's a lot older than he really is. The truth of the matter, though, is that he is still in his 20s. He was born on October 3, 1992. He's accomplished a lot in a short time.
2. He's Swedish
He was born and raised in Switzerland. In fact, he began his entire career in Switzerland. He lived there until he was approximately 25. That's when he made the decision to leave and to pursue his dreams. He's shown he is capable of doing anything he puts his mind to, and he's not let anyone down yet.
3. He Didn't Study Animals in College
Most people assume he spent his entire life focused on things like animals and wildlife, but he did not. He actually went to college to study finance. He became a Swiss financier following his college graduation, and he did quite well for the few years he spent working in the industry.
4. He is an Entrepreneur in the Financial Sector
After his college graduation, he opened his own financial business. He knew he wanted to do things his own way, and he did. Before long, his little business had more than 50 employees and was growing rapidly. He was still a small business owner, but he was doing well. His business was focused on financial planning and banking.
5. He Left Switzerland in 2017
Despite the fact that he has a successful business to run, he knew he wanted to follow his dreams. He was ready to do what he needed to do to make sure his dreams of opening a wildlife sanctuary in Africa would come true. He left Switzerland in 2017 to pursue his dream.
6. He Established a Sanctuary
The name of his lifelong dream in South Africa is Hakuna Mipaka. It's Swahili, and the meaning behind it is no limits. It's where he spends his days. It's where he lives out his dream. While still only in his 20s, he's doing everything he wanted to do in his life and so much more.
7. He Was Diligent in the Pursuit of His Dream
While still working and living in Switzerland, he worked diligently to make his dreams of opening a wildlife sanctuary in Africa come true. He traveled approximately a dozen times between the two countries to secure grants, to introduce himself to those in the area, and to be sure he was making the right contacts. His persistence paid off.
8. He is Very Active Online
Many online celebrities spend as little time as they can online, but not Schneider. He's very vocal about the fact that he spends as much time online as he can answering his messages and responding to his fans. It is not uncommon for him to spend as many as 8 hours a day on the internet connecting with his fans.
9. Steve Irwin Inspired Him
Steve Irwin is the man and the legend that most of the world followed and loved throughout his very short life. We still follow his wife and children, and everyone cheers for their success after his untimely and tragic death. During his time on earth, however, Irwin was able to inspire so many people to fall in love with wildlife and do all they can to protect the animals – and Schneider calls him the inspiration behind his decisions.
10. He's Been Accused of Animal Abuse
After a video of Dean Scheider hitting a lion cub went viral, he was accused of animal abuse. Those who dislike him and those who saw the video wanted to know what he was thinking. He has defended his actions from the start saying that the lion struck first and that he did not hit the lion to hurt it but rather to show the lion there are boundaries it cannot cross.
Tell us what's wrong with this post? How could we improve it? :)
Let us improve this post!