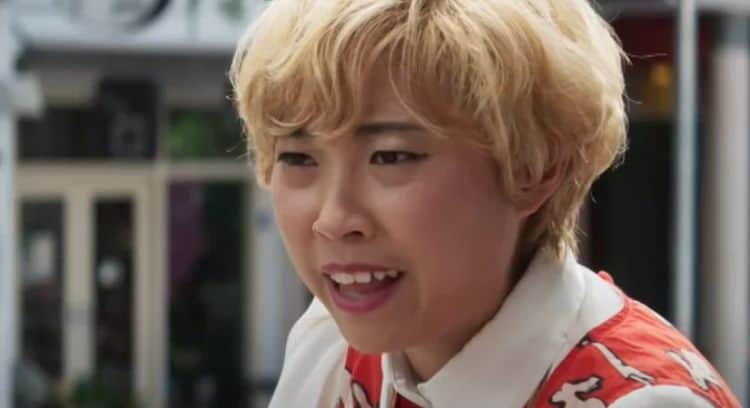 Born and raised in New York City, Awkwafina was born to be a performer. Over the last 15 years, she has worked hard to carve out a place for herself in the entertainment industry, and so far she's found a lot of success. Although she is most known for her comedic roles, she has also proven that she has the capacity to do other types of projects. Awkwafina may have started her career in the TV world, but she has since gone on to become a bonafide movie star. Not only does she already have well over a dozen film credits, but she also has a handful of movies in the works. While there's no doubt that she has a lot of great things to share with the world, Akwafina has already accomplished a lot. Here are the five best movies so far in Awkwafina's career.
5. The Angry Birds Movie 2
Awkwafina's live-action roles are what most people know her for, but she is also an incredibly talented voice actress. She has been a part of several animated movies, but so far, The Angry Birds Movie 2 is one of her best roles yet. Awkwafina's ability to bring her character, Courtney, to life is truly a mark of her talent. Although some people may assume that voice acting is easy, it's actually pretty difficult to portray a wide range of expressions and emotions without being able to use natural body language. Those who are fans of Awkwafina's voice work will be pleased to know that some of her upcoming projects are voice roles.
4. Jumanji: The Next Level
As someone who was a kid when the original Jumanji film was released, being cast in Jumanji: The Next Level must have been an awesome experience for Awkwafina. On top of that, it was a great opportunity for her as an actress. As soon as her character, Ming Fleetfoot, came on the screen it was clear that Awkwafina was going to put on a great show, and that's exactly what she did. The movie was also a great example of how Awkwafina can keep up with some of the biggest names in the industry.
3. Oceans 8
Oceans 8 was Awkwafina's first major film role, and she did exactly what needed to be done. She brought the comedy she was known for, but she also showed that she had true depth as an actress. Since Akwafina was sharing the screen with some Hollywood heavy-hitters (Sandra Bullock, Cate Blanchett, Anne Hathaway, and Sarah Paulson) most people probably assumed that Awkwafina's performance would pale in comparison. That, however, wasn't the case at all. She quickly proved that she deserved the role she had gotten and she put on a great show. If there were people out there who didn't take her seriously prior to Oceans 8, they probably changed their tune after seeing her in the movie.
2. Shang-Chi and the Legend of the Ten Rings
Shang-Chi and the Legend of the Ten Rings is Awkwafina's latest film role, and it might just be her biggest. After all, working with Disney and the Marvel Comics Universe is almost as big as it gets. In the movie, Akwafina plays a character named Katy who is the main character's best friend. Although she isn't the biggest start of the film, Awkwafina still shines bright. The film's director, Destin Daniel Cretton, has even publically complimented Awkwafina for her work.
In an Instagram post, Cretton wrote:
"@awkwafina is unlike any performer I have ever met. I've never seen a brain find jokes faster than hers, and she had me laughing so hard on set I could barely keep from ruining her takes. But comedy isn't the only place she shines. She's also a caring, present, intimate performer, and that's the part of her character I admire most. There is a sincerity to her dramatic performances that's so genuine it's hard to label it as acting. There isn't another actor like her on earth, and we're so lucky to have her in @shangchi. @marvelstudios pc: @jasinboland"
1. Crazy Rich Asians
Based on the novel of the same name, Crazy Rich Asians was one of the most successful films of 2018. It was also the first mainstream movie to feature an almost all-Chinese cast since the early 1990s. Like in Shang-Chi and the Legend of the Ten Rings, Awkwafina played the main character's best friend, but in many ways, she stole the show. Not only did she have all of the qualities that someone would want in a real-life best friend, but she also brought comic relief at all the right times.
Tell us what's wrong with this post? How could we improve it? :)
Let us improve this post!