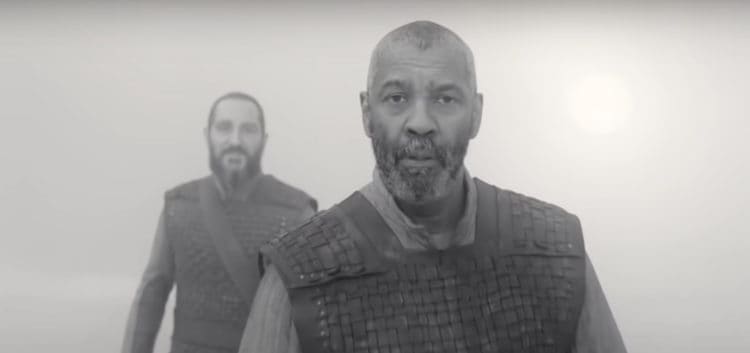 For the first time in his career, Joel Coen will be flying solo as a director on his latest feature, The Tragedy of MacBeth, which boasts the talents of Oscar winners Denzel Washington and Frances McDormand. The two veteran actors lead a stacked cast in this classic retelling of the popular Shakespearean story. This article will list the five excellent films that feature the cast of The Tragedy of MacBeth, whether they're useless background actors to the charming leading man (or woman). Each movie has over ten reviews and is highly regarded for the most part. The only films exempt from the article are animated features. Let's get started with the first film.
Glory
Denzel Washington's Oscar-winning turn sees him play the escaped slave Trip, who joins the United States' first all African-American regiment in the 54th Massachusetts Volunteer Infantry. Glory punches you in the gut in more ways than one as this story is a well-acted drama honoring the black soldiers who fought for the Union cause in the Civil War. The core cast of characters is layered with compelling characters and the themes help pad out this feature's two-plus hours runtime. Glory will make you laugh, cry, and understand the sacrifices these black soldiers put themselves through just to serve their country.
Training Day
Denzel Washington's iconic turn as Alonzo Harris saw him rightfully win his second Academy Award. This police drama follows Ethan Hawke's Jake Hoyt, a rookie who's escorted on his first day with the LAPD's tough inner-city narcotics unit. Throughout his shift, the gray lines are blurred due to Alonzo Harris not being the most honorable cop known to man. Washington's performance as the villainous Harris is mesmerizing. It helps that the crooked cop is written with a nice layer of nuance to his character as Washington does an amazing job of bringing life to a man who eventually learns that street justice ultimately prevails. Of course, Ethan Hawke is also great as the likeable Hoyt. Despite all the bulls**t that Harris puts him through, you understand Hoyt's motivation and why he doesn't simply quit. The ending is a controversial one that some people loathe, but that unforgettable moment prior with Harris saying "King Kong ain't got shit on me!" makes it worthwhile.
Fargo
This classic film brought the Coen brothers on the map is a reality-based crime drama set in Minnesota. William H. Macy stars as Jerry Lundegaard, a car salesman who's in desperate need of some money. His solution? To hire two thugs to kidnap his own wife to collect the ransom from her wealthy father. Not surprisingly, the plan goes awry and the whole situation turns into a trail of dead bodies that continues to pile up. Macy is simply perfect as the bumbling Lundegaard. His scene with Marge (Frances McDormand) at the dealership is a masterclass in acting 101. The world of Fargo is packed with colorful characters and wonderful dialogue. Of course, it helps that Fargo is such a well written and directed feature. The balance of drama, dark comedy, and crime actually works because of the confident direction from Joel and Ethan. Both directors manage to seamlessly weave the genres together with ease.
Edge of Tomorrow
While not the Oscar caliber film like the other entries on the list, Edge of Tomorrow is still a great movie that cleverly uses The Groundhog Day gimmick. Tom Cruise is Major William Cage, an officer who's basically assigned to a suicide mission against the invincible aliens. He's killed within minutes; however, Cage finds himself in a time loop that allows him to improve his fighting skills that helps him get closer to defeating the aliens. Despite the time loop gimmick, Edge of Tomorrow never forgets to develop its characters and the film is so much better for it. Cruise could pretty much sleepwalk in action roles like this. However, it isn't just the action sequences that the veteran excels at, but Cruise has a magnetic presence that lights up the screen. He plays Cage with nice gusto and range, and it helps that he has some nice chemistry with the always game Emily Blunt. Edge of Tomorrow blends action, sci-fi, and drama effortlessly, making for one of the better and smarter action/sci-fi pics on the market.
BlacKkKlansman
Spike Lee returns to form in this sharp feature that follows the first African-American detective to serve in the Colorado Springs Police Department, Ron Stallworth. The new detective sets his sights on a bold mission: to infiltrate and expose the Ku Klux Klan. Him and Flip Zimmerman team up to take down the extremist hate group who aims to sanitize its rhetoric to appeal to the mainstream. Funny, thought-provoking, captivating, and stylishly shot, BlacKkKlansman makes great use of its A-list talent and reminds the world why Spike Lee is such an influential director when it comes to filmmaking.
Tell us what's wrong with this post? How could we improve it? :)
Let us improve this post!