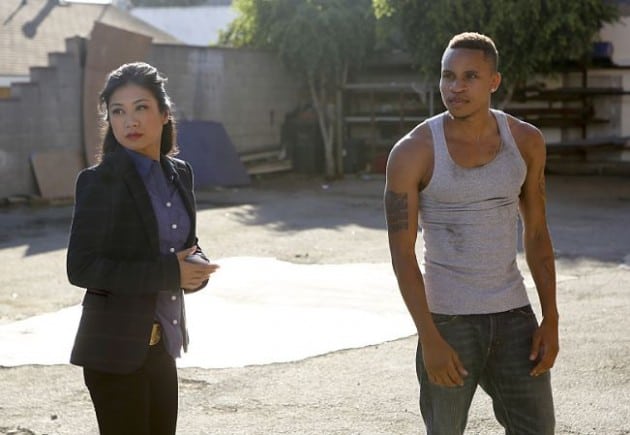 I knew, after the great potential shown in the pilot episode, that Battle Creek could, should, and would have another good episode. It was only a matter of time for me to be proven right. Since the pilot, Battle Creek had its best episode yet this week.
This week on Battle Creek: Commander Guziewicz's house was set on fire, so the entire BCPD (with Milt's help, of course) search through the Commander's personal and professional life looking for suspects. They speak to her old boyfriends, criminals she has put away, and even her long-lost son. Meanwhile, Erin helps Russ investigate who sent Holly the flowers on her desk.
This was an important episode for many reasons, the main one being that it was the first episode of Battle Creek in which Russ asked for Milt's help. Milt has been asked for help by just about everyone else, but Russ asking was a huge moment for the show. When Milt showed up with that big grin on his face, I laughed out loud. Josh Duhamel and Dean Winters have just been expanding on the brilliant chemistry that they've established, and it's so much fun to watch. One of the best things about this show out of the gate was its over-arching sense of fun; the fact that it didn't take itself too seriously. Battle Creek had this uncanny ability to make you laugh, even when the situations were serious. I saw that again in this episode.
All of the Russ and Holly stuff has been really fun for me. Both Aubrey Dollar and Dean Winters have been excellent in their respective roles. Liza Lapira (Erin Jacocks) also doesn't get nearly enough credit for her work. The female cast of this show, when used, has been excellent. I actually felt (in this episode, anyway) that Jacocks had more chemistry with Russ. But the fun thing about a show like this is that they have such a big and diverse cast that lots of angles can be explored.
Perhaps the greatest performance of the week, however, was that of Janet McTeer. We barely saw the commander last week, and this week, two minutes into the bachelor party, we learn that she is in trouble. While this is the first episode in which every character showed such reverence for the commander, McTeer owned it with her captivating performance. I'm so glad we got to learn more about Guziewicz, because she's a character I definitely want to know. I was fascinated by her personal life, in which she can't seem to get close to a man because she was abandoned by her adopted son. Her adopted son came to her in a very Dexter-like scenario. We learned a lot more about Commander Guziewicz this week, and I'm so much more excited about the character than I was previously.
Each week, I grow more enamored with the characters on this show. I was initially hooked by the chemistry of Winters and Duhamel (and the Harold and Kumar fan in me, of course, was hooked by Kal Penn), but the show has become about so much more than that. I am invested in Russ' interest in Holly. I'm invested in Chamberlain's reason for being in Battle Creek, or really, his reason for doing anything at all. We haven't gotten to his backstory yet, but if it's anything like the commander's….count me in!
What did you think of this week's episode? Let us know in the comments!
[Photo via CBS]
Tell us what's wrong with this post? How could we improve it? :)
Let us improve this post!