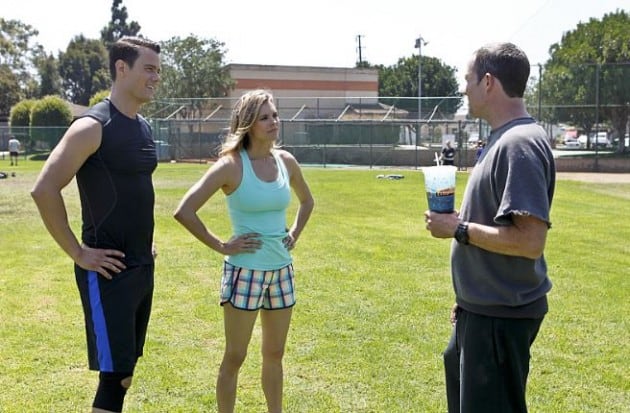 In its first few episodes, Battle Creek has shown a lot of promise. The pilot was especially promising, while the show's second episode was decidedly less so; however, it still showed some characteristics of what could be a great show. Episode 3 illustrated that, while there is clearly still work to do, the series is slowly finding its footing, and has all the potential in the world.
This week on Battle Creek: A drug dog tackles a little girl after the officers do a school visit, and they find a kilo of heroin in her backpack. The entire BCPD and Milt work together to figure out why the girl won't tell them where she got it. Meanwhile, Erin goes to a one-day conference in Detroit, put on by the FBI, to try and figure out why Milt was really transferred to Battle Creek.
First of all, I appreciated that this was a more serious crime. The whole syrup cartel thing, while mildly entertaining, just sort of took me out of the show last week. This week, even though it wasn't "realistic," per se, it was much more believable on the whole. Heroin being stolen from a police lock-up and trafficked by a child packs a whole lot more punch. Ultimately, I still think the past two episodes have been a little too on the serious side, but it worked better this week because the story was believable, and therefore easier to take seriously.
I do think, by taking itself too seriously, Battle Creek could be downplaying its greatest strength: its humor. One of the things that drew me to the pilot episode was how much I laughed and had fun. There have been funny moments in the show's second and third episodes, but it feels more like a cop drama with some funny moments, rather than a funny cop show. The cast of characters the series has is conducive to comedy, and the actors can can certainly pull it off, so I say that they should play to their strengths a bit and let the comedic part of the show shine. Of course, this is one man's opinion.
The best part of Battle Creek this week had to be the female characters. Aubrey Dollar (Holly), Liza Lapira (Erin), and Janet McTeer (Commander Guziewicz) each brought something special to the episode this week. Erin's character got out of the precinct and did some real detective work in Detroit in the "What's up with Milt?" subplot. I really enjoyed watching her work. Holly broke the case wide open and sealed the fate of their perp. However, perhaps the greatest performance given in this episode was that of Janet McTeer. The commander thus far has represented the morality of the BCPD, and the city itself. She is tough, she is fair, and she doesn't always give the clear black and white answer. For awhile tonight, she was so convincing that I was sure she was just going to let that officer get a second chance. She's given a phenomenal performance thus far, and I just didn't want to go without saying that.
Ultimately, Battle Creek has a lot of great tools that it hasn't fully used yet. I think that the "What's up with Milt?" subplot is a very interesting one. All of the characters are strong, compelling, and deserve to be on screen. Dean Winters and Josh Duhamel are an excellent odd couple, and they have enormous potential to grow their chemistry, making for an even funnier and more compelling show. I was initially worried that the supporting cast would be underutilized, but it seems to be moving in a direction that will remedy that.
There are some good things happening in and around Battle Creek, and for the time being, I plan to stick around.
What about you? Are you still watching? What do you think? Let us know!
[Photo via CBS]
Tell us what's wrong with this post? How could we improve it? :)
Let us improve this post!