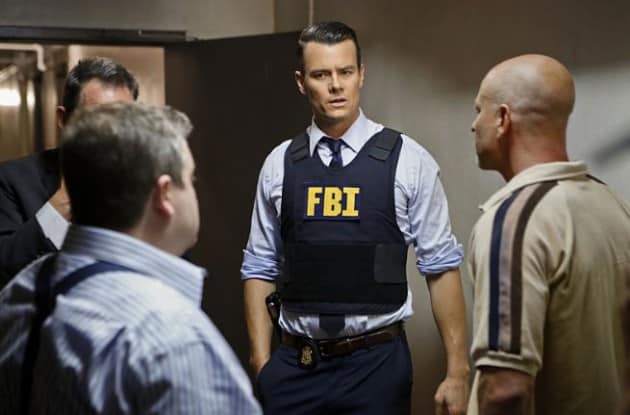 I must admit, when I first saw the title of this Battle Creek episode, I was deathly afraid that it was going to be something akin to the amusing but disappointing "Syruptitious" from earlier this season. However, upon watching the episode, it turned out to be one of Battle Creek's funniest, most entertaining, and probably, overall, the show's best hour yet.
This week on Battle Creek: At a time-honored Battle Creek event, there is an assassination attempt made on the mayor of Battle Creek (Patton Oswalt, King of Queens). Meanwhile, Font drops the ball on Funkhouser's wedding deposit and spends quite a bit of time and effort trying to rectify his mistake…without Funkhouser finding out.
Finally! This is the episode I've been waiting to see from Battle Creek. As you could probably tell from my reviews, I have spent the last several weeks on the fence. There have been lots of positives, yes, but I'm always cautious before getting invested in a new show. I am excited to report that I am now officially "invested." It's like the Battle Creek team have read my reviews and catered to my taste!
One of my largest complaints about the first few episodes has been not using the supporting cast well enough. Consider that quibble remedied! Kal Penn plays a large role in the story involving both Font and Funkhouser. Grapevine, therefore, is also center stage for this fun hour of television. The whole Font/Funk story had me laughing through the whole episode. They made really good use of Aubrey Dollar's Holly, as well, which is always a plus. Can she be in everything? Perhaps Liza Lapira's Jacocks was used too little, but I have a feeling I'll get to see more of her. I'm not worried about that yet. All in all, the supporting cast was used beautifully in this installment. I can only hope they continue this going forward.
The chemistry between Josh Duhamel and Dean Winters has improved immensely since the first episode. I'm not saying they haven't always had chemistry, but the banter between the two detectives is one of the highlights of the show. Winters' Agnew is cynical, but that makes for excellent comedy and banter versus Duhamel's annoyingly optimistic Chamberlain. Battle Creek is becoming the odd couple show that we have all been wanting.
Perhaps the best piece of this episode, however, was guest star Patton Oswalt. Oswalt plays a Rob Ford-esque mayor who is basically clueless. He is loved by everyone, hated by few (one in particular!), and spends his free time drinking, doing drugs, and gambling. Oh, and celebrating his town's love of cereal. All the while, this beloved mayor pushed his brother too far. Oswalt was the perfect casting choice for the role and just made everything funnier. If you'll recall, my reviews of last summer's Fargo were good in part because I appreciated the use of comedic actors, even when the roles are serious. I wouldn't say that this role was serious, but it was a nice departure for the typically foul-mouthed comedian (of course, I do appreciate his presence of Agents of SHIELD from time to time as well). I had so much fun watching this episode, and it was due in large part to Oswalt. I hope he comes back!
I'm a VERY satisfied fan of Battle Creek. The crime was serious, but not so serious that the show forgot what it is. This is a funny show that can handle action and serious crimes with grace. I'm very excited that Battle Creek finding its sea legs, and I can't wait to see where it goes.
What did you guys think? Are you still watching Battle Creek? Are you enjoying it? Let us know!
Battle Creek airs Sundays at 10/9c on CBS.
Tell us what's wrong with this post? How could we improve it? :)
Let us improve this post!