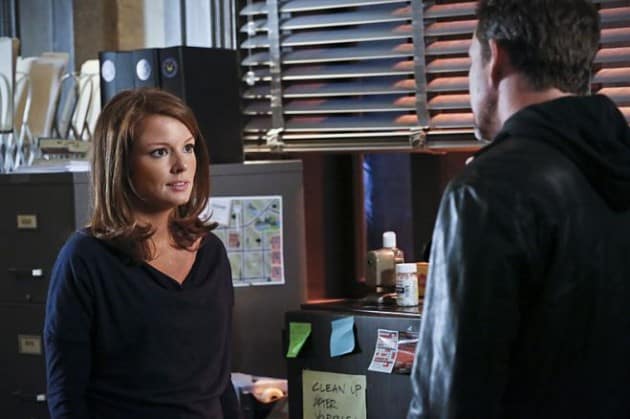 Well, fellow Battle Creek fans, we all received some disappointing news between last week's episode and this week's, as CBS announced the (sad, but not altogether surprising) cancellation of Battle Creek. While I believe this show started out slow, each week has shown improvement, and it is by far the cancellation I am most disappointed by. Actually, it may be the only cancellation I'm disappointed by. Because I'm not a quitter, I still plan to review the final three episodes as they air in the weeks to come. Well, I'm not a quitter, and I really started getting attached to this show. So I apologize in advance if my final few reviews feel like an obituary of sorts. Battle Creek has showed continuous improvement since its opening, and I'll be really upset when it's over.
This week on Battle Creek: Milt asks Russ for his assistance on an FBI case involving an escaped convict, who was due to be released in five days time. When Russ reluctantly agrees to help, he is kidnapped and held by said convict, and Milt enlists the rest of the BCPD on a manhunt to find the captor and save Russ…much to Russ' chagrin.
As I previously stated, Battle Creek has gotten continuously better in the short time it has been running. While I felt there was a slight dip in quality after a strong pilot, the post-pilot episodes improved each and every time, so by the time we reached the seventh or eighth week of the season, the quality of the episodes was really very good. This week's hour was no exception. Battle Creek is at its best when it utilizes most of its characters, and when the crime stories are serious, but they allow the characters to be themselves, which usually turns out funny.
The Milt/Russ relationship took some excellent strides in this episode (even though Russ turned him down for a beer! Gahhh!!!). Russ' kidnapping affected Milt in a way that we have yet to see. He was shaken, and willing to do anything to get Russ back, including sacrifice himself. He had the BCPD following up on every crazy lead they could get, and you could tell that it really weighed on his conscience that this happened to Russ on an FBI case. Russ remained as cynical as ever about their relationship and the way it is developing, but there was some really great character work going on in this episode.
My favorite element of this episode, hands down, was the relationship built between Russ and his captor, Clint Ford (James Le Gros). What Milt had identified as Stockholm syndrome turned out to be Russ' humanity coming out to make a rare appearance. Russ didn't understand why Ford, a convicted robber, would have broken out of prison with such a short sentence remaining. Ford kept Russ alive, and was, all in all, very kind to him. The story that followed about Ford's brother in the getaway car, Ford's niece, and her very specific wedding date really got me emotional. Perhaps some of these emotions were residual from the news of Battle Creek's cancellation, but either way, it was very effective.
The show continues to create reasons for me to be emotionally invested. Russ is obviously the main character of the story. His scene with Holly (and then Milt) at the end was absolutely heart-breaking. But in addition to creating emotional investment in each of the characters, the show makes me LAUGH! The supporting cast is wonderful, and the genuinely crafted comedic moments made up of entirely realistic characters is so well done.
I certainly understand the television business, and that cancellations happen. But like I said, this is probably the one show I am most upset about in terms of being cancelled. Was it a late bloomer? Perhaps, but in my opinion it was the best show to be cancelled this year. Hopefully, avenues like Netflix, Hulu, and Amazon will carry this show on so that more people can love it like I have. Here's to the last three episodes!
What did you guys think of this episode? Are you upset about the cancellation? Let us know!
The final three episodes of Battle Creek will air on Sundays at 10/9c on CBS.
[Photo via CBS]