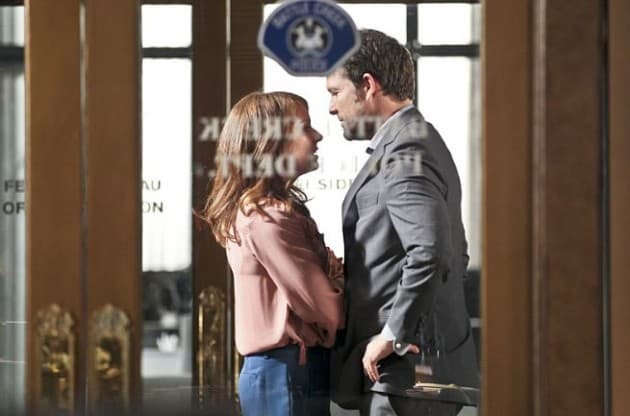 Well, I've said it before and I stand by it: Battle Creek was the best network show to be canceled from the 14-15 TV season. Period. The show has developed so well into must-watch TV, and it's given us strong, lovable characters to go with it. Come next week, I will be very sad to see this show end. In the meantime, I'll provide my thoughts on two of the show's strongest hours in the antepenultimate and penultimate installments.
This week on (two episodes of) Battle Creek: Milt takes the fall for Russ when they make a leap of faith that backfired on a case. Milt is taken aback by Russ' optimism when it comes to a suspect. Holly sorts out her feelings for Russ vs. the mystery man she's been dating. In the second episode, Font returns to duty from his traumatic injury after the murder of a local football coach before a rivalry game. Emotions boil over at the precinct because all the townspeople and cops are alumni of the schools. Holly gets into law school, and continues to sort things out with Russ.
This show has become one of my favorites of 2015 so far. One of the main reasons? It has everything I'm looking for. I like funny. My love for funny things puts movies like Ghostbusters in my top 10 favorite movies. Anything that can make me laugh can make me tune in again. Aside from that, this show has intrigue and heart. What I mean, of course, is that the plot moves and is consistently compelling and interesting, and the characters are portrayed in a way that makes you care. The three of these traits often go hand in hand, because when you care about characters, you care about what happens to them, and you tend to emote more because of them, including, but not limited to, uncontrollable laughter.
One of the things that Battle Creek has done extremely well is develop its leads, and this episode was the perfect showcase for how far they've come. Milt began as a robot that everyone liked but Russ. It was obvious to me that this is why Milt sought out Russ. He didn't want to be disliked by anyone. However, Russ, who is guarded by years of hurt and letdown, is not an easy man to get to know. Although both characters appear to be stubborn in their own ways, you can see the walls continue to break down as the show progresses. The scene in this episode when Milt is teasing Russ about finally "hooking up" with Holly (Officer Down!!) was brilliant. It's clear to me that Russ and Milt are growing on each other, and it's done in such a subtle yet masterful way. This is perhaps the element I'll miss the most when Battle Creek is no more. Josh Duhamel and Dean Winters have put in some brilliant work, and it really shows.
The show continues to impress me in the way that it makes you care about the characters. Not even just Milt and Russ, but I cheered when Font returned to work, or when Holly kissed Russ. Guziewicz has gone through some incredible changes during the course of the season. Every character brings something to the table, and each one of them would be missed if the show didn't have them. Sure, the main interest in the show is built around the (increasingly excellent) chemistry between Duhamel and Winters, but the heart of the show is contingent on the supporting characters and the screen time they get. I certainly will be missing EVERY character come next week's finale.
I can see why Battle Creek is being cancelled. The ratings have never been great, and Sunday night is a tough gig. TV is a business, and I certainly get it. However, every year there's at least one cancellation that I'm extremely beside myself about, and this year's is a no-brainer: it's Battle Creek. I am hopeful that the story, which has tied itself up nicely thus far, will continue to unfold in a way that will allow people to enjoy the series time and time again. 13 episodes is not enough, but if it's all I get, I'll take it.
What did you guys think? Are you enjoying the show? Sad that it's ending? Let us know!!
The season (series) finale of Battle Creek will air Sunday, March 24th at 10pm on CBS.
[Photo credit: Sonja Flemming/CBS]