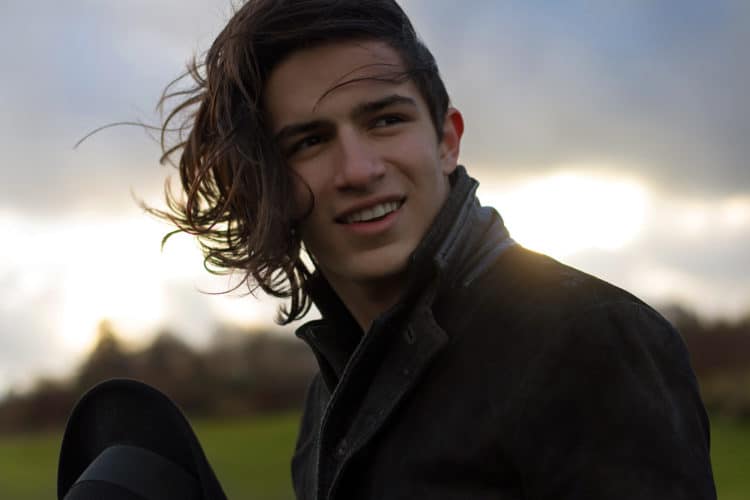 Aramis Knight has taken the acting world by storm over the last few years. The talented young star has been landing roles left and right, and he's on track to be one of the most well-known actors of his generation. Since making his first on-screen appearance in 2005, he has shown that he's more than capable of playing a wide variety of roles, and he gives his all to each role he plays. At this point in his career, he is most recognizable for his role in the TV series Into the Badlands. He hasn't made any on-screen appearances yet in 2021, but his fans can rest assured because he has several projects in the works. Continue reading for 10 things you didn't know about Aramis Knight.
1. He Started Acting At An Early Age
Aramis was born and raised in the Los Angeles area. When he was just four years old, his mother signed him up for a local acting workshop. It quickly became clear that Aramis had some serious potential. Not long after, he started his career by doing commercials.
2. He Comes From A Diverse Background
Aramis has played several Latino characters, but many people will be surprised to find out that he doesn't actually have any Latino roots. His father is Indian and Pakastani and his mother is white. Aramis is proud of all of the cultures that have come together to make him the person he is.
3. He's An Elvis Fan
Even though Aramis was born more than 20 years after Elvis' death, he is still a big fan of The King. According to the bio on his website, Aramis "would always insist on wearing his leather jacket no matter the weather in Southern California." Additionally, "He has visited Graceland twice, and if asked, to this day, he will say he wants to go to Graceland for vacation."
4. He's An Outdoors Kind Of Guy
Don't let Aramis' handsome face trick you into thinking he's a pretty boy who is scared to get his hands a little dirty. Aramis is actually quite the opposite. He loves being outside and he enjoys doing things like hiking, swimming, and driving off-road. He also loves going camping.
5. He Loves To Travel
There are countless people who will never get the chance to travel very far from their hometown. Luckily for Aramis, he has been given lots of opportunities to travel thanks to his career. In addition to visiting different places in the United States, he has also been to other countries such as France and the Netherlands.
6. He's A Kobe Bryant Fan
As a Los Angeles native, it's no surprise that Aramis is a big fan of the Lakers. More than the team itself, though, Aramis is a big fan of the late Kobe Bryant. Since his passing, Aramis has shared several photos of Kobe. In the caption for one of the posts, Aramis wrote, "I had the honor to watch him play many times, most notably his 60 point outpouring on his last night in Staples. I looked up to you as a child. My childhood bear was named Kobe. I love the sport because of Kobe. I remember crying myself to sleep in 2013 when you tore your Achilles."
7. He Has A Great Sense Of Style
Fashion has always been an important part of the entertainment industry, and Aramis is proud to be part of both. He has a great eye for fashion and it's clear that he knows how to put a good outfit together. No matter the occasion, you can bet that he is going to show up looking sharp.
8. He Does Some Of His Own Stunts
Doing stunts can be a very complicated and risky thing, which is why there are so many stunt doubles in the entertainment industry. However, for his role in Into the Badlands, Aramis did a lot of his own stunts. He spent lots of time working with stunt performers and studying martial arts.
9. He's Family Oriented
Aramis comes from a very close family, and he is very thankful to have had their constant support over the years. Although he hasn't shared a lot of information about his parents, he has shared some photos of them on his Instagram profile. It's unclear if he has any siblings.
10. He Has Over 40 Acting Credits
Aramis is only 21 years old, but he's already built a resume that could easily stand up next to people who have been in the industry for decades. According to his IMDB page, he currently has 41 acting credits. This list includes a handful of projects that have not yet been released.
Tell us what's wrong with this post? How could we improve it? :)
Let us improve this post!