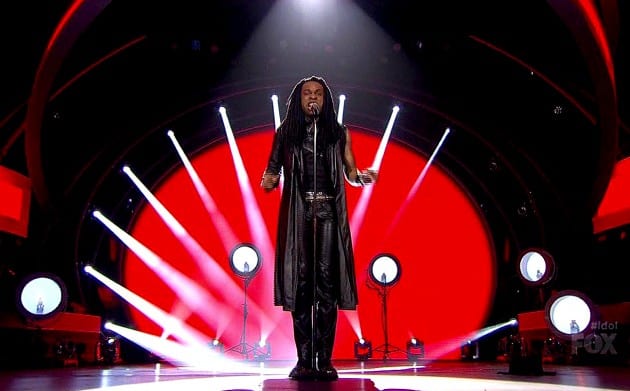 Our American Idol Top 11 is set to become our Top 10 after this night's episode, as we move full steam ahead on our road to crowning the winner. I have to admit that I have a little anxiety with the show being reduced to the once-a-week format. There's so much to cover, and I am not the most stable person when reality television doesn't go my way. (One day I'll write a book… or twelve.) Our evening's theme is "Movie Night," leaving the door wide open to song choice.
The show opens with the contestants gathered round a piano with Nile Rodgers, who could easily be the Milli to Qaasim Middleton's Vanilli. We also get our first group number of the season, "Get Lucky." The Idol stage is decked out with a giant movie marquee and a red carpet, and Jennifer Lopez is the bell of the ball with her giant braid. Race car shorty Jeff Gordon is randomly on hand, and invites the finalists to sing the national anthem at an important race this coming Sunday. (Unless it's a drag race hosted by RuPaul, it's lost on me.) Ryan Seacrest revels in the fact that, for once, he's taller than someone on the Idol stage.
The first name called of the night is Adanna Duru, and she performs "Love You, I Do" from Dreamgirls. Her performance is more off-Broadway (in a city that's not New York) and less Jennifer Hudson. I feel like she looks the part in her mosaic-mirror dress, but the vocals don't match what I'm seeing. Jennifer wants to feel "real emotion" from her, and I'm hoping she doesn't cut herself while changing out of the shattered disco-ball after the show.
Daniel Seavey squeaks by for at least another week, and for every teenage heart that rejoices, there's a jaw-dropping "WHAT THE..?" moment from everyone else. I like the kid, but even his opening clip montage had me wanting to curse the Idol gods this week. He performs the song "Lost Stars" from Begin Again (aka "What?" from What? in my head). It feels like a bad song choice to me, and I have trouble understanding the lyrics. Jennifer thinks it's an "OK job" (ouch), while Harry thinks it sounds like something he would be singing in a practice room somewhere (double ouch). I won't be surprised if Daniel keeps on keepin on, because I've been to the local mall, and I've seen teenagers on their cell phones in action: this kid has his generation on his side.
Rayvon Owen is the third name called, and he delivers a less-than-stellar performance of "Stayin' Alive" from Saturday Night Fever. I don't know if it's enough to keep him alive in the competition much longer, but I think there's a sweet quality to this one. Harry admires the arrangement of the song, but questions how Rayvon can remain interesting to the public.
The next name called is Nick Fradiani, who brings us "Danger Zone" from Top Gun. It's another song I'm unfamiliar with, due to my intense allergy to Tom Cruise films I developed at a young age. Nick has an almost Daughtry sound on this song, and it's the first performance of the night to make me perk up and take actual interest. Keith thinks it's better than last week, and Jennifer loves it, but still wants him to "get out of your head." Harry thinks it was the wrong song choice, and feels the lyrics did nothing for his performance.
My girl Joey Cook is called next, and her song of the night is "Mad World" from Donnie Darko. She is worried about not making enough eye contact with the audience during her performances, which really has me confused considering she begins her song with her back to them. (Not to fear, she's in a swivel chair and eventually turns around in a slow and dramatic fashion.) J.Lo gets a Sia vibe from her and loves all her different sides, while Harry would really like to see her "chew on the lyrics" (huh?).
Taking the sixth spot of the night is Tyanna Jones, who steps out to perform "Circle of Life" from The Lion King. I have high hopes for this performance, and I'm sad to admit I'm a little let down. Tyanna delivers a great vocal; I think there was just too much of the song cut out to make it fit for the show. Harry feels like she overshot the mark, and Keith thinks she suffered from serious pitch issues. It's still a highlight for me, even in shortened form.
Jennifer Lopez takes the stage next, to perform her new song "Feel the Light" from the DreamWorks movie Home. She looks every part of the Disney princess (even though Home isn't a Disney movie) in a giant white gown that doubles as a projection screen. J.Lo is totally one of my main girl crushes, and this performance reminds me why. She is breathtaking and just pleasant to watch.
Quentin Alexander is called into the seventh spot and brings a completely different take on "You're the One That I Want" from Grease. For me it feels so different that it just feels right, and Jennifer describes it as "haunting and beautiful." Harry disagrees, and feels like it is "horribly out of tune."
Maddie Walker bounces back from last week's mysterious illness, and is up next to perform "Let's Hear It for the Boy" from Footloose. Maddie reminds me of what Jessica Simpson would be, if she were to go country. (Pretending for a minute that didn't actually already happen, mind you.) Jennifer describes it as good, cute, and sweet, while Harry has no idea who she truly is. He questions the twang in her voice that comes and goes, and he can't decide if she's country, pop, or pageant.
The eliminations always make me nervous when there are only a couple spots left, and my favorite has yet to be called. I 100% believe in the American Idol upset, where a fan favorite is sent home way too soon. (Pia Toscano, anyone??) I will never breathe easy until Clark Beckham's name is called.
(And… exhale.) Clark grabs the ninth spot of the week, and I can continue writing these reviews for at least one more week. Clark sings "Sunday Morning" from Cheaper by the Dozen 2, and it's clear that the camera loves this guy as much as I do. Harry loves that he put his own arrangement on it, and "knocked it out of the park." Keith would like him to put a little more smile in the performance, clearly unaware of the power of the "smize." (Smiling with your eyes, for all you non-Tyra type folk out there.)
And that leaves us with the final two contestants of the night, and only one spot available: Jax and Qaasim Middleton. YES! These have been the two I have felt the most disconnected with, and I feel like the universe is rewarding me. Both are called from their chairs to center stage with Ryan, and… DIM THE LIGHTS!
The final spot in the top 10 goes to… Jax! After severing all ties with her last week, Jax performs "Grow Old with You" from The Wedding Singer and wins me back without even asking. I'm not a fan of her overall evening look, but her performance reminds me of what I originally saw in her. She gets nothing but love from the judges, and it's time for Qaasim to lip sync for his life! (Sorry, wrong show- after referencing Milli Vanilli and RuPaul in one review, that was bound to happen.)
Qaasim Middleton performs "Come Together" from Across the Universe to try and claim the loan "Save" of the season from the judges. I think it's erratic, spastic, and ridiculous… and the fact that he does a "mic drop" at the close of his performance? I am reminded why I haven't liked him all along, but his stars align perfectly as the judges agree to save him. The other contestants flock to the stage to hug him in excitement, obviously forgetting this means they have all lost the chance of being saved themselves, and that there will be TWO people eliminated next week. With the "Save" officially out the window, rest assured I exercised my Idol-given right and I actually voted this night.
[Photo via FOX]