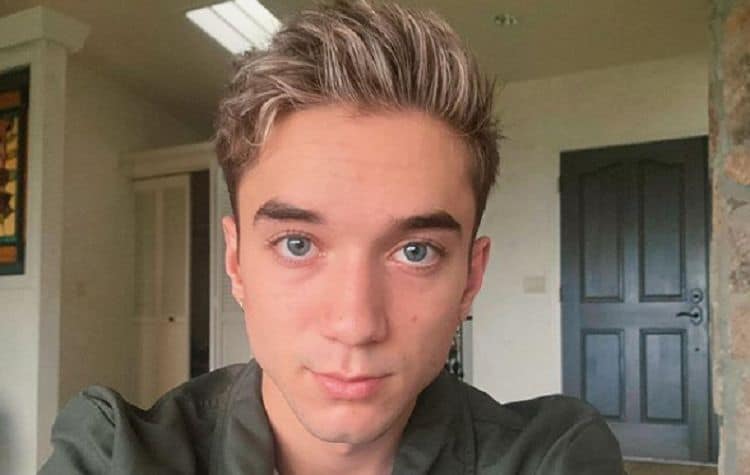 Daniel Seavey is an American musician who is best known for his contributions to the boy band titled Why Don't We, or WDW for short. In addition to being a musician, he is also an actor who has appeared in several video shorts recently. We wanted to know more about the new celebrity personality so we took a look at his career history and everything that we could find out about his personal life. We made some interesting discoveries to share with you. Here are 10 things that you might not already know about Daniel Seavey.
1. His first videos appeared in 2016
Daniel Seavey's debut in a video short was titled "Why Don't We: Taking You" in 2016. That same year the group churned out several more. They produced a total of four videos that were released that year. The other three were "Why Don't We: Nobody Gotta Know," "You and Me at Christmas," and "Just to See You Smile."
2. Daniel doubled his exposure in 2017
Just one year after Why Don't We released their first four music videos, the group was in such high demand that they were able to double the production. They released a total of 8 new videos for songs including "Something Different," Kiss You This Christmas," "Invitation" "Nobody Gotta Know," "Free," "These Girls," and two others
3. He worked with Logan Paul on 2 videos
Daniel and his group also collaborated on two videos with the famous YouTuber Logan Paul. This was a sensational effort that brought the boy band to even greater heights of recognition. They released "Logan Paul Feat. Why Don't We: Help Me Help You" and "Logan Paul Feat. Why Don't We: The Fall of Jake Paul."
4. Seavey and the boys launched 9 new videos in the past 2 years
After two exceptional years, Daniel and the group continued in their positive trajectory towards fame and stardom. They launched 9 new videos in this space of time. In 2018 they released "Talk," "8 Letters," "8 Letters Acoustic version," followed by "Big Plans," "Don't Change" Unbelievable," and What Am I" in 2019. They also released a collaboration called "Why Don't We & Macklemore I Don't Belong In This Club" the same year.
5. Daniel also appeared in a television series
Daniel Seaver went on to appear in two episodes of the television series "Dak and Brody." He made a guest appearance as Shef Boi D in the episodes titled "Holy cluck" and "This is Art season 1 episode 3. this took him into a whole new realm of acting and more in the mainstream entertainment audiences outside of the music industry. He appeared in the series in 2019. There is yet another We Don't We video short that is coming out by the group called "Chills" with an expected release date sometime in 2020.
6. Daniel is a writer and composer
Daniel Seavey also wrote the script for 2 episodes of "Dak and Brody." These were the episodes that he appeared as a guest star in. He is also credited as the composer for "Lauv: Who (featuring BTS) which is a video short that is due to be released at some point in 2020. Daniel is stretching his wings in the music and entertainment business and he is trying out new things within the industries. This is a strong indication that he is going to go far with his career in the years to come. He is a bold young man who is not afraid to take chances and to try something new.
7. He is a native of Washington State
Daniel Seavey was born in Vancouver, Washington on Friday, April 2, 1999. He recently turned 21 years of age. Vancouver is located in the beautiful Pacific Northwest of the USA. It is very close to the major city of Portland, Oregon.
8. He was a contestant on American Idol
Prior to becoming extremely famous, Daniel Seavey tried out for the popular television competition series "American Idol." He made it through the initial tryouts in the fourteenth season and he continued to advance. Daniel made it all the way to ninth place before he was eliminated from the competition. This was a great experience for him and it gave him the national exposure that he needed to boost his career in music.
9. He's been into music since early childhood
Daniel developed a passion for music when he was still just a young boy. This was because of the tremendous influence that his father had on him. His dad would take Daniel along with him to downtown Portland, Oregon to the art walks and they would play music. Seavey has been into music since he was just 7 years old. It's something that has been a major part of his life since his first memories. This was an amazing experience for him and his father helped to instill a love and passion for music by setting the example and making sure that young Daniel received a great deal of exposure to the music scene and performing, although it was just in the neighboring metropolis of Portland. This set the stage for Daniel to dream big. This led him to perform on American Idol and to be invited to join the boy band Why Don't We.
10. You can follow him on Instagram
If you're a fan of Daniel Seavey then you'll be happy to know that he has an active Instagram account. This is an excellent resource for finding great photos of him and for keeping up with what is currently trending in his life and career. You can find out about what Why Don't We is up to and about any cool destination Daniel jets off to. So far, he has 2 million followers on the site which gives you an idea of his insane popularity.