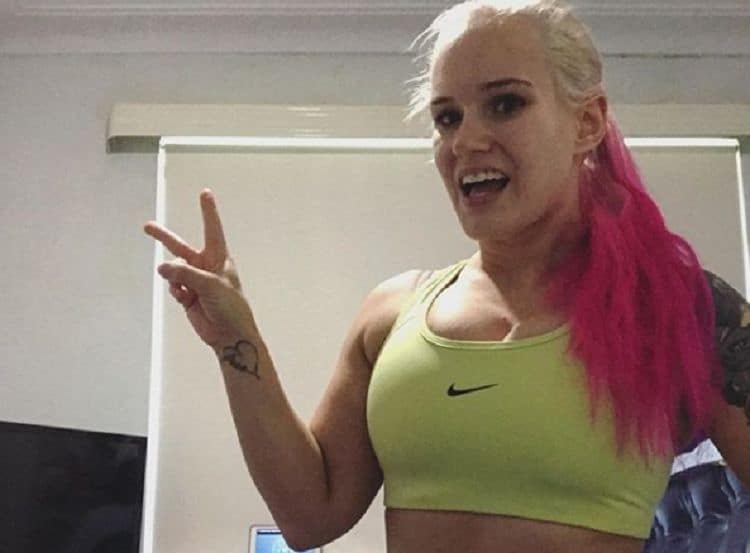 If you don't know who Shazza McKenzie is, it's probably because you are not a wrestling fan. She's a wrestler who is trying to turn her talent and her skill into her career. She's not just looking to stay small or local. She is on the mission of her life to make it big, and she's someone the press is watching closely. She might not be a household name — yet — but her fan base is large, her talent is obvious, and she's been hearing her own name thrown around time and time again as major companies are looking to sign her. What her future looks like is as yet unknown to us, but we can assure you that she's got some big things working in her life that are making it clear to her that she is about to get her big break.
1. She's From Australia
The reason she might not be such a household name in America is that she's not from here. She did not get her start here. She did not make her entrance into the wrestling world in America, but she's here. She's been giving it her all right now, but she's also been giving her life so much focus in her native country that she's also been focused on becoming international though she is in America working hard to make that happen.
2. She's Got a Big Personality
We all know that wrestling is about more than strength and winning. It's about being someone people want to watch. It's about the personality and the intimidation factor and even how attractive you are — provided you are woman — and that's what she brings to the table. She's lovely, she's got a big personality, and she has all it might take to make it big across the globe.
3. She's Married
She's got a very handsome husband, naturally, and his name is Jordan. They've been together for more than seven years now, and they are happily in love. He's been her biggest supporter and her biggest fan, and he's been there to upend his life to make her own dreams come true. She's made it clear that he has gone through so much with her and made so many life changes with her because he loves her, he respects her, and he's looking to grow with her and alongside her.
4. She Really Likes Being With Her Husband
In the grand scheme of things, a month is not a long time. Ask any military spouse that question, and they will tell you a month ends in the blink of an eye considering how long they are sometimes asked to be without their spouses. But, for Shazza, a month is the longest she's ever been without her husband — in 2019 — and it was long, hard, and she missed him. I feel that. I've never been away from mine for more than 2 days — twice — in nearly 19 years and neither one of us enjoyed it.
5. She Works to Make Her Husband Proud
There will be both men and women who look at that statement and roll their eyes, but I like it. I like it because making your partner proud should be something you like to do. It should be part of your goal. You don't go into marriage unconcerned with how your partner feels about you, especially when it comes to how proud they are. If your goal is to make your own dreams come true at the same time you make your spouse proud, those are good things. Keep it up, girl.
6. She's Still Young
She's still a young woman who has years ahead of her to make her wrestling dreams come true. She was born on August 5, 1988 in Sydney. She's only 31 at the moment, though she doesn't look it, and she's been working hard to make her dreams come true most of her adult life. She's there. She's making it happen.
7. She Once Shared Her Personal Struggles
Everyone has body image issues. Everyone has something they don't like. Everyone has a feature they'd like to change. Everyone has body image issues. That doesn't make it all right to dislike anything on your perfectly imperfect self, but it is what it is. We all do it, knowing it's wrong to dislike anything about ourselves. She once tweeted that she has body image issues because of the industry she's in, though that tweet has been deleted over time. She is not alone, and we all relate to her even though we all look at her and see perfection.
8. She's Focused on Support
If anyone thinks that there is anyone in the world who is not worried about COVID-19 for some reason or another right now, you're wrong. She's worried. She was on a plane to America for an 8-week tour of shows and matches when the world began to shut down. She landed in America to a phone filled with messages of worry and concern, to news that the world was beginning to shut down, and to so much more. She's been in a spot since this all happened, but she's also been supportive of the world as we all go through this. This situation caused her to quickly get home to Australia to be with her loved ones in this time of uncertainty, even though it's been a huge financial burden for her.
9. She Suffers from Mental Health Issues
It's not always easy for people to talk about their issues like this, but she's been open about her struggles with depression and anxiety. She's been open because she's looking to remove the stigma and to be someone who helps. It took her a long time to ask for help, and she wants the world to know that they shouldn't wait.
10. She's Just Like the Rest of Us
Just because she's strong and successful and she works hard doesn't make her someone who finds it easy every single day. Like the rest of us, she sometimes wakes up feeling like all things are difficult and hard and she cannot do it, and sometime she wakes up feeling like she's on top of the world and it all comes easily and naturally to her. You know, just like the rest of us.
Tell us what's wrong with this post? How could we improve it? :)
Let us improve this post!