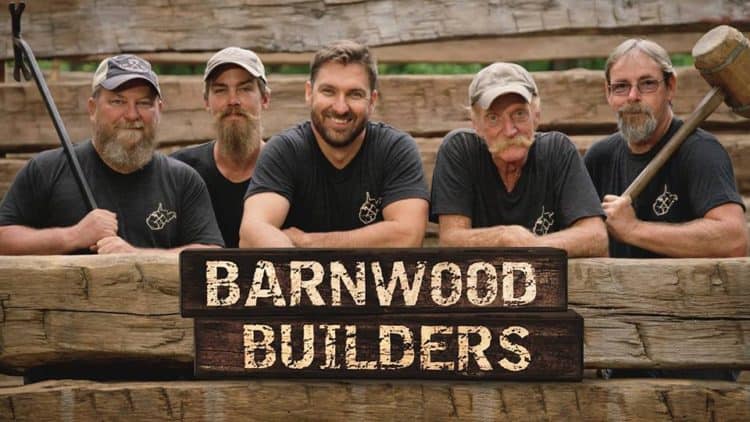 In the reality TV world, there's no shortage of home design/renovation shows. So in order to find success, producers must find creative angles and that's exactly what Barnwood Builders has done. The show follows Mark Bowe and his West Virginia-based company as they purchase and restore old barns and cabins in the area. Not only does the team help bring the design into the present day, but they're also dedicated to helping each structure maintain its original character. Now in its 11th season, Barnwood Builders is still going strong and Mark and his crew have plenty of great projects left to share with the world. Keep reading for 10 things you didn't know about Barnwood Builders.
1. Mark Does More Than Host The Show
Mark is most well-known for hosting the show and being in charge of the building team, but what many viewers don't know is that he also plays other roles on the show. During an interview with Greenbrier Valley, Mark said, " I'm one of the producers now. I manage the guys, and I help put the show together. Every show has a story arc that I help develop. I tell the producers about the families we're working with, the crafts we'll be demonstrating, and when the challenging parts are coming up."
2. The Network Didn't Allow The Word 'Hilbilly' To Be Used In Season 1
Although the term hilbily often has a negative connotation, it's very common for people in West Virginia and other rural areas to refer to themselves or each other using the term in a proud and affectionate way. Still, however, the network didn't allow it to be used during the show's first season. Production eventually came around once they saw that the term was not being used in a rude or offensive way.
3. The Show Has Official Social Media Profiles
Thanks to technology, being a fan of a TV show or movie now means you can do more than just watch it. Like many other popular series, Barnwood Builders has official social media accounts. Those who are interested in keeping up with the latest updates can follow the show on Facebook, Instagram, and Twitter.
4. The Team Doesn't Just Work In West Virginia
The series Barnwood Builders takes place in West Virginia, but that isn't the only place where Mark and his team work. They have also completed projects in other states such as Texas and Missouri. That being said, however, it's unlikely that the show will be filmed outside of West Virginia.
5. Mark Hopes The Show Breaks Stereotypes About West Virginia
West Virginia hasn't always had the best reputation, and that's something Mark hopes to change with the show. Mark is dedicated to showing some of the good things that West Virginia and his people have to offer. So far, it looks like he's done a great job of doing just that.
6. The Show Has Its Own Store
Barnwood Living has become such a big hit during its time on the air that it's been able to open up a store. Barnwood Living has a store in West Virginia where fans can purchase branded merchandise such as shirts, hats, mugs, art, and other items. People out of state can shop at the online store.
7. The Idea For The Show Came From An Interested Customer
Mark probably never imagined that he would eventually become a reality TV star, but a chance encounter led him straight to the entertainment industry. When discussing how the idea for the show came about, Mark told Richmond Magazine, "I had an office in Lewisburg, West Virginia, and one day a guy came in and said he wanted a cabin in upstate New York…He asked, 'What's your story?' I told him my background and history, and he said he was a film producer who worked for Ken Burns."
8. He Usually Finds Properties Through Word Of Mouth
One of the questions Mark usually gets is how he finds the properties he renovates. The answer is a lot more simple than most people would assume. Apparently, Mark simply engages in conversations with people in the community and tells them that he does and work typically spreads around to other people who may be interested in selling something.
9. Some Of The Projects Are Available For Rent
Have you ever wondered what happens to the projects that Mark and his crew work on? According to the Barnwood Builders website, many of their projects are available to be rented by the public. People who are interested in learning more can visit the website to get more information on availability.
10. The Pilot Was Shot Almost A Decade Before The Show Aired
Barnwood Builders debuted on TV in 2013, but the pilot was actually shot several years before in 2005. During his conversation with Richmond Magazine, Mark revealed, "We shot a pilot in 2005, a 20-minute documentary that was entered into some film festivals."
Tell us what's wrong with this post? How could we improve it? :)
Let us improve this post!