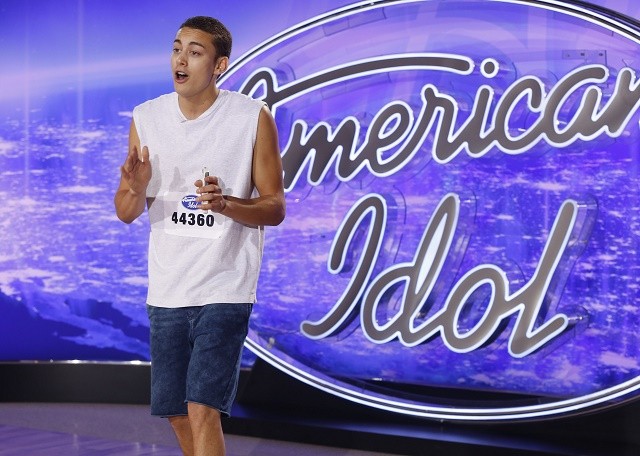 Week number two of American Idol's farewell season begins with audition episode number three, direct from the home of the original cream cheese: Philadelphia. (I don't pretend to know historical facts, but I do pretend to know brand name products from the grocery store, so let's just go with that.) We have Season 2 runner-up (winner in my head) Clay Aiken on hand to offer up Idol advice. I don't exactly speak politics, but didn't he run for president or something at some point?
Our first contestant is Gianna Isabella from Jackson, New Jersey. She is the 15-year-old daughter of Brenda K. Starr, singer of the 1988 hit "I Still Believe." I don't know that name, but I do recognize the song when the video clip is played. (1988 would be the year I fell in love with pop music, thanks to Debbie Gibson, New Kids on the Block, and, ironically, Paula Abdul.) It just so happens Mom used to dance with J.Lo at the same studio back in the day, and they share a sweet moment reminiscing. Gianna's audition doesn't wow me, but the judges are charmed by her (and her back story, I'm guessing) and she easily gets her golden ticket.
Derek Huffman, a 21-year-old retail worker from Coventry, Rhode Island, is next. He comes with his own boom box, direct from 1998, and gives a karaoke-inspired rendition of Shaggy's "Angel." He's not obnoxious, like I would expect, but he also isn't anything great. It's a solid no from all three judges, and in the wake of that decision, he somehow manages to lose his shirt. The good news? Maybe the folks at Abercrombie are watching, and he can leave the world of the dollar store and get a gig at the local mall.
Up next is Isaac Cole, 15, from Emlenton, Pennsylvania. He carries his country charm beneath his old school Bieber hair. Harry advises him to "stop singing with a twang" and Keith believes he's a "work in progress." I think he's good enough, but I can also see him being swallowed in the Hollywood rounds. I'll get the opportunity to see if that happens, as he is given a yes by all three judges.
After a string of less-than-stellar auditions, we are treated to Sara Sturm, 17, from Centreville, Virginia. She breaks the dry spell with her take on Meghan Trainor's "Lips Are Movin." After a battle of the puns with Keith, Sara is given a yes by all three.
I don't have the words to explain the next audition, and I don't know if the world is ready for the fabulousness that is Ellis Banks. The 25 year old from Indianapolis, Indiana enters the room wearing a "sequined Jesus" (his words) on his head, an open robe, and some fiercely bedazzled speedos. Ellis Banks proceeds to drop it like it's hot, before serving up a tribal-inspired rendition of "Born This Way" by recent Golden Globe winner Lady Gaga. (I would totally buy his rendition on iTunes.) It's an obvious no for all three judges, but it's not a mean-spirited critique. Jennifer compliments him on his "really, really sweet soul," and it's a sweet moment. I am just so thankful that it's not like it used to be, when campy auditions such as this made up for about 85% of each audition episode. (Please don't cross-reference my math on that one; I may have rounded up… or down.)
We next meet Jenn Blosil, a 23 year old from Brooklyn, who was in the fifth grade when Kelly Clarkson was crowned the inaugural American Idol. There's a sweet spirit about her, and I kind of feel like she could be Drew Barrymore doing a skit on Saturday Night Live. Something seems so off about this one, that it actually feels spot on. She performs "Radioactive" on the piano and, for the first time in my existence, makes me like that song. Jennifer calls her "interesting" and "compelling, almost" while Keith compliments her "easy presence." She gets her golden ticket, and I have my eyes on this one.
Harrison Cohen, a 17 year old from New City, NY, brings along his grandpa for his audition, who almost steals the show. (I almost feel like it's really a ploy to promote the Efron/DeNiro movie, Dirty Grandpa.) If I could use an emoji here, I just would've used "bulging eyes emoji." Harrison performs an original song, and earns his golden ticket with his talent, not just his charming grandpa.
Our final contestant of the night is John Arthur Greene, a 27 year old from Raleigh, NC. His intro package brings us the story of how he lost his brother when he was just eight years old in a freak gun accident, and he's already winning hearts before he even sings. Currently working on Broadway in Matilda, he offers up his take on a Keith Urban song. I love his performance, but Harry doesn't feel he's ready for this. Luckily, Jennifer and Keith disagree, and he's Hollywood bound. (Cue his Matilda understudy!)
Thursday night we get to see more auditions from Denver and Little Rock.
[Photo credit: Craig Blankenhorn/FOX]
American Idol Season 15 Episode 3 Review:
Summary
Ryan and the judges continue their search for the next American Idol with auditions in Philadelphia.