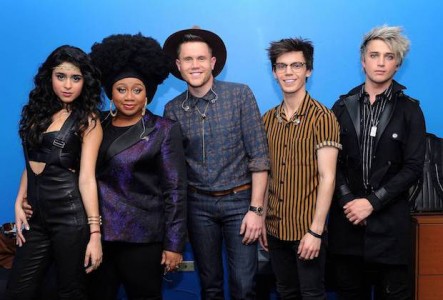 I don't speak sports or basketball, but American Idol is exactly what I need to bring the madness to my March. (Actually, my madness was brought back in February, when Adam Lasher was axed, but with a few more years of counseling, I should be over it.) We are only two weeks away from the grand finale, and we've yet to have a Pia Toscano/Chris Daughtry-sized upset with eliminations this season. (I think the multiple "judges' saves' might have something to do with that.) This week we go from five to four, with a double-header. If there's any justice to the show that built so many musical careers, Sonika Vaid will be shown the door.
Round One finds our contestants teaming up with Steven Van Zant, for a take on a classic rock song. Oh great, heavy metal. (I grew up on classic country and teenybopper pop, so any music not in my wheelhouse I refer to as 'heavy metal.') Round Two, the Final Four will team up with Sia, to take on a song from her catalog, complete with a face-to-face (she showed them her face!) mentoring session.
LA'PORSHA RENAE- ROUND ONE: The first to break through to the next round is La'Porsha, who just said no to the 'fro this week, and endured 14/15 hours of hair therapy for a new look. I think she looks amazing, and as long as her talent wasn't hidden in her giant hair, the image shift won't matter. I actually like that she waited this long to try a new look. She brings us Bon Jovi's "Wanted Dead or Alive" (that's now considered classic rock?) and it's a home run. Keith appreciates the "blues undertones" and the "soul" and "swagger" she brought to the number. Jennifer thinks she has an "undeniable" voice that "could sing the phone book." (Wait, they still make phone books??) Harry notices that she has slowed down her vibrato, and calls that a "really crazy skill." ROUND TWO: La'Porsha stretches her vocals on Sia's "Elastic Heart" for her second song. J.Lo has a flashback to Hollywood week, where she says La'Porsha flew under the radar. Wait, what? Of all the places La'Porsha might have flown in life, I would say under the radar on season 15 of American Idol would NOT be one. Harry compares her performances to that of a NASCAR driver, with him riding in the passenger seat. Keith feels like he just watched La'Porsha perform her nominated song at an awards show.
MacKENZIE BOURG- ROUND ONE: MacKenzie slows down Cheap Trick's "I Want You to Want Me", and doesn't quite live up to its name for the judges. Jennifer thinks he definitely "MacKenzied" the number, but it "wasn't the best." (Jennifer blanking on Steven Van Zant's name, having to be rescued by Harry is a highlight of the night for me.) Harry thinks it's just "alright" while Keith "hated the arrangement." (I would like to have a sit-down with Keith and talk about this unnecessary hate is putting into the universe we all have to live in.) ROUND TWO: MacKenzie chooses the David Guetta song "Titanium," written by Sia. Harry gives what I feel is his most unpleasant critique of the season. While he claims "it was nice," his tone seems anything but. (I think maybe I could make a career out of judging judges on reality TV.) Keith feels the song is "really beautiful" and J.Lo offers up a little hope by saying "At the end of the day, we're all rooting for you."
GUEST PERFORMANCES- Season Seven winner, David Cook, returns to the Idol stage to perform his own "Heartbeat" song. As he sings, there is a video montage of all previous 14 winners being crowned. With all the hoopla of the "farewell season," it hasn't really felt like the end for me. Until now. This performance gave the "it's almost over" goosies for the first time this season. Katharine McPhee may have lost the Idol title to Taylor Hicks (I know, who?) back in Season Five, but that didn't dim her star potential. After building an impressive resume in the acting world, where she currently stars on CBS show Scorpion, Kat comes home to Idol for a return performance to her chill-inducing version of "Over the Rainbow." (Um, is that a lost verse she began the song with?) She seems to have been drinking from the fountain of Electric Youth, because she looks as young and beautiful as she did back in the day. We get a sweet moment when Ryan Seacrest invites a "superfan" member of production out to meet Katharine, and it melts my heart. Sia takes the stage for a half-faced (literally) performance of her song, "Cheap Thrills." I honestly didn't have that high of an opinion of Sia prior to this episode, but I really enjoyed her personality and seeing her mentor the contestants. I think I finally get what she's about, and I enjoy her.
TRENT HARMON- ROUND ONE: Trent brings ZZ Top's "Sharp Dressed Man" to the stage, and I never knew of a sharp dressed man that tucked his tie into his pants. Is this a trend I missed? I know we are a little behind the times sometimes here in Kansas, but seriously, did I miss this memo?? The "crazy face" has returned, and I feel like I am just missing something about him. The judges swoon (once again) over this performance that leaves me wanting to say Simon Cowellesque comments. (I'm making my fingers refrain from being too negative.) Harry thinks it's "brilliant" and "so, so smart" and Keith thinks it's "so freaking good," and gives it "10 out of 10." Jennifer feels it's the performance "everybody was waiting for." (Um, I wasn't, Jenny.) ROUND TWO: Trent decides to descend from the rafters to swing from Sia's "Chandelier" for his second song, and it's more of the same for both me and the judges. Keith calls it "exquisite" and Harry declares it "phenomenal" and gives it "100 out of 100." (Which is the same as 10 out of 10, of course.) It's probably a good thing this is the last season of Idol, because maybe I have no business reviewing a musical reality show, because I just don't get him. I won't deny his excellent voice, but as our next American Idol, I just can't. (Or as the teens are saying these days, I literally can't even.)
With the first three through to the next round, that leaves us Dalton and Sonika in the bottom two. This is where I am expecting the upset of the season, with Dalton getting the combat boot. Thankfully, my vision is foggy, and Sonika is eliminated.
DALTON RAPATTONI- ROUND ONE: Dalton first brings us "God Only Knows" by the Beach Boys, and if the Beach Boys are considered classic rock, then maybe I do like heavy metal. Keith thinks it's "so good that you chose that song," and Jennifer believes he "really won with that moment." Harry drops words like "melodically" and "harmonically," and I'm over here like "I like your beanie, Dalton." ROUND TWO: Dalton really lets himself fly on Sia's "Bird Set Free," and it seems to be a brilliant move. I think he knows his voice can't really compare to La'Porsha or even Trent, so he plays it up with dramatic performances, and I think it works.
What did YOU think? Comment below, or tweet me at @jimbob90210 and let me know what you thought! I leave you with this performance of "Heartbeat" by David Cook, because the end is near, my friends!
https://www.youtube.com/watch?v=6Oy2RRkbO1A