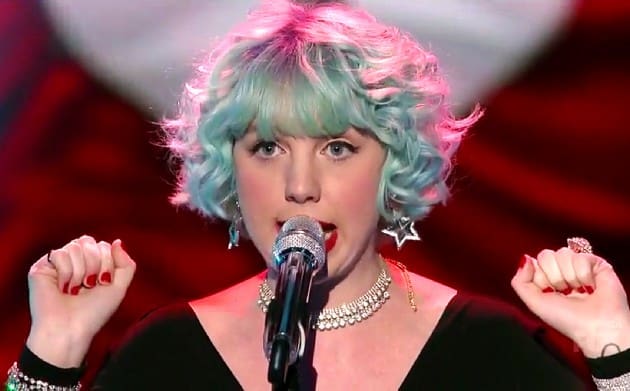 We have officially returned to the two-hour American Idol format, and have arrived at our first live episode of the season. You know it's about to get serious when Ryan Seacrest has added a tie to his suit. For some reason the audience is filled with balloons in a variety of colors, making it look like a giant McDonald's birthday party. (That's how we did birthday parties in Kansas in the 80's, don't judge.) Without any official results show this year, this is how eliminations will go down; during each live performance show. This week's theme? "Let's Get This Party Started" And on that note, it's party time…
Rayvon Owen is the first to be called, and he performs "Burn" by Ellie Goulding. We have an added touch before each performance of one of the judges making a comment about the contestant in a little Brady Bunch box. As Rayvon performs, I decide that we're going to need a seat belt for Qaasim's chair in the background. Why does he insist on stealing the spotlight any chance he gets? Keith thinks Rayvon made a "killer song choice" and Jennifer likes it better than she thought she would. I've just decided this week that I really enjoy looking at Rayvon's face.
Maddie Walker's name is called next, and she is referred to as a "future country siren" by new mentor Scott Borchetta. Maddie performs "She's Country" by Jason Aldean, and I feel like her outfit is trying too hard to tell us just that. For me, this is a complete opposite performance than the one from the previous night. This looks like she would be a finalist in the El Dorado Prairie Port Festival karaoke contest of 1999. #hometownshoutout It appears J.Lo is scowling during the performance, but she raves about it, so I'm guessing she was just lost in thought. Harry warns Maddie about being aware of the difference in emulating and imitating an artist. While I don't miss the nastiness of Simon Cowell's remarks, part of me thinks the judges have been a little kiss-butt with the singers. Ryan reveals Maddie has been ill, and she exits the stage for medical attention. (Hopefully she is prescribed a pill to make better song choices.)
Up next is Joey Cook, and she brings to life her own take on "Fancy" by Iggy Azalea. Harry hopes she acts "like she's been to the dance before" and can leave the nerves behind. This is actually the first time I've liked this song. (And that's saying a lot, because clearly I was born fancy and can identify with it.) Keith gives her a standing O and the audience begins a "Joey" chant. Harry gives her an A+ for the arrangement, the vocals and for embracing the moment.
True confession moment: I have never seen an episode of Empire, and I fast-forwarded through the Empire song that was just performed on the Idol stage. (I would've much preferred a Glee farewell number.)
Clark Beckham is called next, and we all know how I feel about that. He sings "Takin It to the Streets" by the Doobie Brothers, and that's what I fully intend to do if he's not in the finals in May. (Taking it the streets in a peaceful riot, I mean.) Clark performs as he plays the piano, and I can't get Debbie Gibson's "Lost in Your Eyes" out of my head each time he looks at the camera. Seriously, I feel my spirits rise. It's not Harry's favorite performance of his, but tells him to "keep doin' what you're doin'."
The fifth name to be called is Jax, and she is described by Scott as "the epitome of the 80's mashed up into 2015." She makes a daring move and performs Taylor Swift's "Blank Space," and it's the first time I've really liked her since her original audition. Jennifer thinks it's not the right song choice for her, and Harry thinks she's a carbon copy of Taylor, not meaning it as a compliment. All three judges felt that "Jax" was missing from the song.
Qaasim Middleton, my nemesis of season 14, is the next name called. Scott thinks he's what "makes the show great" and I disagree inside my head. (I would never want to disagree out loud with the man who hatched Taylor.) Qaasim shocks us all by performing standing still with a guitar, with complete lack of spastic antics. Harry thinks his performance didn't match what the song is about, and wonders if he is a one-trick pony. (I love you, Harry!)
Scott Borchetta is convinced that the next winner of American Idol will be edgier, and he feels that Adanna Duru, the next name called, is right on that edge. Adanna performs "Runaway Baby" by Bruno Mars, and, like Maddie, it's a complete opposite performance compared to the previous night. Unlike Maddie, it's this night's performance of Adanna's that I like. Keith declares "that's why we saved you" and compares her to Tina Turner. J.Lo appreciates that she appears to be more in control of the performance.
Tyanna Jones takes the eighth spot, and makes me love her even more. Scott thinks she has "wisdom beyond her years" and doesn't see a little girl when she performs. Tyanna sings "Tightrope" by Janelle Monae, and ends up with a standing ovation from Keith and Jennifer. As if her performance weren't enough to make me love her all over again, she ended her moment with one of my favorite American Idol quotes ever: "I'm so happy to see my mom happy for me."
Ryan Seacrest now delivers some sweet music to our ears: Kelly Clarkson's album, "Piece by Piece," has debuted in the number one spot on the Billboard album charts. Even better? She will be returning to the Idol stage on April 1st. (Unless that's a mean early April Fool's joke?)
Daniel Seavey surprises even himself by being the next name called, and is out to prove he's more than just a cute kid. He brings us Pharrell's "Happy" and there isn't anything to the performance that stands out for me. (All I see is the cute kid, still.) Harry calls him "immensely talented" and thinks this is the most comfortable he's been on the stage.
Next up is Quentin Alexander, who Scott describes as "thrift shop cool." He delivers Adele's "Rollin' in the Deep" and I don't like it as much as I want to like it. I really like him, but I'm not feeling this performance. J.Lo likes the "different flavor" of it, and Harry thinks it's a "relatively shallow interpretation."
"DIM THE LIGHTS!" (One of the most overused Idol phrases of the past 13 seasons will now only be heard once a week- hallelujah!) The final spot goes to… Nick Fradiani! I would've needed a little counseling had we lost him at this point. He performs an acoustic version of "Wake Me Up" and is every bit of the "pop hunk" Scott Borchetta described him as. Sadly, it's the end of the road for Sarina-Joi Crowe, as the judges choose not to use the only save of the season on her.
Next week we arrive at the once-a-week show on Thursday, making room for the Empire season finale on Wednesday. Is it bad that I write a review for American Idol, but I don't vote? Please don't tell the judges… or my mom.
[Photo via FOX]