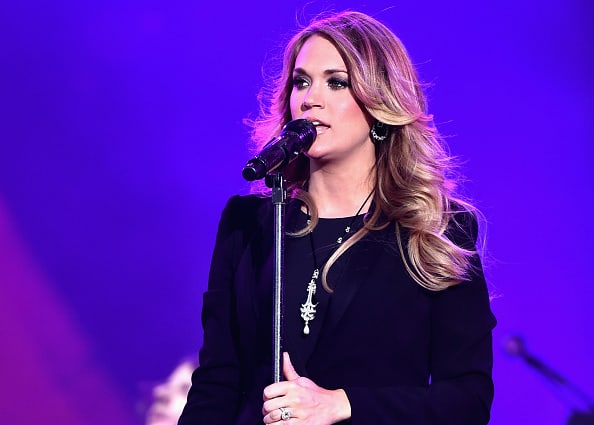 It is that time of the year again. Fox reality competition show American Idol is back for a fourteenth season. The premiere, which aired last week, won its time period in ratings in key demographics. The episode was watched by 11 million viewers. However, the first episodes are down compared to the premieres of the 2014 season, which was watched by over 13 million people. Ryan Seacrest is back as host and Jennifer Lopez, Keith Urban, and Harry Connick Jr. all return to the judge's seats. Randy Jackson, who was with the show since the first season, did not return. American Idol is a way for a young singers to get their break in the music industry. Some Idol hopefuls end up becoming actors instead of music sensations. Here is a look at what American Idol hopefuls went on to star in some of your favorite television series.
Katharine McPhee, Season 5 Runner Up
Katharine McPhee came in second place during the season she appeared on American Idol, losing out to Taylor Hicks. McPhee's music career never really did take off, but she had done quite well for herself in the field of acting. She played Harmony in the Anna Faris comedy The House Bunny. After that, McPhee would appear on CSI: New York, Tit for Tat, Family Guy, and Community. She would also be featured in the films Shark Night 3D and Peace, Love, & Misunderstanding. In 2012, McPhee won the role of Karen Cartwright on the NBC drama Smash. The series would last for two seasons. This television season, McPhee is playing Paige on the new drama Scorpion, which has proven to be a ratings winner for CBS.
Amber Riley, Season 2 Auditioner
You may have forgotten that Amber Riley tried to make it into the music industry by auditioning for American Idol during the second season in 2003 at the age of 16. She was not able to make it past the audition round but she was able to get her big break six years later by playing Mercedes Jones on the FOX series Glee. The drama will end its six season run early this year. Riley provided her voice to an episode of The Simpsons and was the season 17 winner of Dancing with the Stars.
Carrie Underwood, Season 4 Winner
Carrie Underwood is one of the most successful American Idol winners. She continues to dominate the country charts and continuously hosts the Country Music Awards with her pal Brad Paisley. Underwood has even made time to give acting to try. She provided her voice to a 2009 episode of Sesame Street and the following year popped up on an episode of How I Met Your Mother. Underwood would continue her acting career by appearing in the feature film Soul Surfer and by starring as herself on the ABC drama Nashville. Underwood played Maria in the critically acclaimed The Sound of Music Live! which aired on NBC in 2013.
Kelly Clarkson, Season 1 Winner
Like Carrie Underwood, Kelly Clarkson has had an amazing music career after winning America Idol. When she is not in the recording studio or on tour promoting her top-selling albums, Clarkson has been able to act on a few different television series. The same year that Clarkson appeared in the awful film From Justin to Kelly, she could be seen in an episode of That 80's Show and Sabrina, the Teenage Witch. In 2003 and 2004, Clarkson would portray Brenda Lee on the NBC drama American Dreams. In 2007, Clarkson popped up on an episode of her BFF Reba McEntire's show Reba. Most recently, the singer played herself on Nashville and The Crazy Ones.
Jackie Tohn, Season 8 Semi-Finalist
Season 8 of American Idol was the season that Kris Allen took home the 1st place prize. It was also the season that Jackie Thon appeared. She did not make it that far into the competition, but since her appearance she has had a successful acting career. Tohn had already done some acting before appearing on American Idol. She was on The Nanny, The Sopranos, Strangers with Candy, and Angel. After Idol, Tohn appeared on Veronica Mars and It's Always Sunny in Philadelphia. She has also had guest starring appearances on CSI: New York, Rules of Engagement, House of Lies, and Castle. Additionally, She was in the 2014 comedy Bad Roomies.
Adam Lambert, Season 8 Runner-Up
Season eight of American Idol was also when Adam Lambert appeared. He was able to come in second place and have a decent music career after the show ended. Lambert most recently appeared on the fifth season of Glee as Elliott "Star Child" Gilbert. He would star in five episodes around the same time that Demi Lovato would guest star on the series. Lambert's character would disappear when the series would make a significant time shift midway through the season.
Jordin Sparks, Season 6 Winner
Jordin Sparks is another American Idol winner to find success in both music and acting. In 2009, Sparks would appear as herself on an episode of The Suite Life on Deck and in two 2010 episodes of Big Time Rush. In 2011, Sparks would lend her voice to an episode of Team Umizoomi and would appear in a 2013 episode of CSI and play Abby in the made for television movie Dear Secret Santa alongside Ernie Hudson and Tatyana M. Ali. Sparks has also been featured in the films Sparkle, Left Behind, and The Grace of Jake.
Becky O'Donohue, Season 5 Semi-Finalist
Becky O'Donohue did not make it very far during the fifth season of America Idol, but she has appeared in many television shows and movies. You may have come across her face on such series as Rescue Me, House, Psych, The Big Bang Theory, and The Mentalist. She has also appeared in the films Don Juan and Fast & Furious.
Constantine Maroulis, Season 4 Sixth Place
After his stint on American Idol, Constantine Maroulis would go on to star in the soap opera The Bold and the Beautiful for three months. He has also made guest star appearances on Law & Order, Law & Order: Special Victims Unit, and Unforgettable. He also was in the 2012 film Rock of Ages alongside Tom Cruise and Alec Baldwin.
Who has been your favorite contestant on American Idol? Let us know in the comments section below.
Photo by Theo Wargo/Getty Images for Global Citizen Festival