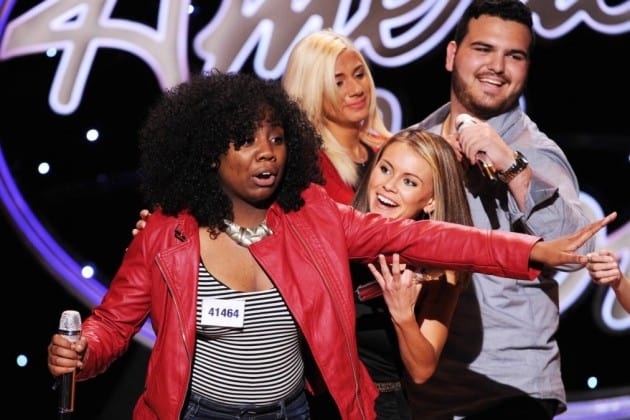 After 218 American Idol wannabes descended upon Hollywood last week, we find ourselves whittling away at the finalists in the form of the dreaded group rounds. The judges are contemplating the talent this season while perched in the box seats at the Ohrpeum, and I am reminded of the time I stole seats just like that at the Broadway production of Mary Poppins. (Fear not, I had balcony seats already purchased, and I returned to my original seat after realizing the illusion was broken once I could see Mary on a harness being raised into the air in the wings. No need to call the Broadway Five-O on me.)
We get a flashback to Alexis and her "oops I almost fainted" drama from last week. She performs "Drive By" with her group, 'Sal's Gals.' The song is an appropriate fit, because I almost hit the deck in fear for my ears. I don't enjoy the performance as much as the judges, but it's enough to send two of the gals from Sal to go through; my girl, the toxic Jax, and Alexis.
The group '3 to 1 Brunette' performs, with one of the three blondes pushing through despite a bout of food poisoning. (Sabotage is never mentioned, but I hear group rounds are pretty cut-throat, so I would've been investigating that.) With tight vocals and a barf bag, all four easily sail through the group round.
Up next, we get four besties from Belmont University: Cody Fry, Rayvon Owen, Piper Jones, and a poor girl who didn't even get her name flashed on the screen. She shall be known here as contestant #42194. (And no, that's not a hashtag kids, that's how we used to say 'number.') The group, dubbed 'BLVD', nails a rendition of Kelly Clarkson's (my bestie) "Since U Been Gone," and Harry thinks the choice of song and their take on it was "so smart." It sends all four members from the boulevard through, including agent 42194. Please, FOX- give her an identity by her next solo audition.
'Team Yup' is quickly turned into 'Team No Thanks,'and I don't who the flannel-waisted hottie is, but he might want to sign up for the next round of America's Next Top Model. He doesn't understand the purpose of group rounds, when clearly he is meant to shine as a solo act and blah blah blah. I forget to listen to what he's even saying because he's just so pretty.
The group 'Vital Signs' has some girl drama en route to their stage performance, and they have me thinking about last season. Their group performance reminds me of why I stopped watching last year when the top 12 were announced. I feel like there is such better talent in this pool than these girls showcased, and I'm sad that two of them are sent through while the other two flatlined. Please don't deliver me a top 12 without a pulse this season.
Trevor Douglas, Quaasim Middleton, Daniel Seavey and Savion Wright all hit the stage with blood on their hands, an apparent result from the attempted murder of One Direction's "Story of My Life." The quickest way to cross me is to mess with one of my boy band songs, and these four just made my list. If Harry, Liam, Louis, Zayn and Niall don't feel the need for a beat box on that song, neither should anyone else. I don't even care that the judges like it and send them all through; I am offended. (Did I mention that I'm with the boy band?) I was willing to overlook the ridiculous group name, 'LKYCO'–Ladies Keep Your Clothes On–but now I am forced to refer to them as 'GSAFOD' (Gentlemen Step Away From One Direction).
'Team No Sleep' (who clearly didn't lose sleep thinking of a group name) find themselves in a power struggle between Laurel Taylor Taunton and "Hollywood" (asleep on the floor) Anderson. Despite not living up the group name, Hollywood survives and Laurel is cut.
Alexis Gomez, Loren Lott and Quentin Alexander all shine in their separate groups, yet it's unclear how the other three made out in each one. Only they are showcased and sent through, which has me feeling bad for the forgotten nine. Lovey James and Jess Lamb find success with their take on "All About That Bass," but group-mate Kory Wheeler and the fourth member don't share a similar fate.
Mark Andrew, Vanessa Andrea, Katherine Winston and Alex Shier try to get by with a little help from their friends, and three of them do. Sadly, Vanessa doesn't make the cut as the other three advance.
It's now time for me to take a break and dial up the local police, because a robbery has just taken place. I see a flash of our hometown guy, Cameron Bedell, being cut. I don't think it's a crime that he didn't advance, because I know how talented he is and that he will shine with or without American Idol; I think we were robbed of him getting to have his talent showcased more than just his Nashville audition. He did Wichita proud… I just wish you all could have heard more from him.
It's time to break out the biscuits, because Jelly survives and is sent through, along with Maddie Walker. Although a clear judge favorite, it's not good news for Garrett Miles. He, along with his unidentified girls, is cut.
'The Violent Vixens' close out the episode, as Joey Cook, Shannon Berthiame, and Naomi Tatsuoka struggle through lost lyrics on "Somebody to Love." Harry seems impressed with Joey's ability to improvise her way through and reminds them of the most important five words in the business: "The show must go…" And naturally, that's where my DVR cut off. Looks like Harry Connick, Jr isn't always right.
I would guess Thursday night will bring us back to solo auditions, where I will be safe from any group massacre of boy band songs. As we inch closer to the top 24, there's a good chance we've already met this year's American Idol.
[Photo via FOX]