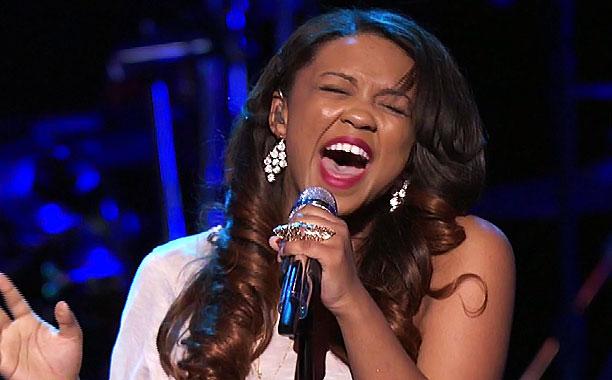 It's our last night of American Idol in the randomly-chosen city of Detroit, where our top 12 girls will be whittled down to the top eight. I'm not nearly as nervous for this night's cuts, mostly because the girls failed to impress me much last week. Unlike the girls, however, Ryan Seacrest has officially landed back on my radar and I love him like it's Season 1 all over again. Welcome home, Ryan. #SeacrestIN! (I hope somewhere in this world there is someone who gets my lame Idol jokes of years past.)
The first girl to sail to safety is Tyanna Jones, and I can officially begin the episode by breathing easy. Unlike the boys, I don't have a handful or two of favorite ladies. Tyanna is my top pick for the girls, and with her safe, I know I won't be experiencing the same levels of anxiety I did on Wednesday night. Tyanna performs "Rockin' Robin" and she just makes me happy. She makes my heart smile, and she takes J.Lo back to the days of Motown. (Wait- J.Lo was there?) She leaves Harry wondering if there's anything she can't sing.
Loren Lott claims the next spot, and I love getting to see her reaction to positive news. She performs "I Wanna Be Where You Are" in her typical beauty pageant style, and has Jennifer declaring a "strong vocal" and a "strong performance." I'm not blown away by the performance, and I just feel like she's someone I would love to watch on a reality show other than American Idol.
Maddie Walker takes spot number three, and I'm almost too embarrassed to admit what I'm about to type. She takes on "I'll Be There" by the Jackson 5, but in the dark ages of 1992, I thought it was a Mariah Carey original, when she performed it on MTV's Unplugged. (For the record, I never claimed to be a music guru. A guru of musicals? Perhaps.)
Joey Cook is called to take the next spot, and it's a good thing, because the suspense looks to be actually killing her. I enjoy her so much, but I am worried that the further she makes it, the more she might crack. For "Shop Around" she goes rogue, without the squeeze-box or ukulele to assist her. It's completely her, but the nerves show. It's almost as if she doesn't believe that she's made it this far. Her message to the camera in the wings wins me over even more: "Thank you for watching, and voting, and existing." To exist and be thanked for it? Warms my heart.
(I think with the right amount of practice, I could hula-hoop with one of J.Lo's earrings.)
Sarina-Joi Crowe, the four-time contestant, proves that this time around, she means business. She gives us "You've Really Got a Hold on Me" and I am continuing to realize that I don't really got a hold on Motown. I think these songs are just lost on me.
Adanna Duru breaks through and sings "Hello." Wait… Nicole Richie's dad is a Motown baby? (Who am I to even write reviews of a music show??) Also, did Keith Urban recently break his nose? Why does he resemble Owen Wilson suddenly??
Jax, my on-again/off-again favorite, claims the seventh spot of the night. She decides to pair her "dress that broke the internet" with a pair of biker gloves, and has me on the fence. I think I have gone from really liking her, to now just wanting to really like her. She performs "Ain't No Mountain High Enough" and shows us that maybe, just maybe- there is a valley low enough. And I think she might've just sank into it.
With only one spot left, let us please remember: Adam Lasher and Michael Simeon are gone. (I don't work out, but I guarantee I can hold a grudge a lot longer than any of these finalists can hold a note.)
And claiming the eighth spot for the girls is… Alexis Gomez. She brings us the Duncan Hines theme song, and I can't help but think what a refreshing performance this is. Easily my favorite of hers, and I am quickly reminded why I am a tone-deaf nobody writing a TV review and not a singing competition judge. Jennifer is bothered by the arrangement and thinks it's out of key, while Keith declares it a bad song choice. How rude.
All I know at this point is this… Shi won't be moving on!! It's also time to break out our inner *NSYNC and bid "Bye Bye Bye" to Lovey, Shannon, and Katherine.
Next week, we return to Los Angeles to reveal our top 12!!
#afterthought: Kelly Clarkson, American Idol original, released her seventh studio album, "Piece By Piece," this week. Can we please discuss for 7 seconds how much I love her? More than any single person to hatch from the Idol since…
[Photo via FOX]