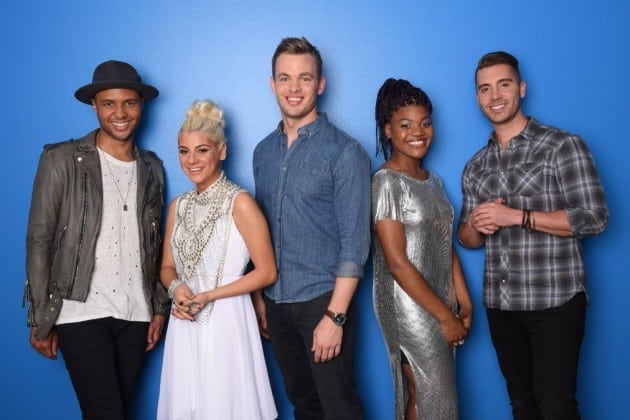 While the Top 5 officially have made it to the American Idol tour, only the Top 4 will get to experience the "Hometown Hero" visits for next week. With the "Twitter Fan Save" off the table, the results from here on out will be solely determined by the votes of America.
Our episode begins with the final five the morning after last week's elimination, boarding Scott Borchetta's private jet. (I'm pretty sure he has the white-hot career of Taylor Swift to thank for that.) Destination? Nashville. Our American Idol hopefuls are about to get the grand tour of Scott's Big Machine Label Group and Blackbird Studios, where one of them will call home as he/she records their debut album. We see the Idols walking the streets of Music City, getting the love from random fans. Each Idol gets the opportunity to meet individually with the creative team at Big Machine, and will also have the chance to be mentored by two big names of country music. Jay DeMarcus from Rascal Flatts and the pride of Kansas (shoutout) Martina McBride are on hand to offer advice and words of wisdom.
The theme for the first batch of songs is "Songs from the Judges' Hometowns," while the second set of tunes are "Songs That Showcase the Artist's Soul," or their "Gravy Song." Russell Crowe is on hand to deliver the results envelope, and he apparently rode his bike there? (What?)
Our first to sneak into the Top 4 is Clark Beckham. His first number is "Living for the City" by Stevie Wonder, and I don't know about the city, but I am totally living for his tight pants and boots. Loves. He walks away from the mic for a brief stint at the piano, which turns out to be the judges' favorite part. Harry feels he needs to "drive it home" for the duration of the performance, and mentions something about a pocket and a groove. (In Clark's defense, I don't think there's room for anything in the pockets of those pants.) For his second number, Clark meets with the little Rascal Jay, where the two bump heads, along with Scott, about song choice. Clark is adamant about performing Josh Turner's "Your Man," and Scott warns him that the show is not "American Musician" and that he could be headed "on a fast track to a Holiday Inn with this kind of music." (Um, excuse me? Have I been living life on the wrong side of the tracks? My hometown Holiday Inn Express is pretty fancy here in my neck of the woods. Rude.) Clark doesn't budge and thinks this is the "best way to communicate what comes out of my soul." It's an almost uncomfortable exchange to watch. Harry thinks Clark needs to "think from the perspective of the audience" and "knock it out of the park."
Claiming the second spot for the night is Jax, and I am having trouble wrapping my head around why she is still in this competition. The feeling of love I had for her originally is long gone, and I just don't get it anymore. (She seems like a sweet girl with a great family, so please refrain from stalking me on social media to curse my name. That's my little disclaimer in case Qaasim's mom is still reading.) Jax performs "Empire State of Mind," and J.Lo is convinced she has the potential to take the whole thing. Harry likes her "unique tone." I'm just bothered by her microphone mumbles when she speaks on stage, and I feel like she's trying too hard to be candid during her interview clips. Jax has the opportunity to meet with Martina for her mentor session. Martina thinks Jax "knows who she is," and I want to cry foul. I think that's my problem with her: I don't think she knows who she is at all. Scott even mentions "the Jax character," and I think that's exactly how it's coming across, as a character. Her second number is "Human," and Harry loves that she "completely let herself go." (I'm just happy she let the biker gloves finally go, if only for this performance.) I don't not-like the number; I just think Jax is here on the Idol shelf past her expiration date.
Next we get to see Nick Fradiani sail to safety for at least another week. Nick's first song is "Bright Lights" by Matchbox 20, and I think at this point in the game, the title of American Idol is Nick's to lose. (I'm not turning my back on Clark, but Nick has been on fire lately.) Harry thinks this is his "most comfortable performance by far," and Jennifer tells him that he is peaking at the perfect time. Her exact words? "So comfortable. So perfect." Nick's second song is "What Hurts the Most" by the Flatts of Rascal, where he shines even brighter. J.Lo declares him the star of the night. ( I declare J.Lo's ponytail as the star of the night.)
Harry steps out from the judge's table to take the stage and perform a tribute to his hometown of New Orleans, "City Beneath the Sea." I think Clark and Nick both perform as well as and sound just as good as Harry does, so I think the fate of this show is in good hands. (As long as someone doesn't throw Jax under my tires, sabotaging the whole thing. Don't do it America.)
With only one spot left in the Top 4, Tyanna Jones and Rayvon Owen meet Seacrest center stage. It's time now to say goodbye to… Tyanna. We are treated to a bittersweet goodbye video package, highlighting her Idol journey. She gives a farewell performance of Beyoncé's "Run the World (Girls)." Harry calls her "a gift," and Jennifer looks forward to her future, along with the rest of us. Bravo, Ms. Jones.
Rayvon takes the stage to perform Lady Antebellum' s "Need You Now," and he offers a completely different take on the song. I feel like it's a risky move, but it works for me. (And not just because it's actually a quarter after one and I'm a little drunk. I kid, I kid.) Keith would like "a little less dramatics and a little more heart." Or maybe harp. I don't actually speak Australian, so I'm not sure what he was wanting more of. Jennifer says the lyrics need to be sincere, and not come across as acting. Harry thinks he "sang the pants off it." Rayvon's second song is "Believe" by my one and only Bieber. He dedicates the number to his mom, and delivers exactly what Jennifer was speaking of. During the mentoring session with Jay, Scott declares it the "best performance all season in a mentoring session." It's all love from the judges.
The highlight of the night for me? Martina McBride taking the stage to perform her #GravySong, "Somewhere Over the Rainbow." It's a shoutout to Kansas, where Martina is from. (I like to say that a lot. It's all about sunflower pride with me.) She delivers a flawless performance and reminds me yet again why I love her so much. And Jennifer and Harry just made my list for not giving her props with a standing ovation. Rude. (Thank you, Keith. You're safe.) Martina's voice is a perfect example of everything that's wrong with the current state of today's country radio. Bring back my girls!
With only two weeks left until the finale, the stage is set with our Top 4.
[Photo via FOX]