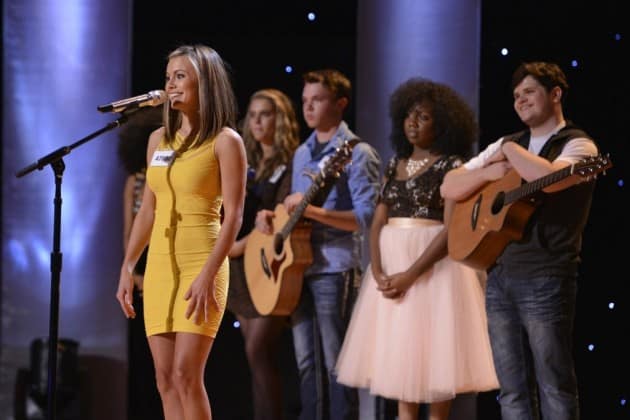 Before I can begin to comment on Thursday night's episode, I need to beg forgiveness to the American Idol gods. It appears that I need to correct myself for the confusion I was under during Wednesday night's episode in regard to the dreaded lines of ten I wrote about. Apparently, ten contestants (not 20) were called to the stage to perform individually, with certain ones then asked to step forward. One line was cut, while one advanced. Can we please just blame my confusion on the boxed wine? (That, or maybe I was truly under the spell of Adam Thrasher… take your pick.) No matter the case, it's now all Crystal Light clear, and Hollywood week continues.
We pick up right where my DVR cut off the night prior, with Gabby Z about to perform. She is frozen in fear, and taken under Harry's wing in the wings for a pep talk, and that seems to do the trick. Kelley Kime, the single mom we met in Nashville, continues to impress and is also sent through.
Andrew Annello is up, and all I can think is "please no, please no, please no." I remember him trying too hard at his first audition, and then somehow making me kind of like him–but that's since gone out the window. Dreams do come true (for me, anyway) and he's cut. It's a better fate for Maddie Walker, who looks like she's vying for Miss Small Town America, and Alexis Gomez, the barefooted free-spirit.
Cody Fry has me begging the question: "Who are some of these people?" I'm pretty sure I wasn't sleeping through the big city rounds, but seriously… who are some of these people?
Loren Lott shines on with her high energy and truly outrageous personality, but when I hear her singing "Radioactive," I secretly hope it's curtains for her. If songs were TV characters, "Radioactive" would be Brenda Walsh, my natural born enemy.
Rayvon Owen and Shi Scott get their time in the spotlight, and I don't know how many more of Shi's pronoun puns I can take. Shi has talent, but Her can be a little annoying. Do We agree? Maybe He is alone in thinking that. (He is Me.) What???
Clark Beckham, the Nashville street performer, and Daniel Seavey, the American Junior himself, remind me why I liked them both so much the first time around. Dakota Suarez, who I was hoping would be a shining star in Hollywood, failed to dazzle. I think the drag queen that auditioned in New Orleans nabbed that golden ticket for a reason, and that reason was not to become the next American Idol. I think there are people watching the show who will have seen the story of a fearless young person living life loud and proud. Shine on, Bianca Jade! (This ends the public service announcement portion of my review.)
Quaasim the Virgin (no relation to Jane) closes the solo auditions successfully, and that's a wrap on day two. The contestants are now asked to form groups of four, where they will then have the entire evening/night/morning to rehearse. It will prove to be a late night of rehearsals with little to no sleep, making sure there is just enough drama to be served up by breakfast the following day.
Our first group to hit the stage is "Double Stuff," a subtle shout-out to the ethnic make-up of the group. All four impress the judges and are sent to the next round, including my Clark Beckham. (I have a bad habit of laying claim to my Idol favorites. Not such a grand idea, seeing how this always gives me a false sense of friendship that in turn leads to frustration. Why won't my bestie Kelly Clarkson tweet me back? Does she not understand that this is my heartbeat song and I'm gonna play I??)
"Shi and They" (totally the name I just gave them) are up, and Shi and Two of Them are through. (I can't even handle this. Shi needs to leave, because I can't stop.)
"The Dream Team," the youngest group to audition, is up, complete with Mama Jones, the potential resident Stage Mom. (Stage Moms tend to not go over so well in situations such as this.) Mama Jones is Tyanna's mama, so I'm on her side… for now. Tyanna has that blue/purple fro that I love (a bruise fro?), so Mama J's getting the benefit of any doubt from me. Maddy Hudson is part of the Team, and if I thought her red lipstick bothered me in San Francisco, that was nothin' compared to this black lip thing she has goin' on. Good Lorde! Lipstick nightmare aside, she impresses enough to advance with Tyanna. The Dream is still alive.
I don't even have the right words to express the love I have for "Team Dimples." I love them so much that I'm willing to overlook the fact that they named themselves "Team Dimples." (I can't even believe I just typed that twice.) I want Jaq Mackenzie, Nick Fradiani, Hunter Larsen, and Michael Simeon in my Top 24 without even asking. (And if MySpace were still a thing, I'd want them all in my Top 24 friends. Those were the days.)
Alexis, whose last name I didn't bother to remember amid the drama of her being the last one picked, isn't about to let this episode end without any drama. As the fifth member of "Sal's Gals," she's about to throw a wrench into the mix in the form of an anxiety attack. All I can say is this; if she ruins Jax's chances to move on, I will light a candle and take it to the streets to defend my sequined girl gang member. (Because I am a peaceful protestor, duh.)
With a hashtag like #ToBeContinued, American Idol needs to quit playin' games with my heart.
The beauty and drama of Hollywood Week continues next Wednesday… see you there. (I'm officially over ending each review with "Until next time!")
[Photo via FOX]