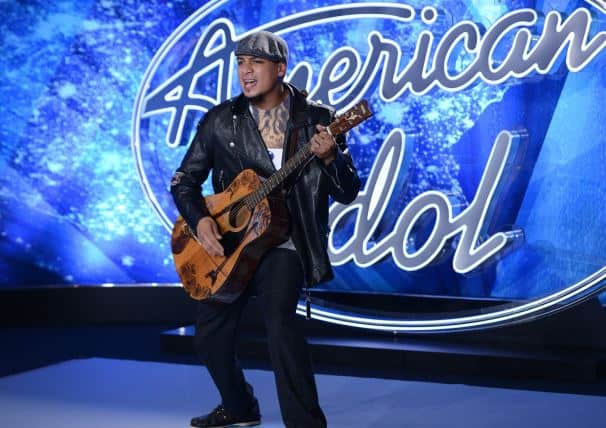 Welcome back to San Francisco, the last stop on the American Idol audition train. After a seemingly lackluster first round, I'm anxious to see how this episode stacks up. It's off to a slow start, and I'm losing hope fast for a climactic finale to the audition rounds.
First up is Adanna Duru, 17, and there's no mystery whether she has talent. She's been the spotlight of every Idol preview for the San Fran auditions for the past week. We already know she's going to perform Lady Gaga's "You & I," and we already know that she's going to shine. What we don't know is that she's going to pull a lyric switch-up and sing "California guy" instead of "Nebraska guy." Why? Why does Cali always get all the glory? Can't the states of the Midwest have their moment in the spotlight? (I have issues.) It's an obvious yes, and she's through to Hollywood.
We next meet Christopher Michael, 26, who might be something my nightmares are made of. He performs an "original anthem" and proceeds to beat on his guitar as he sing/shouts. He makes me uncomfortable watching, and Harry is inspired to throw his chair in a fit of mock-rage. Thankfully for me, it's a no from all three judges.
IDOL FAVORITE ALERT. Hunter Larson, 20, wins me over without even asking. I can't decide if she's actually Emma Stone trying to pull a fast one on us, because that's something Emma would totally do, I think. The hostess/nanny/florist/potential-Idol/maybe-already-movie-star from Malibu performs a Sinatra song, and her talent matches her amazing personality. The judges love her, and she'll be hauling her Willy Wonka umbrella tattoo and unexplained cherry red tongue to Hollywood, where she's sure to earn an easy A.
We are now subjected to a string of bad auditions. Unlike previous seasons that I have watched, it seems most of the bad-on-purpose and character auditions don't even make it to the three main judges, which I like.
Daniel Seavey, 15, is up next. My first thought is that if this were the summer of 2003 and this were American Juniors, he would win the entire thing, right along with Lucy Hale. (Yeah, I remember where you got your start Lucy, you Pretty Little Liar.) He first performs "Hallelujah" on the piano, and the judges have mixed emotions. He's then asked to perform a song on his guitar and he chooses Paula Abdul's "Straight Up." With that, he has me sold. The judges show some concern over his voice and how the Peter Brady change is affecting him. (Hey, when it's time to change, you've got to rearrange.) Harry thinks he needs more time to grow and develop, and Jennifer and Keith think he can do just that in Hollywood.
We now meet Jaq Mackenzie, 15, from Los Angeles County High School for the Arts. Attending a high school with that name, I was kind of hoping she would perform "Fame," but she instead opts for an original song. During her critique, I am distracted by J.Lo's extremely shiny cheekbones. Is it make-up? Is it a glare? Is it on purpose? #Squirrel. Needless to say, it's a yes from all three judges, and I am excited to see and hear more from Jaq without major cheekbone distraction in Hollywood.
Time for a throwback Thursday moment with some slow-mo highlights from the lucky ones who received golden tickets at each audition city. I think I am more than ready for these auditions to wrap so we can get to Hollywood and let the real games begin.
Tyanna Jones, 16, is our final audition of the season. It appears she just hopped on over from her shift at the Olive Garden, and I have an instant craving for salad and breadsticks. We get the whole backstory on her, and she's someone that I would like to see be successful. Luckily for her, she has the talent to back up her troubled childhood story, so I want to root for her even more. She is given the final golden ticket, so it looks like I'm going to get the chance.
After four weeks of audition rounds in the big cities, it's time for the focus to shift to the left coast in Hollywood. Next week we get the first round of just that, where more than 200 Idol wannabes will begin the battle of their lives. (That's a little dramatic, but then again, so am I.) It's time to bring on the music, the drama, and probably a good psychiatrist to mend my shattered heart when my Idol faves are axed. Until next time!
[Photo via FOX]