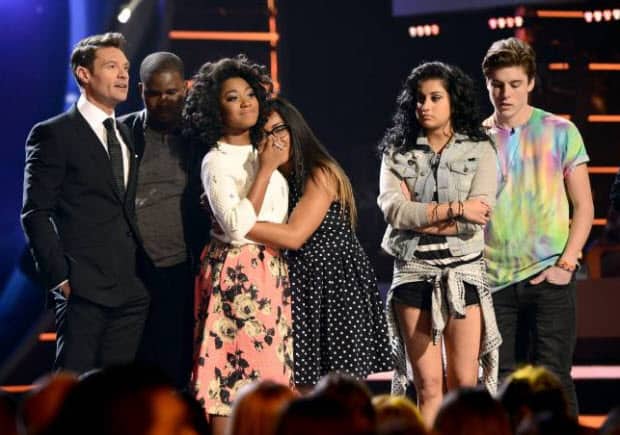 The Top 9 Results show from the 13th season of American Idol aired last night a day after the remaining nine contestants sang their hearts out in an effort to stave off elimination. Unfortunately, one of the crowd favorites, who according to judges was NOT saved by a "narrow margin" was sent home.
It was a strong run for Majesty Rose this season, but her ticket was punched last night. The elimination was pretty heartbreaking as one of the most positive, high energy, and just generally well-liked people on the show got eliminated. Sadly, the judges told Rose that it was their most difficult deliberation EVER – not that that helps her situation today. The season is now down to 8 contestants who will go at it again next week.
The half-hour elimination episode was actually a pleasant surprise. These days elimination shows, like The Voice, are sometimes insufferably prolonged. So who's safe? Jenna Irene was a lock after Wednesday night's performance of "Bring Me to Life". Her wannabe BFF Malaya Watson is also safe. Janelle Monae, Alex Preston, Caleb Johnson and Dexter Roberts were also given a chance to fight another day. Which brings us to our bottom three…
Majesty Rose, CJ Harris and Sam Woolf…. And it's Majesty who has to sing for her life. Her swan song is "Happy" by Pharrell Wililams. Tragically ironic because she was so happy singing the song, but ultimately couldn't deliver ENOUGH to stay on the show. The audience cheered hard for her, but ultimately it was just never meant to be. Keith Urban admitted that this was the toughest deliberation they've ever had.
Farewell, to Majesty Rose – keep plugging there's a place for you in music.
[Photo via Michael Becker / FOX. Copyright 2014 / FOX Broadcasting]