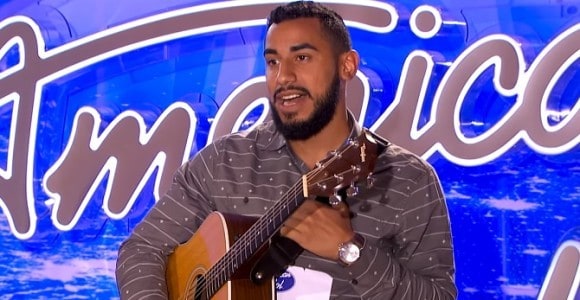 And just like that, here we are. After 15 rounds of open auditions across the country spanning the last 14 years, it's almost lights out as the curtain closes on the final audition episode of American Idol. Whether or not the show is ever reborn, or returns in some capacity down the road, this is kind of a big deal.
Our first contestant of the night is Jessica Cabral, a 21 year old from Worcester, MA. Raised in a musical family, she showcases a talent that seems to come to her effortlessly. Jennifer loves her "beautiful, thick, lush" voice while Harry thinks it's "one of the best" he's heard. J.Lo also thinks she hears an inkling of Kelly. (All hail the Original Idol herself, Ms. Clarkson.) It's an easy yes from all three judges, and if this audition is any indication for the entire episode, I think we are in for a treat.
Cody Ostrenga, a 23 year old belly-dancing cowboy (no, that's not a typo) unleashes his inner Shakira with eight seconds to glory. His take on "Proud Mary" doesn't secure him a golden ticket, but Harry thinks he's "entertaining" and he leaves the judges with smiles on their faces.
Brian Dale Brown, 27, from Bakersfield, CA, is up next with an impressive Scooby-Doo impression. Having tried out 10 times for Idol before, he's never made it past the first round of the audition process. He wastes no seconds making up for lost time to make an impression on the judges, and he growls his way through an uncomfortable version of "Unchained Melody." I'm frightened, Aunt Em. Keith and Jennifer both call his performance "powerful," while Harry thinks the performance is "so over the top." I must be on glue, because I'm pretty sure Scooby-Doo just got three yeses and is going to Hollywood.
Enter the star-spangled Gina Naomi Baez. The 27 year old from Rockville Centre, NY, brings her dog (in a matching outfit, no less) to try and win the judges over. I feel like she's shouting her way through a Meghan Trainor song, and Harry thinks she's "on the surface interesting." (Ouch.) J.Lo thinks she's "very theatrical" but "not right for American Idol." It's a no for Gina, who won't be bringing her act to Hollywood.
Melany Huber is up next. The 17 year old from Livonia, MI, comes with a touching story of cancer survival. Having been diagnosed with non-Hodgkin's lymphoma only five months prior to her audition, Melany is the face of hope. She shines on a Bruno Mars number, and Harry loves the "storyteller quality" she brings to the table. It's a three way yes, and Melany will be bringing her positive energy to the next round.
Justin Sullivan is up, a 22 year old die-hard Kelly Clarkson fan from Paramus, NJ. The self-proclaimed "Mr. Clarkson" wins me over with his passion for an artist he loves. I don't find it creepy at all. I am, after all, the guy who has a pinecone from Britney Spears' driveway of her home in Kentwood, Louisiana. (That's really a story to share over drinks, though.) And I can neither confirm nor deny the rumors of a LeAnn Rimes tattoo somewhere on my body. Justin's dedication to Kelly catches my attention, but it's his version of her song "Stronger" that really makes me root for him. While the judges see potential, they feel it's not enough to continue on. It's a no from all three, but I can smell a Kelly and Mr. Clarkson duet hatching at the grand finale.
One of the highlights of this night's episode is easily the little finger monkey Harry gets to hang out with for his birthday. I was unaware such an animal even existed in this land, but I know what's going on my wish list come June.
Next we are introduced to 15 year old Lillian Glanton, fresh off the poultry farm in Athens, Alabama. She has a deep down home twang that is so intense, she manages to rhyme the words "understand" and "boyfriend." Lillian performs an original song that results in a no from Harry, but wins over Keith and Jennifer. In celebration of her golden ticket, she manages to snag a selfie with the judges. (That's my kind of girl.)
Kacye Haynes, a 23 year old from Talladega, AL, has managed to crawl out of his dark past and overcome addiction to get his life back on track. Sober for nearly a year, his backstory is one of survival and hope, also, just in a different form. Jennifer really likes "everything that's goin' on" with him and sees "something special." Keith thinks his voice lacks power and gives him a no, and it all boils down to Harry. Harry falls on the side of Jenny, and it looks like Kacye will have something to look forward to, one day at a time. (I like this guy. A lot.)
Next up we get Colette Lush, a 19 year old nanny from The OC. (Do people still call it The OC? I mean, other than me?? Oh Ryan Atwood and Marissa Cooper, where have you gone?) Colette has a comedic side and just comes across as really likeable. She's proud to be a red head, and wants to represent for the gingers of America. Her talent matches her personality, and J.Lo thinks she has the "potential to do well." Keith thinks there is a "timeless quality" about her, and Harry believes she will give "hope to all red heads." It's an easy yes from all three.
Avalon Young, 21 from San Diego, doesn't look the part of the next American Idol, yet she seems to capture the eyes and hearts of the judges with her audition. It's refreshing to see someone so simple, who's not trying so hard. I see room for her to grow, and the judges give her the opportunity to do just that with a golden ticket.
Jaci (rhymes with wacky) Butler, a 19 year old from Rowlett, TX, is up. She sports a fierce head of bright green hair, and is taking a break from her band to audition solo. At first glance, I think she might be one that's trying too hard, but she soon proves me wrong. She turns in an effortless performance, and I am excited to see what she will bring to the stage in Hollywood.
Our final contestant to ever audition for American Idol as we currently know it comes to us from Flushing, MI. Manny Torres, 20, brings to life a cover of a Maroon 5 song. He has a great energy about him, and just looks like he fits the part. Jennifer thinks he's "joyous" with "lots to love." His talent, presence and charm (and beard) win me over, as well as all three judges. He grabs that last golden ticket, and is on his way to Hollywood, too. (But wait a minute- if he is the very last to audition, why is the room outside completely filled with contestants, still??)
Next week, 190 Idol hopefuls will descend upon Hollywood, where the competition will be raised to the next level.
American Idol Season 15 Episode 6 Review:
Summary
American Idol hopefuls perform for the judges in Atlanta, Philadelphia, and San Francisco.