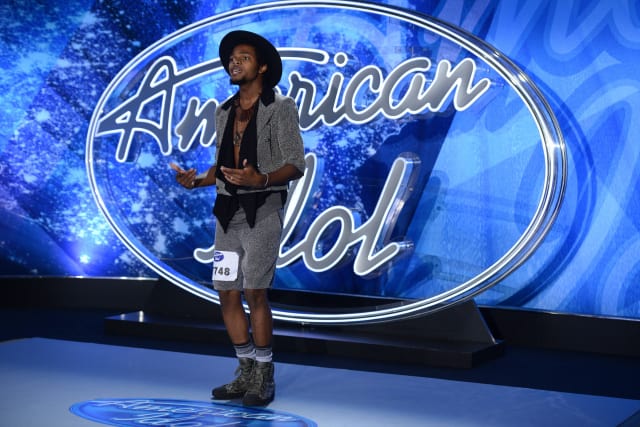 After pit stops in the hometowns of Keith Urban and Jennifer Lopez, it's time for American Idol to head to Harry Connick, Jr.'s old stompin' grounds. Welcome to New Orleans! (NOLA, if you want to pretend to be cool when you say it.) We find ourselves in the birthplace of jazz, but I personally would be more impressed if Harry hailed from the birthplace of jazz hands, wherever that is. We get flashes of beads, Bourbon Street and crawfish, and Harry claims that New Orleans is notorious for "breeding potential superstars." After a shaky start and some less-than-stellar auditions, we finally get to see some of that N'awlins talent Harry was talking about.
Enter Jelly Joseph, 26. After some disastrous auditions, the judges are ready for this Jelly (sorry, I had to), and she is a breath of fresh air. The judges like her "spunk" as she performs Adele's "Rollin' in the Deep," and J.Lo warns us to "remember that name." Uh, J.Lo? Her name is Jelly. That won't be a problem.
Tiffany Stringer, 16, is up next, and she gives me a throwback vibe. I am reminded a little of Mandy Moore when she was that age and debuting on MTV with "Candy." A member of a drill team in Texas, Tiffany is filled with the kind of positive spirit you would expect from her, complete with a random cartwheel. It's a no from Harry, but Keith and Jennifer want to see more of her teen spirit, so she's through to Hollywood.
Greyson Turner, 15, enters the judging room with a walk that puzzled me, but intrigued the judges so much they asked him to enter again. He performs an original song in his flip-flops and just gives off the nice-guy vibe. It's an easy yes from all three judges. Quentin Alexander, 20, is a local boy from just down the street who gets the golden ticket by performing his version of Lorde's "Royals." And Mikey Duran, 19, a graduate from Harry's high school, also gets that golden yes.
Nalani Quintello, 19, Tori Martin, 20, and Hope Windle, 24, are showcased with their stories and auditions intertwined. It's an easy yes for the first two, but Hope isn't a shoe-in. J.Lo is the deciding vote and Hope sincerely says "Thank God for Jennifer Lopez and her kind heart." To me that's a quote worthy of a bumper sticker, if this were the 80's and bumper stickers were still the rage. #IDOLHOPEFUL. (If Hope Windle isn't already using that hashtag on every form of social media she has, I would like to audition for the part of her PR manager.)
At this moment in the episode, I have a mild heart attack as I notice there are only 21 minutes left in what I have recorded on my DVR. I figure I lost the last hour and would be asked to pack my laptop and hit the bricks back to Kansas (oh wait, I never left) for failing to recap an entire episode. It takes me a hot minute to realize that the Idol gods delivered us a one hour episode instead of two hours. Safe. I think I can continue…
IDOL FAVORITE ALERT. Ricky Dale Hendricks, 17, is about as adorable and down-home as they come. He has charisma and charm, and brings the likability factor to a whole new level. He auditions with Garth Brooks' "The Thunder Rolls" and will be rolling right on to Hollywood.
It's now time for Dakota Suarez to shine. An 18 year old, who also performs as a drag queen under the name "Bianca Jade," she comes from a "small town with very small-minded people." I think the courage Dakota has to come on a show such as Idol and share his story is to be applauded. I don't think his voice is golden-ticket worthy, but I believe his story is. There are people who will be touched and inspired by his journey, and I'm so happy that Keith and Jennifer send him through.
IDOL FAVORITE ALERT PART TWO. Adam Lasher, 27, who happens to be the nephew of Carlos Santana, is the last of the evening to hit my radar. The judges are reminded of Jimmy Fallon, and I easily see the resemblance. He has his hand in a makeshift cast due to a skateboarding incident, and due to his diabetes, he wears his "robotic pancreas" on his guitar strap. As he auditions, I am reminded of Kelly Clarkson back in 2002; I feel like I am watching someone I will be cheering for in the finals. It's an easy yes, and I can't wait to be one of #LashersThrashers. (OK, that one I don't see catching on.)
Next week, in the spirit of the Tanner family and Kimmy Gibbler, we wind up the audition rounds in sunny San Francisco. Until next time!
[Photo via FOX]