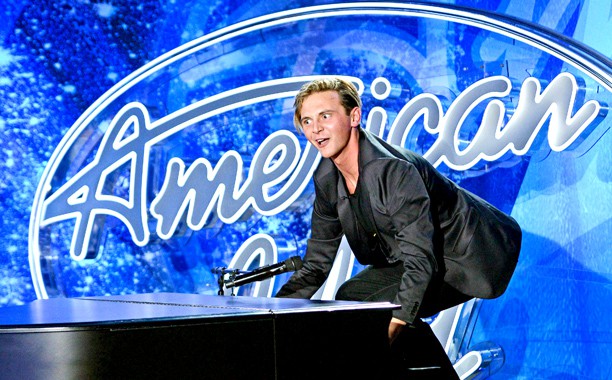 The American Idol audition train steamrolls on, with the next stop in the Twin City of Minneapolis, for the first time in seven years. If we lived in a world where people were judged solely by the bracelets that they wear, then our first contestant would receive a golden ticket from me without even singing. Shannon Berthiaume, 17, is up first and claims to never have performed in front of a live audience before. She appears to be nervous and scared, but that all disappears once she opens her mouth. She's described as a "raw talent" and easily gets her golden ticket to Hollywood.
I am filled with a jealous rage when Kemil Casey, 19, is introduced with an Idol clip montage. (Where did he get that golden microphone and why don't I have one?) He appears to be there for more comedic relief than as a serious contender, and Harry finds him "oddly entertaining." It's a no from all three judges, and Kemil is off to entertain elsewhere, but not before Ryan Seacrest drops some sweet "Rumpshaker" lyrics on us. (Don't quit your 37 day jobs, Seacrest.)
Is it just me, or is American Idol giving the sleep-aid Ambien a subliminal plug here? Not sure why Harry would share a story of waking up with an empty bag of kettle corn in bed with him with no memory of eating it?
Next up we get a string of yeses from the judges for Morgan Ovens, 24, Gabrielle Noe'l, 23 and Courtney Guns, 23. Courtney gives an uncomfortable almost too-close-for-comfort performance of Martina McBride's "Independence Day," but manages to still win them over.
IDOL FAVORITE ALERT. Vanessa Andrea, 25 is up next and is immediately on my Top 24 Radar. (It's a real thing.) Vanessa's husband is in active duty in the Air Force, and they have three children, all ages three and under. She parks her guitar in her scarf (you do what you gotta do when you don't have a strap), and it's a no-brainer. The golden ticket is hers, and she pulls her cell phone from her eskimo boot to call her husband, as the judges take her phone to deliver the good news. I find myself saddened by the fact that there were no family or friends waiting for her when she exited.
Zach Johnson, 20, is up and he auditions with a country twang that only appears when he sings. He is encouraged by the judges to do another song and to try and find his own voice. He manages to follow their advice and is given a chance to shine in Hollywood. Keith Urban is flattered to hear that Zach will be at his concert in a couple of weeks, and invites him to sing a song with him on stage. We get a fast-forward moment, and sure enough, there's Zach Johnson, Hollywood-bound Idol hopeful, performing on stage with Keith Urban. That has to feel like a win already. #KeithDelivers (Oh hashtags, what did we do before you came along?)
Up next, we get a pistol-packin', animal-huntin', country music lovin' preschool teacher in the form of Cindy Jo Scholer, 26. I'm not so "Crazy" over her Patsy Cline song choice, and it's almost like she's going overboard to impress the judges. They agree (do you like how in my head they agree with me?) and think she should "lose the theatrics" moving forward. Might I suggest she start with the Cleopatra headband? It's a no from J.Lo, but the boys send her through.
Jacob Tolliver, 20, is next, and he prepares for his audition with some motor-boat lip warm-ups in the Old Navy Dressing Room. (I don't actually know what that thing is called- the holding chamber maybe? That name scares me.) We learn he was discovered on YouTube (another jealous moment from me) by a casting director for the Las Vegas show "Million Dollar Quartet," in which he currently performs. His audition is a Jerry Lee Lewis carbon copy, which is perfect for a Las Vegas show about Jerry Lee Lewis. The judges ask him to sing another song with his own voice, and he gives them a cover of Sam Smith's "Stay with Me." I don't want him to stay with us, but the judges overrule me, and he gets the golden ticket. (How rude.)
Kristi Kroker, 21, is the first to lead us in a video clip of Idol wannabes who didn't get that golden ticket. I can't say enough about how great I think this panel of judges is. The chemistry is perfect, and I don't know how Harry Connick, Jr. would fare at stand-up, but his sit-down comedy is spot-on. Keith Urban is Australian perfection, and I am thisclose to following Jennifer Lopez on Instagram. (I have social media commitment issues.)
IDOL FAVORITE ALERT, PART TWO. Mark Andrew, 29, is our final contestant of the night. He believes this is a do-or-die moment, as he is at that dreaded age limit, and this is his last chance. (I do hope he realizes it's just his last chance for American Idol and not his last chance at life.) His version of "Be Like You" from The Jungle Book is easily one of my favorite Idol auditions ever. I love everything about this guy, and so do the judges. He gets his golden ticket and decides it's time to start practicing his autograph. (Which baffles me, because I thought everyone practiced their autograph like I did, before even learning cursive in 3rd grade?!)
Thursday night will bring us to the dirty south in New Orleans… until next time!
[Photo via FOX]