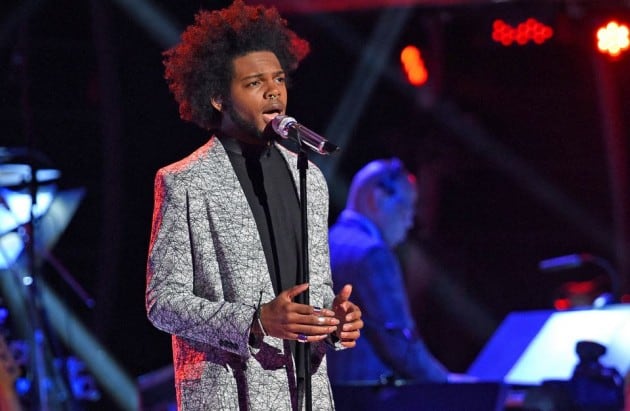 Unlike last week's episode, where the top seven finalists each performed once and we were left with a two-hour episode that seemed to drag, this week is a fast-paced train ride. Our American Idol wannabes each perform two songs, chosen by America as #AmericanClassics. (The hashtag is silent.) Gone are the guest mentors for the week, so all eyes are on the hopefuls. And with that, it's full steam ahead…
Tyanna Jones is the first name called, and her first song is "Why Do Fools Fall In Love?" There's no denying the talent in her voice, but with only being one song in, I'm already asking myself this: Why does Idol let America choose the songs? I can see Ellen DeGeneres now holding up her "FAIL" paddle. There's nothing epic about this number, and I blame it all on the song. Keith wants more edge from Tyanna, and Harry wishes for more movement. J.Lo would like to see her get back to how she was at the beginning of the competition. It's almost as if Tyanna is going through the show in reverse. I remember being blown out of the water by her early on, and I think she's become the victim of poor song choices. (And this one's on your hands, America!) As she takes the stage later for her second song, she serves up a little "Proud Mary" and her big wheels keep on turnin'. She's energetic and soulful, and Harry believes that it's as close to perfect as you can get. The judges continue to revel in the fact that she is only 16 years old and carries all that talent. (Not to brag, but when I was 16, I got my first job at a call center that lasted two months. Did you know people don't like it when you solicit an auto club over the phone during dinner time?)
Up next is my Clark Beckham, who, might I add, left a comment on my Instagram video I posted using the hashtag #BeltItLikeBeckham. I like to belt it like Beckham in the middle of the local Pizza Hut, and I don't let a little thing like tone-deafness stop me. His exact words? "I love this." (And three laughing/crying emojis.) The feeling is mutual, Clark. His first song is "Superstition," and while I love to see and hear him perform, I can't help but wonder who these Americans are that are voting for these songs. It's almost as if Clark was swallowed by the music about halfway through. Jennifer thinks he looks as if he's "starting to feel like a star" and thinks it's all coming together. His second number is "Moon River" and it's pretty much the same as his first, but this time on piano instead of guitar. I would like to take this time and pull out my inner Donald Trump and fire America from future song-picking. (And Donald Trump? Ew.)
Taking the third spot is Jax, our resident little girl lost. I just don't get a clear picture of who she truly is as a person, let alone an artist. She performs "Piece of My Heart," and I just don't get it. I don't think her personality translates from the stage, either. It's like Halloween from week to week, and she changes from character to character. I had such high hopes for her very early on, but I'm starting to think hope doesn't float, because I get nothing but a sinking feeling with this one. (And am I the only person on earth who thought this song was first recorded by Faith Hill? I know, the horror. Please don't throw stones at me.) Her second song is Michael Jackson's "Beat It," and it's no thriller, either. Last week, Jennifer warned her about going too far left of center. This week, for me, I feel as if she's not only left of center, but headed the wrong way into oncoming traffic, with a suspended license and expired tags.
The next performer called to the stage is Nick Fradiani. After last week, I feel as if Nick is giving Clark a run for his money as the Idol of my eye. This week Nick brings "American Girl," and like last week, it's brilliant. His stage presence and his execution of the song make my eyes and ears happy. (I'm also jealous that he can pull off the beanie look so well. I curse you, my receding hairline!) I like that Nick has an original sound to his voice, and his songs sound as if they could be recorded and played on radio today. J.Lo calls his voice "radio-ready," and Harry thinks his performance is "dead-on." His second number, "Only the Good Die Young," is just as great. Harry is thrown off a little by the arrangement, and I'm thrown off a little by that comment.
With only one more contestant guaranteed to perform next week, Quentin Alexander claims that spot. He Sings "Are You Gonna Go My Way," and my short answer to that is YES. I love everything about it this week… the song, the vocal, the outfit, the performance. Jennifer thinks "the whole thing worked" despite his pitch being all over the place. Harry thinks it's good, but warns him to push the band, not to be pushed by the band. (Music jargon that's lost on me.) As Ryan talks to Quentin, there's an obvious look of some emotion other than happiness coming from Quentin. When pressed to spill, he says having Joey and Rayvon both left with only one spot left is "whack." It's clear how close the contestants have become, and it's nice to not have Simon Cowell there saying they aren't there to make friends. (Making friends happens in life, and it's hard to see friends hurt. That's one of life's rules.) Harry decides to take offense to the comment, and criticizes Quentin for biting the hand that feeds him and considers Quentin's remarks completely disrespectful. And Harry doesn't stop there… he goes on to let Quentin know he could walk away now and give his spot up. Quentin approaches the judges table in a dramatic fashion, and it's all uncomfortable from here on out. Quentin explains himself to Harry (like a parent would speak to an out-of-line teenager), and I am sweating from the knees on my couch. I can't even explain in words how it all felt to watch, so I suggest finding a clip to watch online. It's what live TV is all about, and I live for moments like this. (So does Joel McHale. I'm sure this could be The Soup's "Clip of the Week" tomorrow night on E!). When Q (I call him Q now, because I took his side in the fight and that means I can call him Q) returns for his second number, he performs "The Sound of Silence," and it's described as "dark and moody" by Jennifer. Q does apologize to Harry and insists he meant no disrespect with his comment.
Joey Cook and Rayvon Owen are the two remaining, and both sing for the sixth spot. Joey performs "My Funny Valentine," and while I normally am not a fan of the song, it fits Joey perfectly and I actually enjoy it a little. Keith loves that she always goes outside of her comfort zone, while J.Lo isn't feeling it. Her second number is "Somebody to Love." Scott Borchetta comments that regardless the outcome, Joey will have a career in this business. Rayvon first sings "Long Train Running," and he doesn't appear to show that being on the bottom for the third time has phased him. I like him a lot; I'm just not a fan of the apparent jazzercise routine that goes along with his song. He brings "Always on My Mind" to the stage for his second number, and it's "goosies everywhere" for Jennifer. Harry thinks he is the "nicest guy" and loves that he handles his repeated trips to the bottom with "dignity, class and elegance." (And I agree.)
This is the first time this season that I equally like the bottom two, and I can't say either way who I would rather leave. After the five minute Twitter save, the contestant that is safe (with only 52% of the vote) is… Rayvon Owen, again. Joey can't keep the comeback kid down, and her time with us is over.
[Photo via FOX]