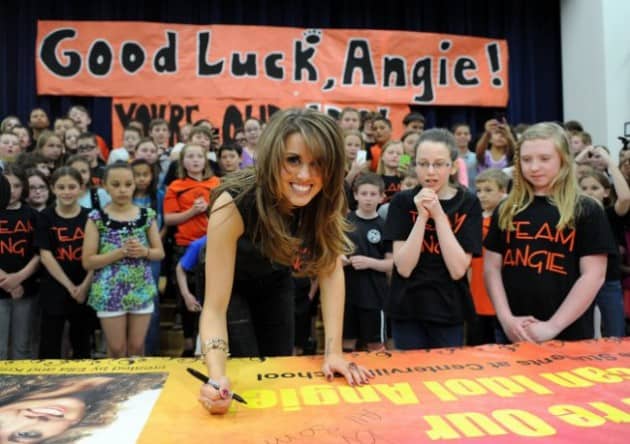 We were fortunate to take part in a roundtable interview with American Idol's Angie Miller, whose elimination from the contest last night sent shock waves crashing into her millions of fans and casual viewers alike. Angie's place in the final two seemed predestined, but alas it was not meant to be.
When asked if the shock had worn off, Angie acknowledged that it had a bit and that she considered making it to the top three to be a win all its own. "I feel like in a way I've already won. Top three is amazing, and the exposure I've had on the show and the journey has been incredible. I wouldn't change anything."
We asked Angie to describe what those first few moments backstage were like after the results were read and her American Idol journey had come to a definitive end. "It was just a feeling of 'wow, it really happened, now I'm off the show, this is what it feels like.' I didn't want to dwell on how sad I was, I think that my first initial thought was 'okay, I just got voted off, what does the future hold.'"
The results seemed absolutely shocking for Kree Harrison, whose mouth was agape with disbelief when Ryan Seacrest announced she was going to compete in the finale, I asked Angie if the trio had gone into results night with any predictions of their own. "Oh no, we didn't want to get our heads all wrapped up in who was going to be voted off, we just relaxed Wednesday night, we were like 'whatever happens, happens,' and we all love each other no matter what."
Angie was asked a couple of times about the future of American Idol including recent talk of a reboot and the announcement by Randy Jackson that he would be leaving the show. Angie's suggestions included adding an Idol alum to the judging panel, something that a lot of pundits and viewers alike agree would be a wise choice.
Tell us what's wrong with this post? How could we improve it? :)
Let us improve this post!