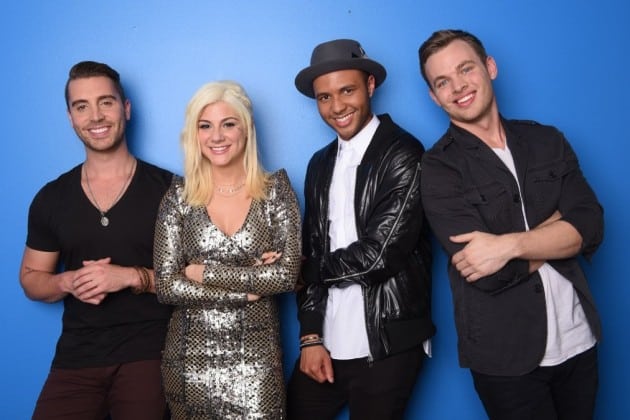 Our final four are about to become the three for the finals, but not before each one gets to return to their old stompin' grounds for some hometown hero treatment. Each American Idol hopeful will have the chance to perform three times this night, in hopes of hanging on long enough for the grand finale. I think it's almost mean, knowing that one will be eliminated by the end of the night. I guess it's nice he/she will get to sing three final times, but it's a little like false hope to me. Gone are the light-up green chairs, as each one will be called randomly to perform.
ROUND 1: Scot Borchetta's Choice
Rayvon is the first of the night to take the stage, and he performs Jason Derulo's "Want to Want Me." Rayvon is the comeback kid of the season, surviving endless rounds in the bottom two, thanks in large part to the Twitter fan save. For me, it sounds like he's trying too hard for the falsetto in this one. Shows what I know, as Jennifer calls his performance "superstarrish,"and Harry thinks it's his best up-tempo performance to date.
Clark is the next one up, and he declares it a "Beautiful Day" in the style of U2. I don't want to compare Clark (who I love) to another Idol here, but I can't help but describe this performance as having the Fradiani Factor. It all came together, and it just works. J.Lo thinks it was suited to his voice, and Keith wishes he would have risen up to the level of the band. Harry gives more props to the band than Clark, and I'm going to just declare Harry is jealous of Clark at this point. (I'm allowed to have my own off-the-wall, left-field theories here.) Ryan informs us the last time this song was covered on the show, it was by Lee DeWyze, winner of Season 9. (Not a great comparison, as many of you probably just said "Who?")
Taking center stage for the third performance of the night is the Fradiani Factor himself, Nick. The more I see of him, the more the inside of my head is telling me to cheer for him as Season 14's winner. He takes on Springsteen with "Because the Night" and lets us know who's the boss. Harry loves that he is getting to see more of him come through on the stage each week, and calls it "strong." Jennifer can't seem to stress enough the importance of connecting with the lyrics. I think Nick is connecting with the audience and the voters at home, and that's what's going to really matter.
Our final performance in round one goes to Jax. She declares this is "My Generation" by The Who, and I'm not sold. I imagine she gives it all she's got, but it's just not something I am feeling in my generation… I clearly missed the boat with this one. The judges give her nothing but praise, though. Keith thinks it's "frickin' awesome," and Jennifer thinks she killed it. Harry believes she made the most of the opportunity and delivered her best performance of the season. Why she didn't get called out for not performing for the camera and connecting with the audience at home is beyond me.
As round one ends, J.Lo declares Jax as the winner so far. (And she and I need to officially take a break from our beautiful fake friendship.) Ryan refers to Scott Borchetta as "Scotty the Body" for the second time this season. The first time, I let it slide, hoping it was on accident. This time, I'm calling him out. That was the horrible nickname he gave to Season 4's Scott Savol, one of my least favorite contestants ever. You can't just recycle nicknames and hope nobody will notice, Seacrest. Chances are, I will notice.
ROUND 2: Hometown Dedications
As the wannabes each board a private jet, it's time for them to shine for the people back home. This is always one of my favorite parts of any season. I love getting to see the love and support shown by family and friends, even for those contestants that I'm not the fondest of. First up, Nick returns to Guilford, Connecticut. I love getting to see his story with his dad, and getting to see them sing together on stage tugs at the old heart strings. His number is "Back Home" by Andy Grammer, and it's a perfect fit for the theme. Nick just comes across as a genuinely nice guy, and I like to think that he follows me on Twitter because he thinks the same of me. (I'm fully aware he follows everyone back to secure votes, but like I said before, I live in a pretend world inside my head.) J.Lo says this is an emotional night, with the cream of the crop battling it out. Harry calls his performance "very strong, again."
Clark first returns home to Nashville, where he used to perform for tips on the corner of 3rd and Broadway. (It didn't sound as creepy on the show as it just did when I typed it.) After a brief visit to Music City, he returns home to White House, TN. We get to see his parents overcome with emotion, and the Lee University Campus Choir surprises Clark at his hometown show. His second song of the night is "(Sittin on) The Dock of the Bay" by Otis Redding. It's pure Clark sound, but Keith feels as if there's some struggle and humanity missing from the performance, and would like to see more angst. (I think he's speaking Australian again.) Jennifer thinks his performance was at home, and likes that she could feel his heart. Harry appreciates the hometown visit package, as it let him get to know Clark a little more.
Rayvon returns to Richmond, Virginia, where I think most people watching would identify with the most. He didn't return to a luxurious house in a posh neighborhood, but to a humble home in a humble community. (At least that's how I saw it.) He lets us know that he has moved past wanting to win this show for himself, but to "inspire other people to keep the love train going." He delivers "As" by Stevie Wonder, and the judges eat it up.
Jax the Jersey girl goes home to East Brunswick, where she is welcomed like a proper Homecoming Queen. All that's missing is the tiara, but I guess the jewel in the center of the X on her cheek will suffice. Oh, and she's wearing biker gloves. Her hometown dedication song is "My Immortal" by Evanescence. This is a more stripped down number than her usual manic run arounds, and it's moments like these that I can stop and appreciate Jax. I think she's more aware of who she is at the piano, and it works. J.Lo loves her humility and confidence.
Round two comes to a close, and Keith believes this one goes to Rayvon, by a narrow margin.
ROUND 3: Judges' Pick
Clark is up first for his final number, picked by the judges. He delivers "Earned It (50 Shades of Grey)." Yeah, I'm not kidding about that title. And I could make an inappropriate joke about something, but for the sake of the children, I won't. (Because so many children read American Idol reviews?) I think he sounds excellent, but I call shame on the song choice. By song's end, he really brought it home (to White House, not Nashville),and Harry wishes he could have found that intensity at the beginning of the number. Keith claims he "felt, heard and saw things for the first time."
Rayvon is up next, and is given "You Are So Beautiful to Me." It's another good performance, but all I can think about is Alfalfa's ode to Darla in The Little Rascals movie of 1994. It's another win for the judges.
Jax stands to deliver her final number of the night, "Misery Business" by Paramore. Say what I will about her performances, I can hand her a win for the night solely based on her denim vest and graffiti pants for this one. Keith thinks while the singing is phenomenal, the arrangement is odd, and doesn't feel like it all went together. Harry warns her to "command" and "drive" whatever's on stage.
Nick closes the show with his final song, "I'll Be" by Edwin McCain. He earns a standing O from Keith, while Harry calls it a "great vocal." Jennifer feels that sometime "about five weeks ago, you decided you could win this." (So true, Jenny; consider our fake friendship back on.)
Harry names Nick the winner of round three.
And… DIM THE LIGHTS!
The first name to be called that will perform in the finals is… Nick Fradiani. Joining him will be… Clark Beckham! (Can't we just stop here? My dream was to have these two battling out in the finals. Why must we have a third this season?) And taking the third spot for the finals is… Jax.
After being almost knocked-out so many times, Rayvon is officially leaving the competition. I've enjoyed watching his journey, and I believe he'll still be inspiring people from the love train for a long time to come, even without the title of American Idol.
Next week, we get the two-part finale on Tuesday and Wednesday.
[Photo via FOX]