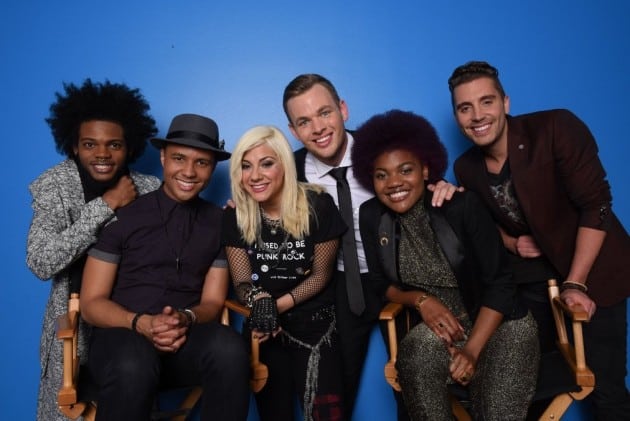 We've come a long way since January, and we now have only three weeks left until the finale of American Idol. We begin this week with flashbacks from last week's "whack attack" by Quentin. (I still get goosies myself when watching it.) We go from the Top 6 to the Top 5 after this episode's elimination, setting the stage for the Idol summer tour. My prediction at the top of the episode? It's time for Jax to pack her bags. Our theme this week is #ArenaAnthems, ensuring us that the producers are out of ideas to build an episode around. We have two members from the US women's soccer team on hand to deliver the results to Seacrest, along with a personalized jersey. I'm jealous.
The first one through to grab the spot in the Top 5 is… Jax. (And this is why I don't bet on things. Well, this and Brandon's gambling problem he had in the first season of Beverly Hills, 90210. Heavy stuff.) We get a little backstory on Jax, with photos and clips of her father, a 9/11 first responder. It's nice to see Jax off the stage, where she's not trying so hard. Her first number of the night is "Are You Gonna Be My Girl (guy)?" by Jet. The performance is more of the same stuff she's been delivering, and we all know how I feel about that. Plus, I feel like she stole my tambourine dreams. (I have serious Jem & the Holograms-induced dreams of one day playing a tambourine in a traveling band.) Keith tells Jax that's "how you open a show," and Jennifer thinks she is "so ready" for the tour. For her second song, Jax throws me for a loop and performs "White Flag" by Dido. It's clear she's not about to go down with this ship, and she offers us another side of her. It's a haunting performance at the piano, with Jax dressed in a white gown with her hair pulled up. I actually like what she does here, if only she had ditched that black biker glove.
Our next Idol through is Nick Fradiani. He has really stood out above everyone the past couple of weeks. We also get interview clips and pictures of his father, and I'm not 100% sure his dad isn't actually Larry Rudolph, the manager of Britney Spears. (I swear they could be TV twins.) Nick brings us "Harder to Breathe" by Maroon 5, and easily sits up there with Carter and Lachey as one of my favorite Nicks. J.Lo thinks it's the perfect song, but thinks there was a "missed opportunity" in having a party for the audience. Harry not only thinks he is getting better each week, but that everyone else should be scared, too. Keith is clearly a fan, but he would like to see Nick "zone in" on one specific spot for the majority of the performance. His second number is "Maggie May" by Rod Stewart. I have never heard this song (I will probably never be invited back to review this show), but I love it. Nick has such a way of performing his songs, I immediately want to download them. It's nothing but love from the judges, as well as myself.
My Clark Beckham takes the third spot, and we are treated to a story of Clark singing for his great grandma while she lived in a nursing home. (And the accompanying pictures of Clark as a kid are proof that those piercing blue eyes are the real deal.) His first song is "Yesterday" by The Beatles, and yes, I have heard this one before. Harry thinks it's "terrific," and Keith thinks it's "beautiful" and compares it to something Sam Smith would record today. (For the record, I'm not a big Sam Smith fan, so maybe that's why I wasn't feeling this performance.) J.Lo thinks it was a "risky" move, but loves that "tapping into the emotion of the song" is Clark's strength. (And those piercing blue eyes, Jennifer.) Looking back on my review of the first episode of the season, I mentioned that I prefer Bieber to The Beatles, so it's only fitting that my favorite guy in the competition will take us from the Beatles to Bieber in one night. Clark's next number is "Boyfriend" by the Biebs, and this is the stuff that rules my world. I love when my worlds collide. (Kind of like that time when Blair Warner from The Facts of Life was on Survivor.) I think anything associated with Bieber at this point in time is open for criticism and mockery. For that reason alone, I think it was a brave and bold move for Clark to choose this song. And I love it. The judges apparently aren't Beliebers, but who cares? My Clark and my Biebs, and that's all I need.
Taking the fourth spot on the coveted Idol summer tour is Tyanna Jones. I get a little teary eyed watching Tyanna's back story and seeing the pictures and interviews with her family. She comes from a huge family with huge heart, and I just think she's good people. She is described by her mom as being "humble, well-spoken, intelligent, unafraid and uninhibited". (Sounds like a good American Idol to me. I like to call that the Kelly Clarkson effect.) Tyanna's first song is Miley's "Party in the USA," which sounds like it would be the perfect fit for the teenager. To me, the song feels slower than it should be, and I don't get the teenage vibe from the performance. It feels more like a mild social gathering rather than a party. Keith loves seeing the fun side of her, but would like to see songs with a little more weight. For her second performance, Tyanna sings "Heaven" by Bryan Adams, a song she didn't even know existed until now. (She obviously doesn't own the Aaron Carter Live DVD, featuring special guest Nick Carter doing a stellar rendition of the song.) While I used to think Tyanna could go all the way, I no longer see her winning the competition. I do see her as this season's Jennifer Hudson, though, and win or lose, I think we will be hearing from her in the future. (Dreamgirls 2, anyone?)
With four spots taken, we are left with two contestants to fight for the final five: Quentin Alexander and Rayvon Owen, king of the bottom the two. Quentin is the first to perform, and he brings "Light My Fire" to the stage. Not a song I personally enjoy, but I do love watching him perform. (And I can't be certain, but is he wearing Lee Press-On nails, or just overdue for a trim?) J.Lo wishes he brought a little more "vocal pow" to the stage. His second number is "Go Your Own Way," and for his sake, I hope he doesn't. Rayvon first performs "I'm Not the Only One," and it's clear he's not singing about always being on the bottom. (Because, sadly, he is the only one.) He really turns it out (I think that's a professional term), and Harry thinks it's a "fantastic vocal performance." Jennifer thinks it was a perfect vocal and perfect song, and can see him riding the fan save all the way to the finals.
After the five minute Twitter voting, the fan save is used, and claiming the final spot in the final five is… Rayvon. (Again!) You can't keep a good guy down, and I'm happy for him, but sad for Quentin. I have high hopes for a final showdown between Nick and Clark, with Beckham belting it all the way to the crown.
[Photo via FOX]