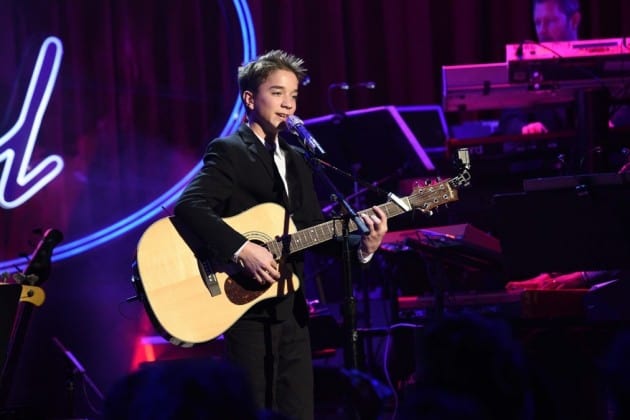 All audition roads for this season of American Idol have lead our wannabes to this moment: a showcase performance in front of a live audience at the legendary House of Blues. According to Ryan Seacrest, the winner of Season 14 will be "following in the footsteps of giants" — and we have previous winners flash across the screen to prove it. (Minus the random Taylor Hicks, of course. #SoulPatrol Imagine how annoying that hashtag would've been had Twitter been around back in the day?) Our contestants have one final performance to seal their Idol fate. From the final 48, 12 boys and 12 girls will be chosen… after walking down a nearly 12 mile runway (so it seems) to face the judges. Over the next two episodes, the top 24 will be revealed.
Michael Simeon is the first to take the stage. He impresses with his take on "Classic," complete with a little rapping, and totally thrills me like Bieber. (If you're new to my world, understand that that's a compliment, as I am one of the last of the true Beliebers.) It's like the universe knows I have a fragile heart after losing Adam Lasher too soon, and he sails into the top 24.
Loren Lott, who has never been a stand-out vocalist for me, proves her heart will go on and promises to deliver some "divaliciousness" to the top 24. I'm impressed with her showcase performance, but am still drawn more to her personality than her voice.
Toy designer Adam Ezegelian is up, in all his SNL Gilly-inspired hair glory (#sorry). He seems like a perfectly nice guy in flannel, but he's just not a favorite of mine. I guess I can't live in a world where New Kids on the Block are still together AND like everyone in the top 24 of American Idol, so I guess I'll count my blessings. Yay for Adam, boo for me. Cody Fry, who seemed to appear out of thin air in Hollywood, will disappear just as fast, as it's an unfortunate no for him.
And here is where I will call out the American Idol producers for television trickery. Lovey James is next to perform, and I had her being cut in Hollywood during the previous episode. My Idol notes are like Shakira's hips- they don't lie. I went back to the episode to see what happened, and it appeared that she didn't survive. HOLLYWOOD LIES. I thought I was experiencing a Melrose Place 2.0 Sydney is Back from the Grave! moment. You have fooled me once American Idol; shame on you. I feel that Lovey looks like she'd win runner up in a high school talent/fashion show, but the judges think more and choose her for a top 24 spot.
We now get a string of ten-second heartbreak clips, where contestants are not only told no, but are also denied their final performances getting any air time.
Adanna Duru who?? That's all I can think of as she is showcased. Between crying in the holding room because she doesn't like to wait and belting out her song, I can't help but repeat… Adanna Duru who???
Maddie Walker performs "Big Girls Don't Cry," inducing a J.Lo sing-along, but is turned down by the judges. As Maddie leaves, all three judges wonder if they made a mistake. Next we see Rachel Hallack, who flopped in Hollywood, but shines in the House that Blues built. The spot in the top 24 is actually hers, but the judges decide to call for a sing-off between her and Maddie. Maddie is called back in, and it's all a perfect American Idol moment. (Even if this is some sort of television trickery, too, I am eating it up.) For the instant sing-off, Maddie brings Kellie Pickler's "Red High Heels" to the table (brilliant move), while Rachel delivers a raspy rendition of "Son of a Preacher Man." Maddie is given the spot (who I would've gone with myself), and I think I can hear the sound of Rachel's heart breaking. She's at a loss for words, then is reduced to cursing, complete with a bleep and her mouth being covered by the American Idol logo.
Clark Beckham sings "Georgia on My Mind" and is easily my top favorite alongside Michael Simeon. He's a no-brainer for the top 24, and I promise you I will need counseling if he doesn't make the top 12. Daniel Seavey, American Junior, gives us Paula Abdul's "Straight Up" one more time, and while he's not my favorite, I just enjoy him. I am happy to see him advance into the top 24… as long as he doesn't prove to be a threat to Michael and Clark.
Tyanna Jones unsurprisingly delivers a number with such poise and confidence, you'd think it were a top 12 performance. As she performs the judges are wowed and Harry is shown jotting down notes, which has me wondering: does he write his Idol thoughts in a High School Musical notebook like myself? Probably. Tyanna grabs a top 24 spot, and I am hoping to see her in the top 12 as well.
Rayvon Owen, who doesn't even stand out in my memory other than his name, secures a spot, as does Shannon Berthiaume. Shannon's performance of "Piece of My Heart" is more Janis Joplin than Faith Hill, and considering I didn't even know Faith's was a cover back then, I'm not a fan of the original. (I know, stone me later for not knowing that #gottahavefaith.) It's a big deal for Shannon, as her House of Blues performance was her first ever in front of an audience.
Jax is next and performs Lady Gaga's "You and I" and also grabs a spot. The fate of "Hollywood" Anderson is unknown, because I forgot to record the show that follows Idol, and I'm left hanging… #cussword #bleep #americanidollogocoveringmymouth. Thursday night will reveal the final spots in the top 24!
[Photo via FOX]