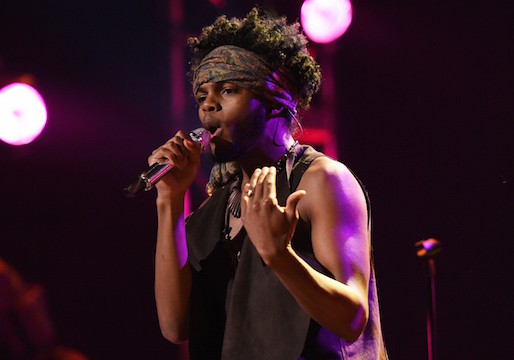 This week on American Idol, we find ourselves back in Detroit at the Fillmore as our top 24 becomes our top 16, which means nothing but television anxiety for me. Out of the top 12 boys, I am only comfortable with four of them being cut at this point, and that's how many we're about to lose. And let me just share with you that I rarely get exactly what I want in situations such as this.
Aretha Franklin opens the show, probably because Detroit is the birthplace of Motown. She sets the tone for this week's theme, which is appropriately #MotownIdol (complete with hashtag, of course.) The closest connection I have to Motown is Debbie Gibson's third album from 1990, "Anything Is Possible,"where she collaborated with Lamont Dozier. (I may or may not have grown up in a teeny-bopper pop/country music bubble deep in the heart of Kansas.)
We waste no time and it's clear that this new Idol format isn't going to be dragging out eliminations for dramatics. Each contestant will be called to perform, with the final four being cut. No "dim the lights," no "after the break" suspense. Yay.
Daniel Seavey is the first through, and he takes the stage to perform "How Sweet It Is." How sweet it is, indeed. It's a perfect song choice for him, and he looks like the perfect teenage dream. As cute as he comes across, I don't think the competition can be won on adorableness alone. (If it can, we're in trouble, America.) And is it just me, or is the microphone about the size of his head? After each performance, the contestants walk stage-right where they get to make their plea to the camera to America for votes. I think I might like it at first, but as they continue to gather and pile on top of each other it becomes a little awkward.
Mark Andrew breathes relief next, and he takes on "Papa was a Rolling Stone." While I know this show isn't Project Runway or America's Next Top Model (obviously, or Adam Lasher would still be here, without even asking), but I think Mark could've tried a little harder with his wardrobe. J.Lo isn't moved by the performance, while Harry thinks it felt like a "jam band arrangement."
Rayvon Owen is called next, and I immediately get a sinking feeling. Crap. He was one of the four I would have chosen to eliminate. He performs "My Girl" and I am immediately taken back to the time of Vada Sultenfuss. (If that doesn't ring a bell, I suggest you check the movie of the same name out. And don't drop your glasses by the beehive, if you know what I mean.) Is it a requirement to dress all in black to perform Motown? These outfits have a total funeral feel to them and it's all so dark.
Adam Ezegelian is called next, and my feeling just sank even further. Double crap. It's bad news to me, as I know I'm losing some guys I really like. (The universe often hates on me like this.) His "I Want You Back" has the judges eating it up, and all I can think is this: not only do I not want him back, I never wanted him to begin with. He seems like a good person; he's just not my choice for someone I would like to see in the top 12. And I'm about to be a bitter Betty Rubble, I can tell.
We now get a brief introduction to Scott Borchetta, aka the man who basically invented Taylor Swift. He'll serve as mentor for the finalists this season, replacing Randy Jackson. (Sometimes the universe takes pity on me and throws me a bone like this.)
Leave it to my guy Clark Beckham to shine some light on the Idol stage for me, and not just because he's wearing a white shirt. He breaks out his electric guitar for "The Tracks of My Tears." This is a song I wouldn't normally enjoy all that much (except when Patty Foley sings it in a Season 2 episode of Rags to Riches), but Clark has me already checking iTunes for his version. (It's not there, but two EP's previously released by him are. Interesting.) Easily the best performance of the night for me, but all three judges seem a little critical. J.Lo would like to feel "more soul" from him, which leads me to believe she's been sipping from Paula Abdul's Coke cup.
Nick Fradiani takes the sixth spot, and brings us "Signed, Sealed, Delivered" with his million dollar smile. Harry raves about him while Keith thinks he looks a little uncomfortable with his guitar. The entire performance feels a tad too repetitive for me (repeat chorus much?) and all I can think about is the fact that Michael Simeon's name has yet to be called.
Next we get Qaasim Middleton, which is basically a no-brainer after he brought the house down last week. He performs Stevie Wonder's "I Wish," and to me it's just more of the same. Different song, same performance. His stage presence is phenomenal, his intense hairography is amazing, and there's no doubt he owns that stage. I hope he's not a one trick pony, but the judges don't seem to share my worry. J.Lo warns him to not "lose the vocal" when bringing a song like that to life, and Harry declares "that's what we're looking for."
Seven spots taken, five guys remaining, and one Michael Simeon.
CURSE YOU UNIVERSE! Quentin Alexander is called for the final spot, drilling another reality television whole into my heart. I can tell you he performs a song called "Master Blaster," but that's about all I can tell you. My brain is full of Thrasher-like rage at the thought of losing Michael Simeon at this point. Quentin performs, then shrieks, then Jennifer shrieks, and I am over it. Robbery.
We also bid goodbye to Savion Wright, Trevor Douglas, and Riley Bria.
Highlights of the night for me? Clark Beckham and Ryan Seacrest's little black polo shirt and jeans. I love a relaxed Seacrest, and his shirt showed off his Little Toy Guns nicely. (What is it about Carrie Underwood songs that work their way into my reviews? Must be Something in the Water.)
Thursday night the girls hit the chopping block, and I don't have much to lose there.
[Photo via FOX]