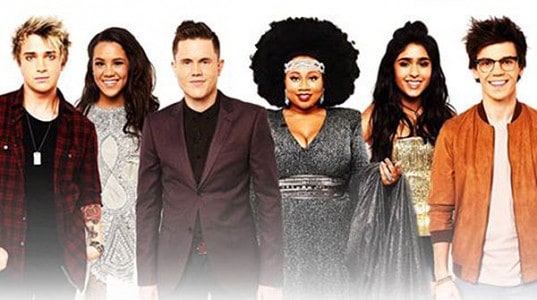 Our American Idol days are numbered, and just like that we go from six to five, with the final judges' save of the season. (Well, of the series, actually.) From here on out, it's all on the shoulders of us, America.
The episode begins with a flashback to April 7, 2009, with season eight runner-up Adam Lambert performing "Mad World." It's apparently a landmark performance for him on the show, and in a "that was then, this is now" moment, we cut to him performing the song live, here in the fifteenth season, seven years later. I would like to let it be known that the very last episode of American Idol (original recipe, anyway) will air on April 7, 2016. Coincidence? Or could this be, the Lambert Effect? (More on that later.)
Our Idol hopefuls will be pulling double duty this night, as each of the top five will perform two numbers. The bottom two contestants from last week's vote will sing for the final save midway through the episode, with only one being saved by the judges for the fifth spot.
ROUND ONE
(For the first round, we get little vignettes into the lives of the folks back home cheering for each contestant. Instead of poking fun at or mocking any of the people so excited to be supporting a hometown superstar, like part of me wants to, I have decided to keep my fingers shut and just be proud of each and every one of them for being so proud. I would be, too.)
Trent Harmon- Trent's first number is "Counting Stars" by OneRepublic, and I don't feel it's a bad performance, but I also wouldn't call it a wow performance. The judges, who usually sing his praises, believing he can sing no wrong, aren't blown away. Keith thinks it "didn't fit" his personality, while Jennifer think's it's "not a Trent song," but believes he did all he could for it. Harry feels like he's at a "hoedown" with all of Trent's intense clapping. (I was thisclose to doing a Hoedown Throwdown, Hannah Montana style, myself.)
Dalton Rapattoni- It's always a little embarrassing for me to admit when I have never heard of a song before, but never too embarrassing for me to type it, I guess. Dalton's take on Linkin Park's "Numb" has me welcoming him back to the competition. I have nothing to compare it to, having never heard the original, but it's a 100% Rapattoni vibe that I'm feeling. The judges aren't as impressed as I am, and Jennifer thinks that, although he's an obvious "crowd favorite," he took some "oomph" out of the song. Harry thinks he "poured your guts out" into the lyrics, and Keith falls somewhere between the two. (And can someone please tell me what this alleged 'pocket' Harry constantly refers to is??)
La'Porsha (CAN DO NO WRONG) Renae- I just gave La'Porsha a new middle name, if you're wondering what that's about. And that's not a middle name born from sarcasm, either. 'Porsh (as I like to call her) gives us India.Arie's "Ready for Love," and ready or not, here she is. Harry appreciates the way she delivered the song in a "pleading" and "mournful" way, while Keith feels like he's "not even judging" but "enjoying, listening to a gifted performer." Jennifer thinks she's "complete perfection in every way," and compares her to Mother Earth. (I've never seen Mother Earth myself, but I do feel La'Porsha is channeling her inner Miss Cleo of 90's hotline fortune-telling fame.)
We get a Ford Fusion bit with the Idols trying their limber limbs at yoga, but this segment sends me to the kitchen for more boxed wine. (I drink it from a glass, it's not like I'm not classy.)
MacKenzie Bourg- It's a "Wild World" with MacKenzie's take on a Cat Stevens song, which has Keith comparing him to cake batter: "even when it's not cooked, it's still good." (What?) J.Lo thinks he has "so much likability" and "enjoyed every second" of the performance. (I'm with you on both accounts, Jenny.) Harry feels he could "record that song and make it your own."
Those four are sent to safety, which leaves Tristan and Sonika to belt it out for the last spot in the top five.
Tristan McIntosh- I really want Tristan to do well, but I feel like she's back-pedaled so much since her first amazing audition, where she won me over. When I hear that she's performing Martina McBride's "Independence Day," I fear the worst… but when I see that she's stripped the song down and is performing it as a ballad on the piano, I am in awe. I think had she performed Martina's version, it would have been a glorified karaoke cover. (That paled in comparison.) This is brilliant. Let freedom ring, indeed. (And then the judges speak.) It's obvious the judges aren't feeling her usual slow-song-at-the-piano number, but I wish they would give her props for altering the song so completely. She made it her own, which is what they want these kids to do. (It doesn't look good for Tristan, and Sonika hasn't even dropped her first note yet.)
Sonika Vaid- Props to American Idol for recognizing the song "Let it Go" from the monster hit Frozen as a Demi Lovato song. (It's true- I first fell in love with Demi's song before the movie became a phenomenon, and Idina Menzel's character version swept the world.) Harry thinks the performance is "very strong" and Jennifer thinks she is a "shy, fierce fighter." It's easy to tell by their comments who will be saved, and they just can't let her go. Sonika rounds out the top five, as Tristan is sent off the stage for good. ("Talk about your revolution, it's independence day.")
ROUND TWO
Round two gives us even more extended video packages for each contestant, with each discussing a troubled past or health obstacle each had to overcome. Again, I'm choosing not to comment on their stories here, because it's not American Survivor, it's American Idol we're voting for here, and while the stories are sweet, they don't have anything to do with the talent on the stage.
Dalton- This is where that #LambertEffect I spoke about earlier really started to form for me. (Yes, I had to include the hashtag. To make it official, it has to have a hashtag.) I compared Dalton Rapattoni to Adam Lambert early on this season, and this performance has me echoing my earlier sentiments. A giant ring of fire appears behind Dalton on stage, and Adam performed a haunting rendition of "Ring of Fire" during his season. Black ensemble, complete with some heavy guyliner applied to the face? Total Lambert, without even asking. Harry compares his performance to a blank wall, and gets twisted in his words and sounds confused talking about the final judges' save, that's already been used. (Does anybody else remember in season eight, when Paula Abdul tried to critique Adam Lambert's second song, yet he had only performed once? #LambertEffect) If I had Miss Cleo's number, I would be calling her to see if Dalton Rapattoni is going to land us runner-up, as the final American Idol.
Adam returns to the stage to deliver a true #LambertEffect (three times, and the hashtag's officially official) with the television debut of his brand new single, "Welcome to the Show." Bravo!
MacKenzie- MacKenzie delivers a version of Michael Jackson's "Billie Jean" eerily reminiscent of Kris Allen's "Man in the Mirror" from season nine. (You know, the Kris Allen that beat Adam Lambert? And I previously referred to MacKenzie Bourg as Kris Allen 2.0??) #LambertEffect!! I THINK I NEEDED TO SPOILER ALERT THIS ARTICLE! Did I just figure out the final two??? Jennifer thinks MacKenzie "showed everybody why you're still here" and Harry thinks the number was totally in his "wheelhouse." Keith makes a reference to the movie Bolt, but that's lost on me.
Trent- (I like his yellow watch in the video package.) Oh yay, Trent's intense singing face is back. Trent brings us Lynyrd Skynyrd's "Simple Man," and he is just everything the judges love. I think if it were the choice of the three judges, Trent would be in the final two, no questions asked. Harry appreciates his "very southern essence" and Keith has nothing but love. Jennifer says through her tears that it's "moments like this why I love Idol, and why I'm gonna miss it so much." Her tears make Trent cry, which almost makes me cry; because I'm a softy, even for people who aren't my favorite.
Sonika- She was saved by the judges this week, but I fear she could be in danger next week after America's vote. She performs "Clarity" that doesn't really do her any favors, in my eyes. I'm not a fan of the stage-marching and stage-skipping, and the judges don't praise this performance as they have previously.
La'Porsha- Remember that #LambertEffect I was so intent on trending? Let's just say I would believe it… if La'Porsha were not in the competition. This young lady is ridiculous with talent, and I think she will spoil my original plan of MacKenzie winning with Dalton as runner-up. (And she would deserve it.) La'Porsha wants "No More Drama" as she delivers the Mary J. Blige number, and the crowd and judge reactions make it clear… there is something special about this one. Ryan Seacrest sums it up perfectly when turning it over to the judges; "There's not much to say after that." (Indeed.)
I suppose there is still a shred of hope for my #LambertEffect theory, and La'Porsha will be robbed and sent home next week? (We really haven't had a huge Idol upset this season, unless you count Adam Lasher not making it to the top ten?!?) La'Porsha could end up the Jennifer Hudson of this season, leading my #LambertEffect predictions all the way to finale night!!
Thoughts? Am I crazy, and should I step away from the boxed wine? Comment here, or tweet me at @jimbob90210 and let's talk Idol!
American Idol Season 15 Episode 19 Review: "Top 5 Perform"
American Idol Season 15 Episode 19 Review: "Top 5 Perform"
The top five finalists perform in hopes of making it to the next round; Adam Lambert performs.