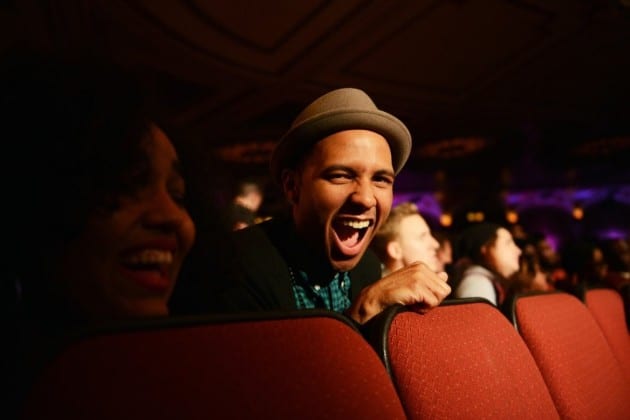 As week six winds down, gone are the dreaded group rounds (hallelujah!) and it's another shot for all American Idol hopefuls to shine solo. We are promised "the ultimate talent throw down" and nobody is guaranteed safety. Solo Day will see 80 contestants being cut to "approximately half." I have my clear favorites, and this makes me nervous.
Loren Lott is first to take the solo stage, and as she's belting out Adele's "Skyfall" I realize that I am more drawn to her personality than her performance. I really like her as a person, but her vocals don't do anything special for me. J.Lo gives her a standing ovation and calls it the "first superstar performance" of the season. American Junior Daniel Seavey, who at 15 is the youngest in the competition, performs Ed Sheeran's "I See Fire" and proves to be a small force to be reckoned with. Contestant "Big" Ron butts heads with musical director Rickey Minor during rehearsal, which I think he'll look back on and regret. Sometimes it's best to take the advice and keep your mouth shut. (Unless you're singing, because that would just be impossible.)
Shi Scott (the name has returned) takes the stage to sing an Etta James song, and we are spared the pronoun puns this go-round. I think she does a nice job, but Harry thinks it wasn't her strongest performance. My ultimate Idol fave Adam Lasher is up, and I love everything he brings to the stage. He gives his own take on a Tom Petty song, hoping not to sound like "another blonde girl from Nashville singin' 'Free Fallin.'" (Um, he does realize that he's not a blonde girl from Nashville himself, right?) As the first round of solo performers are called back to the stage, my hopes are high. Big Ron and Adam are asked to step forward, only to find out that the back row is moving on. WHAT? Am I on glue? I think I am experiencing my first blackout rage episode of this season. I predicted Adam Lasher in the finals. I felt it in my heart. My High School Musial Magic 8 ball even told me the odds were ever in his favor. I want to throw my remote at the TV, but since my dog already chewed it, I don't think it would survive. Things are getting real here on American Idol, and I might just quit. (On the plus side, if there's ever a Benny & Joon reboot, Adam would be a shoe-in for the Johnny Depp part.) Shi, Daniel and Loren are all moving on, and I am only comforted (a little) by the fact that it's the end of the road for Big Ron, too.
Quentin Alexander, Maddie Walker, and Trevor Douglas each take the stage and make it to the next round, but Alexis Granville isn't as lucky. After starting out in the wrong key, forcing some Mariah Carey facial expressions, and trying for a second time, it makes me wonder how she even got this far. It's a clear no, and there's a little justice served for me. (I'll always remember you, Adam Lasher.)
I am liking when the contestants are shown sitting in a makeshift living room with the judges having random conversation. My only complaint is that I wasn't invited to join them for the sit down.
Jax is up next and performs "Let It Be," and leaves the stage to sing practically in her parents' laps there in the front row. It's all a little awkward for me, but the judges seem to like it and she's sent through. Michael Simeon performs Colbie Caillat's "Try," and I actually prefer his version to the original that I love. J.Lo likes that he performs with his heart as well as his voice, and that's why I think she and I would be great friends. (Jimmie & Jenny: From the Block to Besties. I intend to pitch that to the networks once Idol has wrapped for the season.) Nick Fradiani, who I guess would be the American Senior, is staring at his last chance as an American Idol hopeful. At 28, this is his last shot in the competition.
Katherine Skinner, the wacky 15 year old we haven't seen since her original audition, returns to the show with heartbreaking news: her psychic cat that told her to audition has since passed away. It's a yes for Nick and Michael, but sadly this is where our ride on Katherine's crazy train comes to an end. She takes the news all in stride, and jokes about being able to audition "20 more times" if she wants to. I like her spirit so much, and I hope whoever ends up in the finals can shine in the same way she has. Michael and Nick will be given that chance, as both boys advance to the next round.
Clark Beckham puts down his guitar for a high energy performance on the keyboard, and Mark Andrew also ditches his guitar in a last-minute decision. He apparently struggles with some forgotten lyrics (I didn't notice), and the judges wonder what's going on. J.Lo comments to Keith and Harry that many contestants seem too tired to fully commit to their performances. She's worried that if they're struggling here, how will they ever survive the pressure of the top 12, when commercials and press are added to their already-full plates? It's a yes for Clark and Mark, and Harry lets Mark know he was only sent through because of his voice. (Which I would say is what a singing competition should be largely based on, duh.)
Joey Cook is still reeling from her lost-lyric blunder from the group round, but her take on "Across the Universe" changes her world, and she rises above her nerves to make it through. Also making it: Tyanna (purple fro) Jones, Rayvon Owen, and Riley Bria, who Harry thinks is "absolutely meant to be on a stage." Sadly, it's a no love for Lovey this time around.
Despite losing my favorite of the season (Adam can you hear me??), this is where American Idol really starts to get interesting for me. My fingers are crossed that the top 24 will give us some of the contestants I've already grown to love. Because if it doesn't?? I don't think my emotional well-being could handle it.
Next week, our finalists take to the stage at the House of Blues to perform in front of a live audience.
(End note: Adam Lasher, if you are reading this and want to picket the American Idol finale with me, I will make us the signs!)
[Photo via FOX]