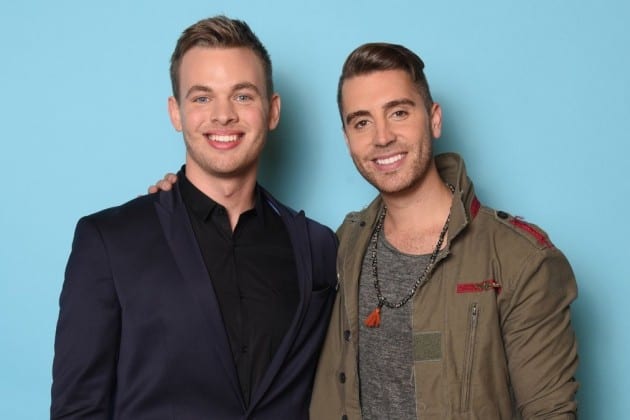 And just like that, here we are: the final episode of the penultimate season to American Idol. After 29 episodes and reviews, it all comes down to this. A showdown between my boys, Nick Fradiani and Clark Beckham. In honor of my final review, I've decided to try something new. With each previous show, I've taken notes as I watched and thrown my words together the following morning before work. I've decided to take a different approach this night: I've set aside the trusty High School Musical notebook, and I will be typing my thoughts directly as the episode unfolds. (Of course I won't do this in real time, mind you. I did develop a severe allergy to commercials after the invention of the DVR, after all.) So with a fresh glass of wine poured straight from the box, I am ready for this season 14 American Idol swan song!
Side note: I do apologize for the randomness that is about to unfold. If you don't like the setup of this review, the good news is that it's my final one.
We begin with the boys on stage together, joined by Fall Out Boy, performing "Centuries." I'm looking for Pete Wentz, but I don't actually know if he's even still with the group after the temporary insanity that was Ashlee Simpson. #FOBonIdol (First hashtag of the night!) But why is the Father of the Bride on Idol? (I kid.) But seriously… why is the lead singer two feet tall? "Who will be remembered for centuries?" Ryan Seacrest, always the one to ask the deep questions. And he's in a tux. Yuck.
Enter the judges. (I hope J.Lo's dress won't be a part of her Vegas show costumes.) We are told all three judges will get a chance to shine on the Idol stage before the night's over, and the boys are introduced again and called out to the judges' table for a quick second. (Oh no, I feel like I'm doing a play-by-play?? I need to cool it.)
Tyanna Jones returns to the Idol stage with The Jacksons, performing a medley of their songs. Her blue fro is back, and it never should have left. Remember that once when I didn't know Detroit was the home of Motown? The things I have learned this season. (Thanks to MTV Unplugged, I also once thought Mariah Carey was the original singer of "I'll Be There.")
Next up, we get Nile Rogers and Chic with the ladies of the Top 12. It's good to see Joey Cook again. I just saw Jennifer Hudson with dinner plate earrings, and Nicole Kidman blew a kiss to someone. Jax has me in shock, as she's apparently ditched the biker gloves.
Ricky Martin returns from obscurity to shake his bon-bon while performing his new song, "Mr. Put It Down." (And I'm totally picking it up.) It's clear he's been drinking from the fountain of Electric Youth, because time has been his friend. The top Idol guys (minus Daniel Seavey) join him for "Livin' La Vida Loca" and "She Bangs." Clark doesn't look as much at home as Nick singing this music, so I'm sticking with my Fradiani prediction.
Janelle Monae takes the stage next with Adanna Duru. (I don't know who Janelle is, and Adanna is vague memory.) J.Lo is missing from the judges' table, so I can only hope she's slipped away for a costume change before she performs. I don't understand, is this a song about a booty doing yoga in a toga?
Now we get a Prince named Royce? I have no idea who he is either, but he could pass for royalty I suppose. He's joined by Jennifer Lopez and Pitbull for a performance of "Back It Up," and it works for me. I'm sold–I'll buy that song.
Joey Cook, one of the bright spots of the season and totally one of the "Cool Kids," returns to perform that song with Echosmith. And has anyone seen that lead singer and Emma Roberts in the same room together? I think they might be the same person.
Seacrest is back with the judges trying to predict the night's outcome. We get a clip package of the judge interaction over the season, and I'm really happy that this team will be together for one last ride next year.
Now it's Keith's time to take on the role of performer as he sings "Even the Stars Fall 4 U." (I'm pretending the #KUonIdol is a Jayhawk shoutout for all the Kansas lovers out there.) I love Keith Urban as an artist so much; I remember when he went by the name keith urban. (It's true- he hasn't always been a capital letter kind of guy.) Seeing Nicole Kidman lip-sync along to her husband's song makes me love her even more.
We get a video clip of Kelly Clarkson wishing the boys best of luck, and it looks like she's there, but I'm guessing she's somewhere else about to take the stage. (I forgive her absence since we were given an entire episode dedicated to her greatness.)
Jamie Foxx is center stage for "In Love By Now" joined by the comeback kid Rayvon Owen. Like Joey, Rayvon has also been a bright spot for me this season. He was never my favorite, but I found myself rooting for him each week. This duet just about gave me goosies, but I was distracted by the need for a wine refill. WHOAH. Harry just gave a standing O?!
Ryan is joined once again by the boys, who seem remarkably calm. I think they are both such level-headed good guys, that either way, it's a win for the show. We get to meet each of their mentors, who are surprised with the keys to a new Ford Focus, along with Nick and Clark.
As if my Idol finale dreams couldn't get any better, New Kids on the Block are on hand. Daniel Seavey joins the Kids, and has to be taught the dance moves. (I don't like to brag, but I've had those moves memorized since 1990. Oh wait–Daniel wasn't even born then. Nevermind.) NKOTB take the Idol stage with American Junior for a New Kids medley. Have I mentioned that boy band is my native language? I love that I live in a world that still gives me New Kids on the Block. After seeing Daniel perform "Straight Up" so many times this season, it would've been fun to see Paula Abdul return to perform it with him.
Vance Joy follows that with "Riptide," joined by Quentin Alexander. The judges are seen whispering at the table, and I can't help but wonder if they're rehashing Quentin's "whack" comment that I thought was going to result in him walking off the show. (Good times, Idol.)
Pitbull and Chris Brown bring the "Fun" with Qaasim Middleton, and that's all I'm gonna say about that.
Steven Tyler comes home to Idol to perform "Love is Your Name." He's then joined by Jax for "Piece of My Heart," and while I think this is supposed to be a highlight of the finale, for me it's cringe-worthy. (I'm not a hater, I'm just not a member of the 'Jax-Pack.') She does win points from me for taking the time to give thanks to the judges and everyone who voted, a chance she didn't get on Tuesday night's show.
Michael McDonald (or is it Kenny Rogers, old school?) joins Clark on stage for "Takin' It to the Streets," and it looks like a dueling piano bar right there in front of the judges. It makes me happy to see Clark so happy.
We get more clips from the entire season, and I can't believe this four-month ride is almost over. I love getting to see the people who I loved and rooted for (Michael Simeon!) and the ones I didn't (Shi!).
Next, Andy Grammer joins Nick for a performance of "Back Home" and "Honey I'm Good." I just saw a sign that read "Fradiani Fever Forever" and I can't help but think I have a severe case of that. (Let's not forget that I still and will always have a case of the original, Bieber Fever, forever, too.)
All three judges take the stage to perform "Diamonds," and it becomes one of my favorite Idol moments of the season. That song segues into "Locked Out of Heaven" with Keith taking lead vocal from J.Lo. Jenny whips her hair back and forth, while Harry plays a mean synth. And I think Jennifer was playing the tambourine, my dream instrument.
"The news we have been waiting for America…" Seacrest and the boys are front and center, moments away from the big reveal. Here comes the envelope… "For the final time this season… DIM THE LIGHTS!"
"The winner of American Idol season 14 is… Nick Fradiani." BOOM.
Nick's winning performance of his debut single, "Beautiful Life," reminds me of Kelly Clarkson's victory… the emotion, the confetti cannons, the tears of joy and happiness. This is how it's supposed to be. GOOSIES.
I can't believe this season is over, but if you want to hear more from me and my random thoughts about life, love, and boy bands, catch me on twitter: @jimbob90210 Thanks for reading the words I took the time to write, and good day!
[Photo via FOX]