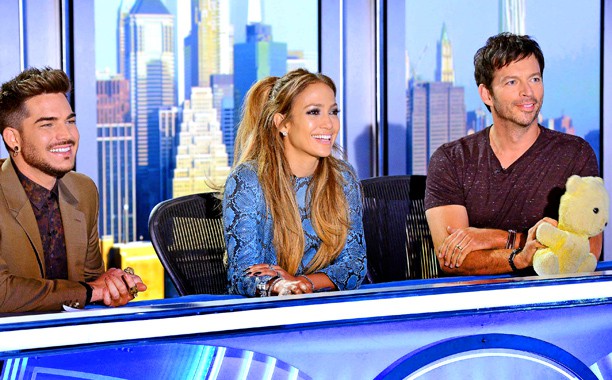 Remember in my last American Idol review when I thought maybe Jenny had strayed too far from the block? She wants it to be known that just isn't the case, as she returns to her old stompin' grounds. It's a sweet montage of going home, even if the residents of Castle Hill Avenue have no idea who she is. Clearly she comes from an area of the Bronx where US Weekly doesn't make it on the newsstands. Welcome to New York…
Keith Urban is MIA for this round, and filling in for him is Season 8 runner-up Adam Lambert. They claim he's the first to experience what it's like from both sides of the judging table, but I remember Kelly Clarkson's original audition when she got to sit in Randy's seat and play judge for half a hot minute. I feel like #TurnUpForIdol is the hashtag that's trying too hard to fit in with the cool hashtags of the world. It's like "fetch"… I don't think they're going to make it happen.
The first to catch my eye of the evening is J. None, 24. He doesn't come to his audition solo, though. Along for the ride is Mr. Krispy, his teddy bear he's had since age three. He sings "My Prerogative" and refers to it as a Bobby Brown song, which burns my ears. That anthem to me will always belong to Britney now. He gets a yes from all three judges, and I am hoping he leaves Mr. Krispy at home when he goes to Hollywood. At one point in time, even Stephanie Tanner had to put away Mr. Bear.
Next up is Jax, a too-cool-for-a-last-name kind of girl who looks like she might be part of a girl gang. You know, the type of gang that wears sequins and could really cut you with a breakaway pop hit. I hope her eye tattoo doesn't mean what I think it means, or I could be next on her hit list. She auditions and it's an A for Jax, so she makes her mark by dominating the autograph board.
Johnny Arco, 28, is up, and he shares a story about how he was arrested in the subway for panhandling and was forced to serve 20 days in jail with no bail. After hearing his Fran Drescher-inspired laugh, I can't help but wonder if that had something to do with his sentence. His audition feels like it's more America's Got Talent than American Idol. The judges seem to think the same thing, and it's a three-way no. Luckily for him, he has that "half a million dollar" violin to fall back on. (I just hope somebody tells him soon that it's not a guitar.)
Najah Lewis, 20, is one of those contestants that blows my mind when she reveals her age and says she has been watching American Idol since she was a little girl. I forget how long this show has been on the air sometimes. Najah captivates the judges by doing what few do: standing still. It's an easy yes for her.
James Killian Dunn, 21, steps off the pages of a Target ad and wins Harry and Jennifer over, securing his spot in Hollywood. Shi Scott, 19, reminds me of an American version of my Scary Spice beanie that I have, and Harry thinks she sounds like she's doing an Amy Winehouse impression, but he likes it. It's a yes and she's off to spice up her life in Hollywood. We then get a montage of Adam Lambert crushing the dreams of many Idol hopefuls.
Eric Lopez, 19, steps on "holy ground" to perform a Queen song. Daring move, considering Adam fronts that band now. Harry gives a yes, J.Lo gives a no, and Adam is uncertain. Eric pleads his case about Idol producing more than the typical pop star, and Adam caves and gives him a yes. He gets the golden ticket, but I would have taken it back after seeing him do the Cabbage Patch with it… twice.
Next, it's all about the blonde ambition, as some California-lookin' girls step up. At first glance, it would be easy to refer to them as the plastics, because that's what this show has taught us: to judge people when we first see them. Maddie Walker, 16, Courtney Zahn, 21, and Jackie Nese, 21, all prove to be more than just pretty faces with heads of beautiful blonde hair. See you in California, girls.
It's suddenly clear to me now why Whoopi Goldberg has been MIA on The View for these last two weeks. She seems to have wanted to #TurnUpForIdol (nope, still didn't work) to audition under the name of Qaasim Middleton, an 18 year old from Brooklyn. He easily gets his golden ticket, along with the pleasure of having his mom put him on blast for wearing a purity ring on national television. It's okay, Whoopi, Joe Jonas used to wear one, too.
Adam Ezegelian, 20, is up and comes with caricature drawings of each judge. I think it's totally fitting, because he reminds me of a living caricature himself. He's not flashy, he's not a showboat, and he's just simple. I enjoy him and, after a second song, so do the judges. He earns his golden ticket, and I have a feeling he'll pack his drawing pencils and set up shop down on Hollywood Boulevard just in case. (It's always good to have a back-up plan for when Idol dreams crash and burn.)
We don't get to see much of Katherine Winston, 18, who scores a yes from the judges, but her audition song plays over a montage of No Name Rejects. Travis Finlay, 20, is "the type of person this show is made for" according to Adam, and the other two judges agree. Personally, I'm not feeling his audition. Shows what I know, as he's showered with three golden tickets.
Benjamin Farmer, 20, gives an over-the-top, outrageous audition that makes me celebrate Throwback Thursday in my own way. His performance of "Proud Mary" reminds me of a contestant from Adam Lambert's Season 8, so I have to take a break and fire up YouTube. If you want a little entertainment and missed it, look up Nick Mitchell, aka "Norman Gentle," and thank me later. While watching the throwback clip, I am reminded how much I don't miss Simon, Paula, or Randy… and how I was one of like only seven people in America who enjoyed Kara DioGuardi as a judge.
Yanni G, 23, auditions with the cup song and it's a no, but her beanie-clad boyfriend, Nick Fradiani, 28, fares better and secures a golden ticket. As of now, Nick is my favorite of the season.
Seeing all these subway and street performers makes me want to pack my High School Musical bag and head to NYC. (Probably after I sell my soul to a sea witch for some musical talent.)
Finally, we meet "Hollywood" Anderson, 22, who performs an original song and instantly become a clear favorite of the judges. All three are mesmerized by his talent, and I myself am inspired. In honor of my brief year of living in Los Angeles, I am considering a name change to "Sherman Oaks" Taylor. Jennifer stands up from the table to give him a hug, and for three seconds I swear she's wearing a snake skin muumuu.
Next week, the auditions continue in Minneapolis… until next time!
[Photo via FOX]