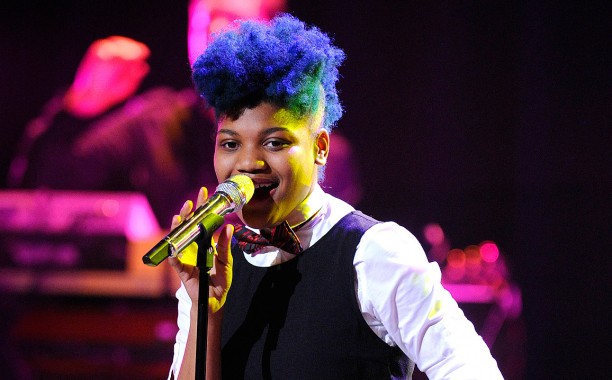 We are back in Detroit for the next round of 12, giving the girls a chance to stand out in this week's second American Idol installment. This episode starts with me having to acknowledge something I never thought I would say, but Ryan Seacrest's facial hair is growing on me about as fast as it's grown on him. I would have to warn him now, though: if you want to be America's next Dick Clark, Ryan, you should probably shave it off, stat.
Lovey James takes the stage first, and she brings us One Republic's "Love Runs Out." I can't decide if she's trying to look like a bleached-out Avril Lavigne, or if that's just an accident. I'm not impressed, but the judges seem to be. For me, it's not even a performance worthy of a golden ticket. (I'm bringing down the hammer in episode 16.) Rough start for me, but surely the other ladies can bring me some joy?
Adanna Duru is up next, and her foot-stomping is interpreted by the judges as a sign of a good performance, I guess. She performs "Rather Be," which makes me think I'd rather be back on Wednesday night hanging out with the guys. #yawn
Lucky performer number three, perhaps? Alexis Gomez, the self-described "happy, Mexican, hillbilly" gives us Miranda Lambert's "Gunpowder and Lead," and Harry warns her about not imitating the original record. She's reminded that you should only sing with a twang if you speak with a twang. (And she does not.) I'm not that impressed. Strike three for me, girls.
Leave it to a little weirdo (and that's a term of endearment coming from me) to save the day and this episode. Joey Cook mentions wishing she could "turn off the weird a little bit" in her video intro clip, which tells me she obviously missed Graham Moore's speech at the Oscars. "Stay weird." She brings her blue hair and the return of her "squeeze-box" to give us a completely different take on Keith's song "Somebody Like You." She's almost like a cartoon, but I love it. Harry thinks if he and Keith were to have a baby, it would have the musical stylings of Joey. And I think this is an Idol first for me… she sincerely thanks the band as she exits the stage. If I voted, I would vote for her.
Katherine Winston takes a moment to remind me of how old I am, as she tells us that American Idol was her favorite show growing up. Awesome. Wanna know mine? Rags to Riches, Kids, Incorporated and Small Wonder. I was 27 when American Idol premiered. #timewarp Katherine performs Taylor Swift's "Safe and Sound" and has Harry questioning her song choice. (Part of me is still questioning who she even is??)
Shannon Berthiaume performs "Who Knew" by P!nk, and reminds Harry just how green she is. He thinks it works for her now, but soon that novelty will wear off and she'll need to bring something new to the stage. For me, there's just something missing.
Halfway through the girls, and the highlights for me so far are Joey Cook and the shots of the top 12 boys cheering in the audience. Who runs the world? Clearly not these girls.
Enter Loren Lott. She has been one that I love, and I couldn't tell you one thing about a previous performance. I know she has a great voice, but I just love her personality so much and want to be her friend. She belts out "Note to God," and while I'm not feeling the song, I am wowed by her performance. This is what an American Idol performance should look like. J.Lo calls it a "brave" choice, and I can't help but hope Loren and Seacrest are attending a prom somewhere together after the show. (I bet they're secret besties and coordinated those matching outfits. And I'm jealous.)
Oh no Shi didn't. (And oh yes I just did.) Shi Scott seems to have robbed the wardrobe of Morticia Addams for her performance of "Umbrella." I feel like Shi's shouting in parts and is a little shaky, literally. All judges think it's the wrong song choice for her, and Shi just appears to be very fragile to me. (Shi needs to be eliminated, because all Shi makes me want to do is make she/Shi jokes.)
Maddie Walker is up next, and somewhere in America Rachel Hallack is kicking her TV screen and screaming "ROBBERY!" She (not Shi) performs the lost hit of Shania Twain, "Love Gets Me Every Time," and has Keith questioning why that Shania song. J.Lo agrees, and for me it feels like a "white trash version of Shania karaoke." (Minus the white-trash part, of course; I just wanted to drop some Carrie Underwood lyrics here.)
Sarina-Joi Crowe takes the stage to sing "Mamma Knows Best", and while I have no idea where the song came from, she delivers a performance with great vocals and appears to feel extremely comfortable on the stage. This being her fourth time to audition for the show, I would say it's her time to shine, and she does. (I don't like how J.Lo refers to her as just Sarina, though. Hyphens mean something. I wouldn't walk up to Mary-Kate Olsen and just say "Hey, Mary." Pull it together, J.Lo.)
It's now time for another ride on my roller-coaster love for Jax. Some days I feel like she's one of the best, other days I feel like she should have expired in Hollywood. Her take on "Bang Bang" doesn't do much for me, but all three judges love it. I like her voice, I just feel like she's trying too hard sometimes to be different and stand out. She's my little American Idol yo-yo.
It's a bird. It's a plane. It's a blue afro here to save us all. Tyanna Jones is our final contestant to perform, and they saved the best for last. I want her in the finals with Clark Beckham, please. Tyanna performs "Lips are Movin" and it works. Harry puts her in the "ridiculously talented" category, where I've had her since her first audition. Watching her perform makes me happy.
Sadly I don't think it's all about that Girl Power this season. Out of the 12, I have only four that I would want in the top twelve. (Can we please just give the other eight spots to the boys?) Next week, Seacrest promises us "an epic surprise we won't want to miss!" (And if we do, there's always Hulu. #lessonlearned)
[Photo via FOX]