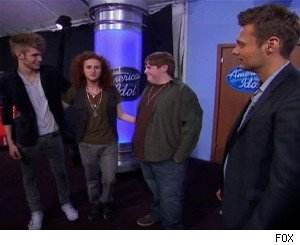 The picking out of semifinalists on American Idol has to be the most agonizing episode to watch. On one hand, I want to see everyone's reaction. On the other, did we really need to take two hours to tell people yes and no?
Every year, it seems the producers try to outdo themselves in making the contestants travel to and from their final judgment. It's gone from a room, to a mansion, and this year is in the nicest looking airplane hangar I've ever seen. (I'm a military brat, so I've seen quite a few.) What's next year going to be? Will the contestants have to take a small boat to a remote island?
This is a fairly straight-forward episode, so I'm going to go down the line, just as Idol did. (Although I promise to try and keep my word count down.)
Karen "MySpace" Rodriguez: even though I didn't like her song choices, she has a beautiful voice and the judges agree. She's in.
Robbie Rosen: sing "Sorry Seems to be the Hardest Word". I love his phrasing. He needs to work on supporting his vocals, but he's in the top 24, so he has time to work on that.
Tatynisa Wilson: I liked her red dress, and she seems to have a good voice, but forgetting words in Hollywood doesn't bode well for the future. (She's in.)
There is a montage for Brittany Mazur and Jimmy Allen, whose names I've probably butchered. But since Idol didn't have the decency to flash their names on the screen, or show them singing, I'm sure that's the least of their worries.
Tim Halperin reminds me of a lot of contestants: one part Kris Allen, one part David Cook, one part Matt Giraud, one part amazing. He's the kind of guy that will sneak up on the producers and win if they aren't careful. (He's in.)
Julie Zorrilla: I like you, but perhaps you need to expand your wardrobe beyond funky skirts. She reminds me a bit of Kat McPhee: she's a pretty girl with a lovely voice, but doesn't really feel the songs. The judges agree with me, but put her through.
Scotty McCreery and John Wayne Schulz get the two cowboys, only one can make it edit, which is sad, because they both seem deserving in their own way. The amount of time spent on Scotty tells us immediately who is going through. I do enjoy Scotty's personality: he's self-effacing, funny and really does have an amazing instrument.
Jovany Baretto, of the shirtless audition, is also through. I love his voice, I'm not so sure about him.
Lauren Turner makes it through, but she sort of over-sang her song for top 40, so it's hard to say without any other musical examples.
Taiwan (?) Strong and Karen Kelly are out, again without any music to say they were good or bad. Rachel Zevita gets the we love her but we're going to let her go edit, but makes it through. (Side note: I love how her outfits seem to scream unique at us. Especially the tie necklace she wore tonight. If nothing else, at least we have one fashion plate in the top 24.)
Kendra Chantalle is in (and thank goodness after her "Blackbird" duet yesterday) as is potential villain Jordan Dorsey (who has a lovely voice.)
Lauren Alaina. Look. I want to like her. She reminds me of Allison Iraheta, in that she is a genuine teenager, except Lauren seems a) more spoiled by her parents and b) more readily pimped by producers. (Which makes me wonder if I would have hated Allison had she been truly backed by the powers that be.) She's dressed for the psychedelic rodeo, but she's in.
Stefano Langone is in with a mediocre original song, while poor Jackie Wilson is told she isn't consistent enough. (The irony being that they've already let in plenty of inconsistent contestants.)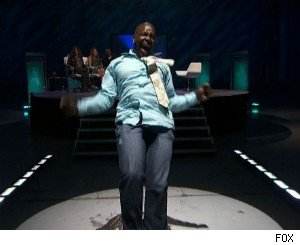 Jacob Lusk commits a cardinal sin in my book by singing "A Song For You" (which is Elliott Yamin's song. Period.) He's still in. Pia Toscano has a lovely controlled performance and deservedly takes a spot.
Oh James Claude Van Durbin. I've been trying to defend you. But you sang "A Change is Gonna Come" (albeit the best he's sang anything, and with a lot of control I haven't seen from him before) and name checked the very man everyone is comparing you too? Oh honey. Even though you made the top 24, good luck making the final 12 or 13 or however many.
Casey Abrams. Let me take an aside here. I know he isn't going to win. There's no way the producers of Idol will let it happen. But this 19 year old has more soul, and more talent than any other person here, and I'm really pulling for him to at least make the tour, just so I can talk about playing string bass with him. (Also loved his comment on making himself sexy. I love a sense of humor in an Idol contestant.)
Thia Megia and Jessica Cunningham go in to the room together. I have to admit I still don't get Thia, but she is the better singer of the two, and Jessica's ego over the fact that she's auditioned seven times and it was her birthday totally turned me off her. (Also good luck on an eighth audition after flipping off the cameras.) Thia: please let someone choose your wardrobe for you.
Then it was down to Brett, Jacee and Colton. All of them could have been chosen and I would have agreed on some level. However I'm glad Idol chose Brett. And not just because Brett's amazing. I've been arguing against Jacee for weeks, because his voice hasn't dropped yet, and I don't want the poor kid having his voice crack in front of millions of viewers.
Did you notice how boring that was? Me too. I can't wait for the actual show to start.