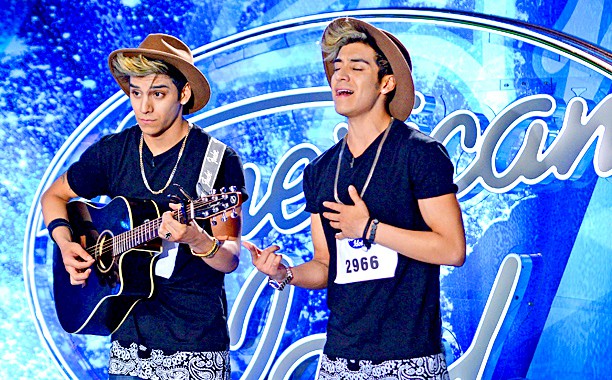 After three weeks of starry-eyed dreamers in city after city, there is finally a light at the end of the American Idol audition tunnel. The light this season is the city of San Francisco, where we find ourselves for the final round filled with Hollywood hopefuls. For the past week, FOX has promised us they saved the best for last. Did they?
First we meet Katherine Skinner, a 15 year-old who decided to audition after being inspired by her psychic cat that appears to only have one eye. She's rockin' her "pimp coat" given to her in the late 70's by Bowie after partying together. (What is she even talking about?!? She has me sold based on her stories and personality alone.) I can't decide if she's a little too much, or just enough for this show. I'm almost scared for her to open her mouth to sing, because I am so intrigued by her and I don't want her to stink. No worries there. J.Lo thinks she's "made for a stage" and is just the right amount of "cray." Harry thinks she's "really talented" and Keith calls her "bold and fearless." She gets that golden ticket, and my fingers are crossed that we will get to see a lot more from her in Hollywood. #Meow (you know it's not a review by me unless I throw out a mindless hashtag that serves no purpose).
Our next contestants give me a severe case of deja vu. Erika David, 25, reminds me of that girl from the Real World who's now Mulan on Once Upon a Time. Chandler Leighton, 20, is easily a mini Daryl Hannah from back in the day. I kind of want the judges to throw water on her to see if she has any mermaid side effects. And we have Ryan Pinkston, 27, who might want to consider a name change, because my memory tells me that's the same name of the kid from the original seasons of Ashton Kutcher's Punk'd. It's a yes for all three doppelgangers, and I am still hoping Daryl Hannah makes a splash in Hollywood.
One of the things I love most about the audition rounds of Idol is how casual Ryan Seacrest looks. I much prefer his audition look to his prom night-inspired live show look. And at least once each year that I watch, I wonder to myself where Brian Dunkleman drifted off to after Idol's original season.
Andrew Bloom, 17, is up next, and Keith is reminded of Tim Tebow as he enters the room. I personally don't see the resemblance, but maybe that's because I don't actually speak football. His good friend, Ryan Bailey, Olympic silver medalist, is there to cheer him on. Again, that's lost on me, because all I remember about the London 2012 Summer Games are One Direction and the Spice Girls reunion from the closing ceremonies. (It still lives on my DVR, in case anyone missed it.) Ryan may have scored silver in London, but Andrew scores gold in San Fran.
Samuel Prince, 22, decides to add some Latin flavor and casts the judges in his own telenovela. Jennifer, Keith and "Henry" Connick, Jr. all join him on the floor to act out a scene. They all bring a smile to my face, immediately followed by a sadness in my heart. I really do miss me some Ugly Betty. Samuel doesn't win the judges over with his voice, and it's a no. (I give him snaps for doing a Bieber song, because I myself am a dedicated Belieber. NO JUDGEMENT!)
Rayvon Owen, 23, really impresses the judges with a Katy Perry cover of "Wide Awake." I'm just not feeling it and am almost "Fast Asleep." He seems like a great guy and gave a good audition; he's just not on my radar.
I need to take a moment for this public service announcement: to everyone reading this, I need you to know that what the tabloids have been telling us for years is actually true. Celebrities truly are just like us!! I just saw J.Lo use a smart phone!!! I KNEW I COULD BE HER FRIEND! (If you tell me she pumps her own gas, though, I won't believe you without photo proof.)
Next up are twins Ezekiel and Jeremiah Cardenas, 20. They look like they would be the perfect Idol package, based on their looks. It's almost like false advertising when they walk in, because in my mind they are going to be amazing. They're not, and it's a no.
IDOL FAVORITE ALERT. Finally, we meet Maddy Hudson, 16. I really like her, but all I can see at first is her bold lipstick and I'm distracted by it. Everything about her wins the judges over, and J.Lo even compliments the lips. (Shows what I know.) It's total "goosies" for Jennifer, who thinks she could win the whole thing. I love her and would like to see her go far.
So did American Idol really save the best for last? Based on this episode, I wouldn't bet my golden ticket on it. (That is, assuming I had one.) Thursday night is part two of the San Francisco auditions, and maybe that will live up to the hype FOX has promised. Until next time!
[Photo via FOX]