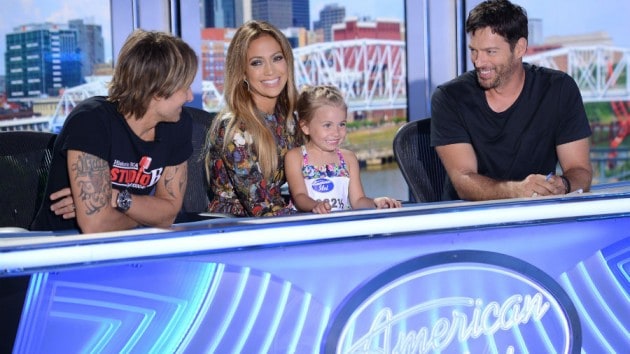 Episode two of American Idol and I'm still watching, so this season is off to a pretty good start for me. Any time an episode begins with a Kelly Clarkson flashback, I'm happy. She's the golden child of the series, as well as my secret best friend. We get a montage about the panel where Jennifer says "It's not about the judges," and somehow, I believe her. Remember when I referenced J.Lo falling on stage in tennis shoes? Now it's her turn to reminisce about that experience. We are still in Nashville for this round of auditions, and here's what Music City served up last night.
First up we are introduced to Andrew Arnello, 22. I give him props for quoting "Seacrest, out!" and for his amazing FOX News voice. I feel like maybe he's trying a little too hard in the personality department, and the judges wonder the same thing. He sings and is described as being a "caricature" and "silly" by the judges, but he somehow wins them over and it's a yes from all three. As he exits, I'm almost certain he is hugged by Jessie Spano, complete with the hair and wild pants. I hope she travels to Hollywood with him. She's so excited.
Actress Loren Lott, 21, is up next. Her personality is spot-on but her performance is a little too pushed. The judges ask for a redo, and she impresses two of the three. Not only do these kids get a ticket to Hollywood, but they then get to sign an autograph wall AND throw/blow a handful of glitter confetti into the camera? I'm officially jealous.
We come back from a break to the shocking news that Ryan Seacrest hasn't revealed all of his jobs to us. It appears he is a pedicab driver, giving Idol hopefuls rides around the city. I didn't know his little legs were so strong.
Next we have Trevor Douglas, 16, who has the honor of introducing the term "sugar-coated puberty" to the world. He's a self-proclaimed math lover and science geek, so he's already speaking a foreign language to me. It's a yes from all three judges for Bill Nye the Science Guy, Jr. After Trevor, we have Piper Jones, but we don't get any interview footage or backstory on her, which is a shame because she gives an excellent audition. She gets the golden ticket, but I feel cheated. I want to know more about her.
Kelley Kime, a 23-year-old single mom, brings her daughter into the audition with her. Her little girl sings along to "Let It Go" and J.Lo weeps a little (along with moms across the land who can't seem to escape that song). The daughter gets a ticket, and luckily mom does, too. (Side note: where are the judges' perfectly placed Coca-Cola cups? Have they been extinct on Idol for a while and replaced by these plain white Styrofoam ones?)
Next we have our first batch of some of my favorite people: the No Name Rejects. I feel bad a little part of their stories are shown, they break down and cry to the camera, and they don't even get to have their names shown on TV. I like them because I just like people who chase a dream.
We now meet Garrett Miles, 25, and his roadie dad. Garrett is blind and brings me to my first almost-tears of the season. He not only performs "Proud Mary" to the judges' delight, but he also puts his own spin on a J.Lo song from the movie Selena. He wins the judges over.
Up next is Clark Beckham, 22, a street corner performer from right there in Nashville. He's so good he brings peace to me and my feelings about Jennifer's blue nails. It's a yes from two, but Harry's not feeling him. Luckily, he gets the ticket; otherwise I would've been prompted to throw my Christmas tree out the window (you are not J.Lo… don't judge me for still having my tree up). After Clark, we have Gina Venier, 24, and she brings her "bits and pieces" with her. She's described as a "funky girl" and I like her a lot. She's the first I've seen to bring her own musical egg shaker, the most-coveted instrument in elementary music classrooms everywhere.
Cody Fry, 24, performs "Somewhere Over the Rainbow," and Harry thinks America is ready to embrace his style but I'm not. He seems like a good kid with great talent, but it's lost on me. Next up we meet the vibrant Hector Montenegro, 24, a master cosmetologist. I don't know if that's a real term or if he made it up, but I like it. I shall now refer to myself as a master television guru.
Cue the second round of No Name Rejects. Maybe they could all start a super group together?
Sarina-Joi Crowe, 19, is up auditioning for the fourth time. Perseverance pays off, and it's a yes from all three judges. It's also a yes for Alison Peratikos, Jake Black and Steffi Ledbetter. We get some season 13 flashbacks that I don't relate to, because I jumped ship after Hollywood round last year. Savion Wright, 22, returns this season for another try.
Then it's goodbye to Nashville, and hello to Kansas City! The traveling Idol tour bus first pulls into KC, MO. Zack Kaltenbach, 22, is first, and I think I liked him better when he was on MTV's Real World/The Challenge and went by the name Chet. I'm happy he's ditched the bow tie.
Next we meet energetic Naomi Tatsuoka, 24, who is so far over the top she's just right. I couldn't tell if she was doing a parody of a performer at first, but she dropped to her knees like it was "Tequila Tuesdays" and won the judges over. And if Aidy Bryant doesn't do an impersonation of her on Saturday Night Live this weekend, I will cry foul. She is too great a character to be ignored.
The kid with the paint on his face with only one name talking about a metaphor for symmetry is too deep for me to handle. His performance and origami skills secure him a ticket to Hollywood, so the judges were feeling him. Next is Lovey James, 16. Lovey is a stage name, but sometimes that works on American Idol. (I'm looking at you Tiffany Montgomery. Don't think I didn't notice in season one when you showed up for the Hollywood rounds with a brand new name… Ryan Starr!) It's love for Lovey, and she's in.
Finally, we meet Jess Lamb, 28. My first thought is "Beetlejuice!" when she enters, because I get a total Winona Ryder as Lydia Deetz vibe. I'm somewhat fascinated. Are those white feather earrings or feather extensions in her hair? I find her to be very dark, which is ironic since she performs "Ain't No Sunshine." It isn't until she receives her golden ticket and Harry joins her on piano that I begin to see the light.
And that brings us to the end of the first week of season 14 auditions! Until next time!
[Photo via FOX]
Tell us what's wrong with this post? How could we improve it? :)
Let us improve this post!