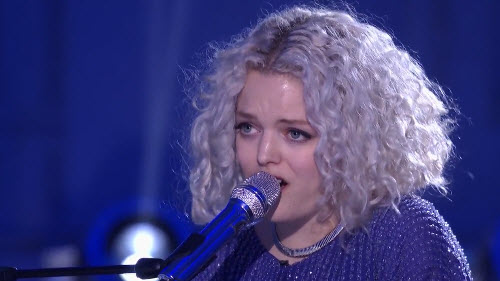 It's the final week where the judges have control on American Idol, and it's the last chance for 12 of the top 24 to impress them and make their mark. Tonight the focus is on a final solo number, as tomorrow will be all about the Idol duets. Next week will mark the return to the Idol main stage, but for now we're still in downtown LA in the faux Vegas Greek mall.
Shelbie Z, 23, Sumiton, AL. We learn that Shelbie has a fear of wet paper, much like I have a fear of Gretchen Wilson songs. Shelbie continues to taunt me with more than just that Z, as she delivers "Work Hard, Play Harder" by none other than Gretchen Wilson herself. (This is not the way I would want to kick off the show.) Shelbie is determined to make the hanging microphone scarf a trend. Keith thinks she "sacrificed the whole song" by singing in a lower key, just to hit the last note. Harry thinks it's a "solid performance" but wonders how it will "stack up" to the other singers.
Manny Torres, 21, Flushing, MI. Manny delivers a Coldplay number with all the enthusiasm Chris Martin delivered at the Super Bowl. (And that's not a dig; I'm one of the seven people on earth who enjoyed Coldplay's portion of the half time show.) I feel like it's more Coldplay by way of Lionel Ritchie, complete with a bellhop costume. Jennifer would like to have seen more connection to the audience, while Keith thinks the song suited Manny's spirit rather than his vocal strength.
Kory Wheeler, 27, Nashville, TN. Well, he sure does have pretty blue eyes. Kory delivers an unFrozen "Let it Go" that Harry calls "pretty good," but feels was lacking something "special." Jennifer thinks it's the "most comfortable" he has been on stage. I don't think he'll be around after tomorrow night, but what a journey his pretty blue eyes have been on. (Did I mention I really like his eyes?)
Amelia Eisenhauer, 16, Nashville, TN. I find it ironic that Amelia performed "Wake Me Up," because I'm not sure if I slept through this number, or if she slept through this performance? It's not a performance I would expect to see this far in the competition, and the judges are quick to question her song choice. I don't think the odds will be ever in her favor, and tomorrow could be the night we say goodbye.
Jenn Blosil, 23, Brooklyn, NY. As if I couldn't like Jenn any more than I already do, she chooses a Justin Bieber song, and there are no apologies necessary. #SORRY This gives me flashbacks to her original audition, where she parked it at the piano to give the first rendition of "Radioactive" that I've ever enjoyed. Harry thinks that Jenn herself is a "breath of fresh air," but thinks the majority of this performance was "extremely out of tune." Keith commends her "originality," but he and Jennifer side with Harry on the overall sound. (Good thing I'm tone deaf… I truly thought it was a wonderful performance.) If Jenn is cut tomorrow, I will throw things.
CJ Johnson, 29, Memphis, TN. Just when I was ready to write CJ off for good, he comes out of nowhere and delivers this performance of Edwin McCain's "I'll Be." I feel that it's the first truly great song choice of the night (other than my Biebs, of course), and the judges echo my sentiments. (I swear I thought it as he was singing, before the judges even spoke.) I didn't think CJ would make it past this week, but after this number, I think he might have a spot in the top 14 reserved. (I might suggest a stronger deodorant for him, though.)
Lee Jean, 16, Bluffton, SC. The good news of the night is that Lee didn't try and shush the audience this time. His version of Ed Sheeran's "Runaway" has the judges questioning his song choice as well, but they seem to really like him as a person and a performer. Harry calls it "one of the better performances of the night."
Trent Harmon, 25, Amory, MS. Trent delivers a welcome performance after the drama that surrounded him during Hollywood week. I feel that then the focus was more on his illness and not on his music, so it was good for me to see him in this light tonight. (I wasn't on board until this episode.) He delivers a lesser known Chris Stapleton number that connects with the audience, as well as the judges. Jennifer declares there's something about him that "gets to my heart." Keith commends his "tremendous song choice," and Harry refers to him as "one of the most gifted vocalists here."
Tristan McIntosh, 15, Nashville, TN. The most impressive part of Tristan's performance was her reciting of the alphabet backwards during her intro. She's one of my favorites of the season, but I don't think Carrie Underwood's "Good Girl" did her any justice. Jennifer thinks the performance "picked up steam" by the end, and Keith reminded her of the importance of finding just the right song.
Adam Lasher, 28, Danville, CA. And here you have this season's best kept Idol secret. As I've mentioned 72 times before, Adam was my favorite last season, and I predicted he would go all the way to the finals. Then, the Idol gods laughed in my face, and he was cut during Hollywood week. This season, he's been suspiciously MIA from the performance rounds, and for the first time, we get to see a full length performance that is actually aired. Adam delivers "Black and Gold" and I am all about it, but the judges are seeing black and blue, because they beat up this performance. Harry goes as far as to call his performance "wishy-washy." (What a blockhead.) I whispered to the wind that I want Adam to survive tomorrow night's elimination, so let's hope it's from my mouth to the judges' ears.
Dalton Rapattoni, 20, Dallas, TX. Can we just revel in the fact that I nicknamed this kid Boy Band Billy Idol the very first time I saw him, and this night he delivered a Billy Idol song? (Hey! Maybe my whispers in the wind do work?!) He gives a "Rebel Yell" that harkens back to Adam Lambert, and I think we have another Lambert in the making. J.Lo thinks he is "as pretty as can be" and calls this a "performance, performance, performance." (I think that means she liked it? That, or she found Paula Abdul's Coca-Cola glass and took a few sips.) Harry calls it a "phenomenal performance" and Keith believes he's created his "own genre."
Olivia Rox, 17, Agoura Hills, CA. Proving that she's "Confident," Olivia delivers the Demi Lovato anthem while donning a dress made of rubber. (And if that doesn't take confidence, I don't know what does.) I'm a little underwhelmed by the entire production, but the judges are all about it. (It's like reverse reactions for when Adam Lasher performed.) It's a standing ovation from Keith, who declares "and the show starts now." Harry calls it "really strong," and Jennifer would like to see more of a connection to a song so powerful.
Tomorrow night these 12 will be paired with six former Idols; Chris Daughtry, Jordin Sparks, Kellie Pickler, Haley Reinhart, Constantine Maroulis and David Cooke. By the end of tomorrow night's two hours, the 12 will become seven, as five will be sent packing.
[Photo via FOX]
American Idol Season 15 Episode 13 Review:
Summary
The rest of the top 24 American Idol contestants receive their chance to perform in hopes of impressing the judges.