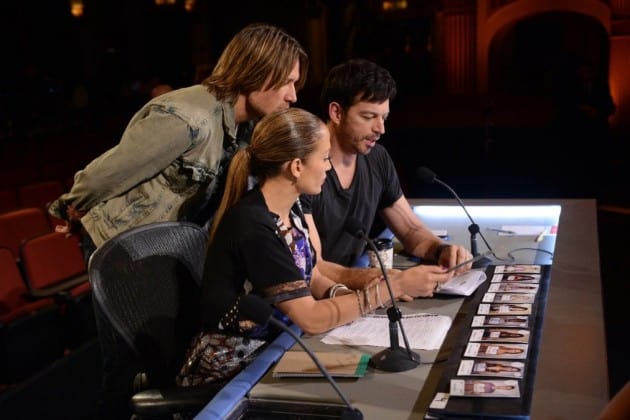 Welcome to week five of this season's American Idol, where we finally land in Hollywood. Two hundred and thirteen Idol hopefuls have ridden their golden tickets here on a dream and a prayer. Ryan Seacrest claims this will be "the most intense week of their lives," which makes me think maybe he didn't watch everyone's back story clips? I'm pretty sure even the most grueling week of a Hollywood audition isn't as intense as being homeless or dodging bullets in your own neighborhood.
The episode begins with so many flashes of so many contestants, I barely have time to form any thoughts, let alone complete one. (Story of my life?) The judges begin by randomly calling contestants to the stage with no explanation to them. We are privy to the information that these are the people who auditioned with the most memorable performances in the big cities.
Up first is Jax, my sequined girl gang member so cool that she only has one name. She puts her own spin on Britney's "Toxic" and it's obvious why she's there. Next we get Mark Andrew, still in his Zac Brown beanie and beard, and Emily Brooke taking us back down to the little white church. J.Lo says she can "feel the nerves" from the contestants, and the judges aren't giving any feedback at this point. Tyanna Jones shines on the stage with her purple (wait, or is it blue?) fro, followed by Ruben Studdard 2.0. (I believe he's going by the name "Hollywood" Anderson this time around.)
Adam Thrasher is called, and he is easily one of my favorites of this season. After his original audition, I sent him a tweet and he then followed me on the Twitter, making me think we were about to become instant besties. As it turns out, it appears he's following every person who has shown him some Twitter love. Well played, Thrasher–way to reel us all in early and secure votes. His performance has me Fallon in love all over again, and Jennifer, Harry and Jimmie think he's a superstar. (I'm Jimmie, btw.)
Garrett Miles, the visually-impaired cowboy, reminds us of his talent with his version of "To Make You Feel My Love." I find myself rooting for this guy, and it's more than the fact that he's blind. He just seems like a good guy with a good heart, and I like all things good.
Trevor Douglas, the resident geek, makes a joke about the out-of-tune guitars that seem to be plaguing the stage, and Joey Cook has traded in her "squeeze box" for a ukulele. She wows me with her take on Miranda Lambert's "Kerosene."
Amber Kelechi almost buckles under the pressure, experiencing an anxiety attack. She's worried that she's about to blow it and says this is the only chance she'll have to make life better for her family. She's only 16, so it's easy to see why she would think that. I just hope this show has mental health handy to ensure these people that life will indeed go on post-Idol. For every Carrie Underwood, there's a hundred Alexandra Bacheliers. (No, I don't expect anyone to get that reference without a little Google action. I just wanted to throw it back to season two.)
The 38 who were chosen to perform on Day One find out why they were chosen, and all are moving through to the next round. I get goosies for them, and it's the end of day one.
Day Two in Hollywood begins as the next 175 contestants are called to the stage. After the judges hear from 20 contestants, we get the dreaded lines of 10. Ten are called to step forward, and only one line moves on. As if they aren't all on edge already, Harry reassures them that half of them will be going home by day's end. I don't know how they are handling it, because I'm sweating on my couch ready to choke on my boxed wine. (Yeah, I'm classy like that.)
Priscilla Barker ends up in the eliminated line, but I would've sent her through just on her choice of song. Anyone else catch that she sang "Butterfly Fly Away" from The Hannah Montana Movie? Jaq Mackenzie, flanked by the spirits of her great grandma and great aunt, proves to be one of the "cool kids" that's gonna stick around.
Michael Simeon proves he's more than just J.Lo's "boy next door," slow dance partner from his original audition; he's a warrior. I love him, not only because he's good, but because he reminds me of Matt Durning, Kelly Taylor's Season 10 boyfriend from Beverly Hills, 90210.
Just as Gabby Z (??) takes the stage, it's clear to me once again, for the second time this season, that Dish Network hates me and doesn't want me to see the end of the episode. I don't even know if I spelled her name correctly, or if she advanced? One day, Dish Network, one day…
Thursday night our Hollywood experience continues…until next time!
[Photo via FOX]