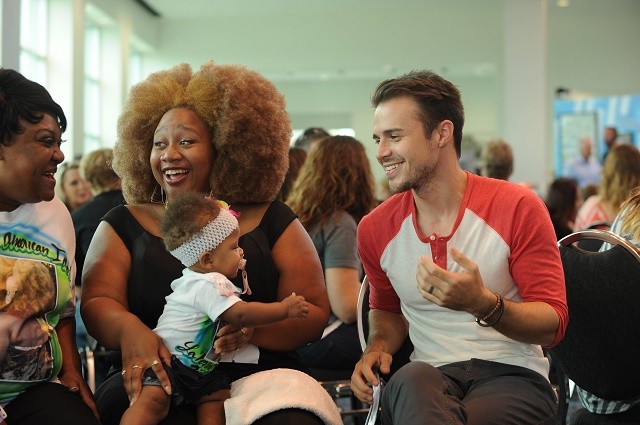 Premiere week continues for the farewell season of American Idol, as we land in the Little Rock, Arkansas. On hand this time we have Season 8 champ Kris Allen, who seems to be unaffected by the hands of time. (I believe he might have even gotten more adorable.)
There's no time wasted getting to our first contestant, and we meet Cameron Richard, a 15 year old from Raceland, LA. It appears he is Harry's long lost little brother from the bayou. We get to hear a little of his back story, how he overcame the complications of a cleft palate as a small boy, and wasn't hindered by a disability. This is what Idol is all about, for me. I am so happy that gone are the novelty acts of not too many seasons ago, and we get to see real people showcase real talent. Like most everyone else, I too enjoyed the horrible singers. Unlike most people, I tired of that after about a season. I don't feel like there's a mean spirit surrounding the audition rounds anymore, and if I'm going to sit through two hours of this, I much prefer to see people such as Cameron. It's an easy golden ticket for him, as it should be.
We get a blast from my teenage past as a Color Me Badd song plays in the background. Shoutout to 1992, when I saw them open up for Paula Abdul in Kansas City on her "Under My Spell" tour. Also, shoutout to Donna Martin and the kids at West Beverly. (Somewhere in this world, there is someone who gets that reference.)
Dalton Rapattoni, a 19 year old from Dallas, has all the stylings of Billy Idol, boy band edition. (Meaning, of course, that I already love him.) He's a vocal coach who sings a song from Phantom of the Opera, and wows the judges with more than just his mesmerizing eyes. Keith thinks he has "artistic contribution," and it's an easy yes for all three.
We are given a montage of a string of broken hearts from folks trying, but not quite making the cut, one last time.
Next up is La'Porsha Renae, a 22 year old from McComb, MS. And with that, I can infuse some of my vast knowledge of the pop music industry. McComb, Mississippi is the hometown of Parklane Academy, where one Ms. Britney Jean Spears attended school. (The more you know.) La'Porsha has a voice as big as her hair, and it's an astounding yes from all three judges.
Maddie McAllister, 16, from Ashdown, AR hopes to get to Hollywood on a chicken wing and a prayer. (Seriously… she auditioned with her pet chicken.) Harry thinks she's "so young," and I think that's his nice way of saying "not good enough." J.Lo is literally chicken of the chicken. I'm just sad that the poor animal doesn't even have a name. Rude.
Keeping with the "down on the farm" theme, we meet Trent Harmon, a 24-year-old farm boy from Amory, MS. He looks like he could be the next big thing to hit the Opry, but the R&B sound that comes out of his mouth takes the judges (and me) by surprise. He's Harry's favorite "so far," and he's Hollywood bound. (I just hope he can learn to control the John Mayerish faces while singing.)
Next stop: San Francisco! Lee DeWyze, Season 9 champ, is on hand this go-round. I don't really know much about him. I don't even know if he ever released a single or an album? I think he was crowned on a season when I was mostly out to lunch.
We first meet Brook Sample, a 28 year old from Tucson, AZ, and she is easily and instantly one of my all-time favorites… before she even sings. Her interview package has me laughing, and I'm haunted by her take on "Cold Day in July" by the Dixie Chicks. Harry notes that she apologized three times during her audition: first for her last name, second for her waitressing job, and third for messing up the lyrics. He advises her to allow herself some self-confidence, and Jennifer appreciates her self-deprecating demeanor. (I just want to be her friend.) Her personality and her talent give her three yeses, and J.Lo thinks America will love her as much as she does. True story. Like I hoard toys from my childhood, I also hoard TV moments I love by recording them from my DVR onto a DVD. (Much like each and every dance by Nick Carter on last season's Dancing with the Stars.) Brook Sample is the first contestant of this season that I will save to DVD to revisit… I like her that much.
Olivia Rex, a 16-year-old blonde and pink haired delight from Agoura Hills, CA, is the next to wow the judges with "extraordinary talent." Harry informs her they are "looking for a good bookend to Kelly Clarkson," and she proves she has what it takes to be in the running.
Our next montage moment is a string of pretty girls with pretty voices… and I think it's pretty sad that "Pretty Girls" by Britney and Iggy isn't played.
Melanie Tierce, 21, from Murrieta, CA leaves Keith in tears, and Jennifer with the goosies.
I like that this season we are getting random flashbacks of past memorable contestants. Even when it's someone I wouldn't refer to as a favorite (I'm talking to you, Bikini Girl), I enjoy the brief trip down memory lane.
Brandyn Burnette, a 25 year old from St. Louis, performs an original song for all three judges, plus a sweet scruffy Seacrest, who's sitting in. While Brandyn looks like he could be a member of a Menudo revival (that's not an insult, so please don't hate), Harry thinks he's the first contestant to get four yeses. (Maybe this year, Harry- let's not forget, that once upon a time Idol had four judges.)
We next meet two of American Idol's biggest fans, and their daughter, who was raised under Idol eyes. (Whatever that means, it just fell out of my fingertips.) Kyrsti Jewel, 15, from Arcadia, CA, gets to audition with mom and dad in the room, and they are in heaven. While she's nowhere close to being a favorite of mine, I would be ok ay if she won the entire thing this year. I am passionate about people who are so passionate about things they love. She and her family and their love for American Idol just makes me happy.
Sarah Hayes, 26, is up next. She comes to us from Middleton, CA and appears to be made up of 82% tongue ring and 18% forgotten lyrics. I'm not sure anyone reading this will get my next first season reference, but this girl is the perfect bookend to Stefanie Sugarman, who called in sick to work at the cheese factory to audition for Season 1. (She is also one of my all-time favorite contestants to not make it.) Harry throws her a bone and says he heard enough "meat" in her attempt at an audition, but Keith and Jennifer (and the rest of America?) think it's an obvious "no thank you."
For the last audition of the night, we go back to Little Rock, where we meet 15-year-old Tristan McIntosh from Nashville. We get her back story, and learn that her military mama is unable to be there because she's overseas. As Tristan tickles the ivories, the judges have tears because she is that good. Jennifer compares her to Alicia Keys, not just because of her looks, but because of her heart. Harry proceeds to read an email written by Tristan's mom that was given to him by a family member. And then, in a moment that rivals the Survivor family visit episodes, out walks military mama. Tristan cries, the judges cry, I cry… what is this show doing to me?
Welcome back to my life, American Idol. I think I am enjoying these final moments because the show has truly found its heart, and it's in large part thanks to the current three judges.
Next week, the auditions continue in Philadelphia…
[Photo credit: Michael Becker/FOX]
American Idol Season 15 Episode 2:
Summary
American Idol's search for the most talented vocalists continues with auditions in Little Rock, Arkansas and San Francisco.