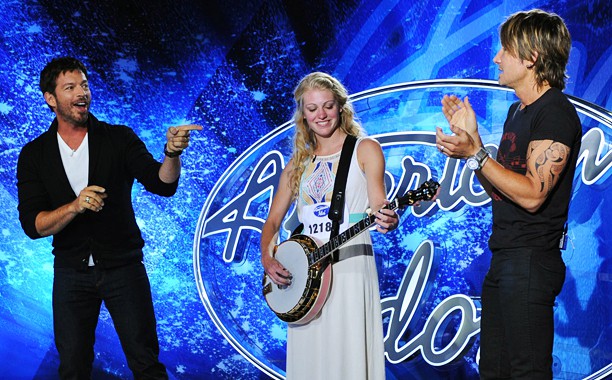 Round three of American Idol auditions this season find us back in Kansas City, where the Idol Bus Tour finalists have gathered to perform in front of the judges. I feel this the universe's way of welcoming me back into the Idol fold, since Kansas City is basically my backyard. (If my backyard were two and a half hours away via the Kansas Turnpike, of course.) As the episode begins, I am immediately filled with Instagram Guilt (I think it's a real condition) as J.Lo shares an image and I realize I don't follow her on that platform. I make myself feel better after remembering that she doesn't follow me, either.
Our first contestant of the night makes a big entrance in the form of "Big" Ron Wilson, 24, singing "Jenny from the Block." He asks Jenny herself to take the next line, and it's either a case of bad editing or Jenny's been away from the block a little too long, because the lyrics don't fit together. He flashes some chest hair to impress, but I am more distracted by the chin hair. By the time his audition wraps, I feel like we are 27 minutes into the episode. He gets a big yes from all three judges, and he's off to Hollywood.
Ian Subsara, 28, tries to rival Kristin Chenoweth while singing the scales. Unfortunately, for him, he comes up short. It's with his audition that I realize how thankful I am that these early episodes have stepped back from the mean-spirited take on the audition process, which was a staple of the Simon Cowell era. I know ratings aren't what they used to be back then, but I measure a show's worth on how it makes my heart feel. And this feels good.
If I can get an Idol vet from last season to help me out here and sound off in the comments below, I would appreciate it. I swear Casey Thrasher, 23, was a top 24 finalist last season?? I think I remember really liking him, and when he didn't make the top 12 (along with a handful of others I liked), I stopped watching. There is no flashback scene and no mention about his return, so maybe I am rewriting American Idol history in my head? (Or maybe this is a side-effect of that Instagram Guilt?) Either way, I enjoy him and it's a yes to Hollywood.
Next up to represent the accordion lovers of the world is Joey Cook, 23. She brings her Smurf-blue hair, her "squeeze box" and Debbie Gibson's bolero hat from 1989. She performs and the judges love her, but I found it hard to hear her voice over the accordion. The judges must've been closer to her than my couch is to my TV, because they heard her clearly and give her the "card." (It disturbs me when it isn't referred to as the golden ticket.) As Joey makes her exit, J.Lo channels her inner David Copperfield and appears to pull a drink from her back pocket as she sits in her chair.
Alexis Gomez, 22, is the next to audition. She has the face of Natalie Maines, the style of Deana Carter, and a sound like Little Big Town. She's a free spirit who will be drifting off to Hollywood with the other finalists. Anton Bushner, 19, performs a Keith Urban song and wins all three judges over with his smooth voice and charm. Since when are there TVs set up in the hallway with a live feed for families to watch the audition process? That takes away from the dramatic "did they or didn't they" golden ticket reveal.
Now it's time for hashtag voting! I don't get to participate in the vote, thanks to my commercial allergy I developed upon the invention of the DVR. It's a sad thing that I never get to experience the joys of "live tweeting" thanks to my condition, but I manage to push through it.
Next is Stephanie Gummelt, 18, who I thought was on helium when she entered the room. She performs an original song, and appears to have Taylor Swift's mom posing as hers outside in the hall. She cites James Taylor (shoutout) as an inspiration, and gets a yes from Jennifer and Keith. While Stephanie celebrates, Ashley Stehle, 15, doesn't fare so well. Ashley doesn't get the golden ticket, but she wins for most heartbreaking audition. Her parents, both deaf, are there to cheer her on. Her dad is wearing a new hearing device that will allow him to hear his daughter's voice as she sings for the first time. There's a love between Ashley and her parents that can't be found by getting a golden ticket, and she walks away a winner. (Why does this show insist on pulling at my heart strings and making me cry?)
Ellen Petersen, 22, is next to audition, and she brings with her the bluegrass sound of Branson. (Branson is a popular country music tourist place here in the Midwest, for all you big city folk unaware. I'm not being sarcastic, I had a friend from NYC once ask me "What's Branson?") Ellen yodels her way through her audition, performing LeAnn Rimes's cover of Patsy Montana's "Cowboy's Sweetheart" and wins the judges over. We get an impromptu performance from her with Keith and Harry of The Beverly Hillbillies theme song, which is foreign to Jennifer. "We didn't have that in the Bronx," she says.
Last up, we meet Kohlton Pascal, 21, a traveling homeless guy that loves to sing and rock a pair of boots with shorts. I don't remember if he's actually referred to as homeless, but when you move every four days with nothing but a tarp, roll-up bed and guitar, and you don't have a home, I think that makes you homeless? He gets a yes from all three, and I think it will be interesting to see him get a Tyra Banks-inspired makeover depending on how far he goes.
Thursday night the auditions continue in New York City with guest judge Adam Lambert! Until next time!
[Photo via FOX]