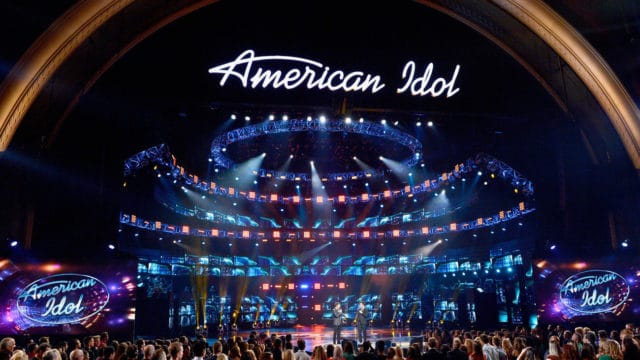 It's been fifteen years since the hit TV show American Idol first hit the screen, and ever since then devoted fans would wait around for each consecutive season to come around. From Kelly Clarkson to Trent Harmon, millions of viewers chimed in regularly to see not just the new talent, but also the judges. Each season the panel of American Idol has been filled with individuals that have something to do with the music business or at least are celebrities that know what it takes to get people's attention.
Whether they are confrontational or someone that fans look up to, the judges for American Idol have always been one of the show's biggest draws. With a show revival coming up on ABC in 2018, it's hard to imagine just who might step into the hosting gig. However, here are a few ideas that would make sense.
Simon Cowell
He did step away from the show in 2010 and hasn't seemed to harbor any intention of returning, but for the right price it seems reasonable to state that he might very well make a return trip for at least one season. Despite being outwardly sarcastic and even brutal in his judging methods at times Cowell was least honest and brought to the judging panel a level-headed approach that afforded the contestants an unbiased view of their performance.
Ellen Degeneres
Despite being a stand-in for Paula Abdul, Degeneres is a light and upbeat personality that can kind of balance out Simon Cowell and possibly create a little more empathy among the judges. Not only is she a funny woman that knows how to talk to people, but she would be a ray of sunshine that could help even out Cowell's more blunt and abrupt manner.
Harry Connick Jr.
He's most notably eye candy for female viewers, but he's also an important personality considering that he's made his career in the music and acting industries. This means he knows what it's like to be up on stage in front of everyone and be judged for his demeanor as well as his musical skill. Added onto this is the fact that Connick Jr. just seems to radiate the feeling of being an all around nice guy that the contestants and the crowd can relate to. He can add comedy or he can be serious, but he always seems to care about offering respect where it's due.
Jennifer Lopez
While it's not always seen as important to keep a healthy balance on the judge's panel, adding another feminine voice to the mix could possibly be seen as an effort to keep things on a more even keel. Lopez has been in the spotlight for music and acting as well, and knows what it takes to come from virtually nothing to the big time. Her own background is proof of this, and her perseverance to reach the limelight has become an inspiration for many would be up and comers to follow their dreams until they reach their own personal goals.
Ryan Seacrest
In the minds of many fans there is simply no one else that could possibly do justice as the host to "American Idol". Having been there since the show's beginning Seacrest became synonymous with the show and gained a great deal of fame through each consecutive season. While this would be desired it's not entirely realistic, since Seacrest is at this moment quite happy with his position as co-host on the "Live With Kelly and Ryan" show. Maybe he could come back as a guest though, just to appease fans.
Final Thoughts
The latest talks concerning a return of "American Idol" have not been all that fruitful, but fans are hopeful that a reboot might still be in the picture. It would be a shame to let fifteen years of success go down the tubes for something that could easily be fixed over a frank discussion and an easy agreement of terms. In any case the names listed above have been among the most reasonable-minded individuals to judge the show and should be considered if "American Idol" does come back.
Save