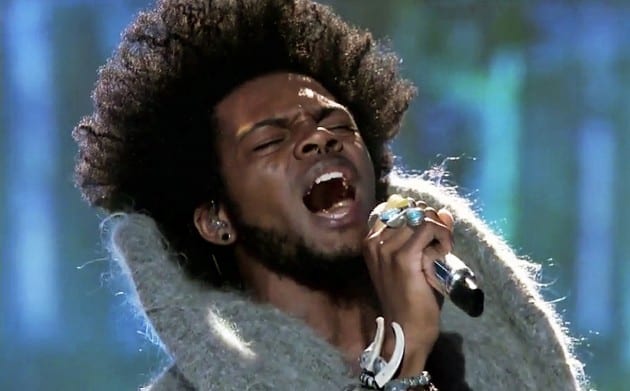 Last week was an American Idol nightmare for me. Not only was the save wasted so early, but it was used on my least favorite contestant. After almost a week of being mad, I am over it and have changed my attitude. It's kind of nice to know that the save is gone, and we will be spared the dramatics of the final "sing for your Idol life" performances. (We get the flashbacks of last week, and my blood still boils a little; I am just not a fan of Qaasim and his weird expressions.)
The show opens with David Hasselhoff (I'm not even kidding) performing a medley to showcase this week's theme: '80s night. We also get a tutorial on this week's mentor, Boy George, to let the majority of the Idol-viewing audience know who he is. Let's hear it for the Boy, as he joins the Idols on stage for the group number, "Karma Chameleon."
First to sail into the top nine? Daniel Seavey. (At least he's spared sitting there with sweaty palms for any length of time wondering if his Idol shelf life has finally expired.) Can we just discuss for a second that the American Junior will be channeling the 1980s, and was born in 1999? I can't keep saying each week how adorable he is on the stage, because at this point, adorable is over. I'm not feeling his performances, and I think he will probably go next week. He performs "You Make My Dreams" by Hall and Oates, and Keith thinks he looks good on camera, but lacks the experience. Jennifer wants him to loosen up, but thinks it's an improvement from last week. Harry wants Daniel to ditch the carefully crafted choreography moves. (Wait, that little junior-varsity cheerleader kick at the end is considered choreography?)
The next name called is Quentin Alexander, and he brings us "In the Air Tonight" by Phil Collins. I think he sounds great, and I love how theatrical he is, in a way that's not in our faces and over the top. I like to see what he will be wearing each week, and he has yet to disappoint me in that department. This performance is a "home run" for J.Lo.
Joey Cook is called for the third spot, looking every bit of the 1980s diva. (Or, as she calls it, "Madonna in Space.") Her entire ensemble is spot-on and perfect for her take on Cyndi Lauper's "Girls Just Wanna Have Fun." While rehearsing the song, Boy George tells her that he would like to see more dynamics brought to the song. Through her live performance, Harry looks lost and confused, while studying her every move. He feels that Joey seemed distracted during the performance, while Jennifer thinks it was the perfect song, but it didn't match vocally. For me, it's great. I love Joey's take on the 80s' anthem, and while her stage jumps might've seemed out of place, I thought the song was great. And apparently Boy George agrees, as he came out to the stage immediately following her performance to hug her. You go, Boy.
Our next to advance is Tyanna Jones, who seems to be slipping a little for me. (Maybe that's just because she shot out of the gate so strong from day one, though?) Tyanna resurrects Whitney Houston's "I Wanna Dance with Somebody," and I think she could've shined brighter on a Whitney ballad. I personally liked the rehearsal clips better than her actual live performance. The judges don't rave on her, but they don't come down hard on her, either. Harry likes it when artists are in the driver's seat, and he feels it's clear that Tyanna knows that she's in the driver's seat.
Spot number five goes to Jax, who fits right into the 80s' first-name only female category, right there next to Madonna and Tiffany. She delivers a completely unique performance of "You Give Love a Bad Name" by Bon Jovi, and it works for me. (I sometimes think she and Joey have similar vocal stylings, but my legal tone-deafness could be wrong about that.) I don't know how much I buy the hardcore chair-kick she does at the end of the song while singing into a glitter microphone, but maybe she's channeling her inner girl gang self I pretend she used to be a part of. Jennifer declares "This is Jax!" and Harry thinks it was originality that brought her this far, and it's intrigue that's keeping her here.
Nick Fradiani is called next and delivers "Man in the Mirror" by Michael Jackson. I want to like it, but all I can think of is Kris Allen's Season 8 performance of the same song, and Nick is shadowed in my eyes by that. Harry is all about it, thinking it's the perfect song choice with fantastic vocals, and he wants Nick to be more than just "the hot guy" of the competition.
Clark Beckham, the true hot guy of the season, takes the seventh spot this week. I don't ever expect my favorites to go, but I know that nobody is ever truly safe, so I always breathe easier when Clark is called. He channels his inner Police-man and sings "Every Breath You Take." Keith thinks he brought the melancholy and showed another side that hasn't been seen yet, while J.Lo gets a case of her signature goosies. Clark also marks the second American Idol hopeful to follow me on Twitter, after early-on fave Adam Lasher. (So what if he promised to follow everyone who retweeted him? It still counts. It's the little things in my reality TV-loving life that make me happy.)
The eighth spot goes to Qaasim Middleton, which I pretty much expected to happen. After being saved from elimination last week, I just knew that he wouldn't be one of the two eliminated this night. (The Idol gods are funny like that.) He sings "Addicted to Love" by Robert Palmer, and I am so completely over him that I tune it all out. He claims he caught the Holy Ghost last week, and that's why he did the mic-drop. I still don't get his appeal.
With only one spot left to fill, and three contestants, my fingers are crossed for it to be Rayvon's name called next. And… DIM THE LIGHTS!
Rayvon Owen is called to center stage with Adanna Duru and Maddie Walker, and the final spot of the night goes to… Rayvon! HALLELUJAH!! He performs "Everybody Wants to Rule the World" by Tears for Fears, and Keith thinks it's a beautiful song that really showed off his strengths. Harry thinks he could do without the falsetto on every single song, but also thinks he definitely deserves to be there.
I think Adanna and Maddie were probably equally deserving of being eliminated, and I'm sort of happy we are spared from seeing Adanna perform in her fifty shades of red get-up.
Next week it's all eyes on the American Idol OG herself, Miss Kelly Clarkson. Kelly will return to the Idol stage, and the hopefuls will be taking pages from the Kelly Clarkson songbook. (Please let someone cover "The Sun Will Rise" or "Beautiful Disaster"!)
[Photo via FOX]