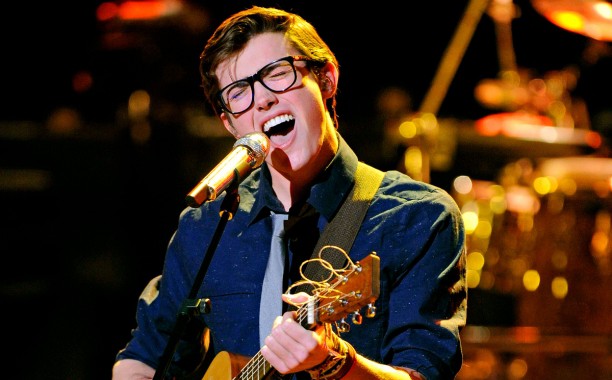 Apologies for the late review, but when Survivor returns and my DVR is already recording Arrow, it's bad news for American Idol if I forget to check my recordings. (Curse you Wednesday television!) Special thanks to the TV gods for whoever invented Hulu.
For the next two weeks, the Idol stage is set in Detroit, apparently "one of the most impressive music cities in our nation"? Huh? All Detroit makes me think of is Eminem, and I think American Idol is a far cry from 8 Mile. Even more bewildering to me is Ryan Seacrest's facial hair. What?? Our contestants will go from 24 to 16 after this week's performances, and Wednesday night was time for the boys to shine. There is no theme for the week, and each singer was able to choose any song.
First up is Adam Ezegelian. All I can think of when I see him is Saturday Night Live's Bobby Moynihan's early days, and back then I was not a fan… so he's a hard one for me to root for. He claims to be on American Idol because he has a personality "too big" for his "regular life"… (Wait- I think I missed that boat. I feel that I suffer from a case of that, too? Crap. Now I feel like I need to cheer him on.) He rocks out to a little Twisted Sister, and I like how the song title and artist are displayed at the bottom of the screen now along with the voting number.
Can we just discuss for a second how unfair it is that J.Lo gets eight characters more than me in a tweet if she wants? @JLo takes up less Twitter space than @jimbob90210. (I have so many random thoughts that go through my head each episode. I share them because they just come from my brain and fall out of my fingertips. Sorry. Also, shameless Twitter plug. #follow)
Next we get Michael Simeon, one of my favorites of the year. He unleashes his inner Michael Bolton, and it sounds like he wants to know how he is supposed to live without me. (Or maybe that's just the song talking?) His performance is pretty simple and a little more toned down than in the past, but I love it. And I can't help but wonder if that's a cotton ball in his ear, or a cheap version of the fancy ear monitors?
Savion Wright, who is referred to as "the comeback kid," is up next. I don't know him from before this season, so I don't call it a comeback. (LL Cool J would be proud.) At first I can't get past the puberty mustache, but his yellow pants win me over. His take on "Hey, Soul Sister" is okay, and J.Lo reminds him that this is night America starts voting, and he needs to play to the camera more to win us over.
Mark Andrew takes the stage to perform "The Weight" by The Band… or is it "The Band" by The Weight? I don't actually know, because sometimes I scribble when I write my notes. Oops. Whatever it is, it sounds like a song that is an original and tailor-made to his voice.
It's now time for Trevor Douglas to perform, and he brings us Gavin Degraw's "Best I Ever Had." Unfortunately, it's not the best he ever had. While his performance is great, his vocals aren't what they have been. Jennifer refers to it as an "OK day" vocally, and Keith calls it "palpable." (Which I may or may not have had to look up to know what he was even talking about.)
Clark Beckham is my 2015 American Idol. I am saying it now, and I'm sure I'll be saying it again. His take on "When a Man Loves a Woman" brings Keith to his feet, and almost me, too. (Too bad I'm lazy and have a Chihuahua on my lap.) J.Lo says his performance will give her "goosies all day" and for almost three minutes, I forget who Adam Lasher is.
Rayvon Owen is up and he brings a current hit to the stage, which I think is always a dangerous move. His take on "Jealous" by Nick Jonas has me thinking he should've left this one to the JoBro. J.Lo wishes he brought more attitude and edge to the number, and Keith reveled in his falsetto. Harry thinks he has the sound of Motown, which calls Detroit home. (And it now hits me why the city is so musically impressive. I get it now. I never claimed to be a music scholar, and I might've passed notes in Music Appreciation. My bad.)
American Junior Daniel Seavey brings a Jason Mraz song to life, complete with a tiny mandolin. I swear he looks like one of the little figures than rides on the dash of your car, only not Hawaiian, and male. And without the grass skirt. You get the picture. I think he's just adorable, and I like watching his journey. Jennifer pities America for having to vote.
Riley Bria performs an Eric Church song, which has my mind all confused. I think his voice is more Hunter Hayes, but I like that he tried something unexpected. J.Lo thinks he's sweet with a little bit of edge, and Harry wants to nickname him "Keith Suburban" due to his uncanny musical styling resemblance.
Quentin Alexander wows the judges with "I Put a Spell on You" by the Screamin Jay Hawkins (which I thought was Screamin Jayhawks, and thought it was a shout-out to Kansas at first). I'm not into the song at all, and are his teeth pierced? Is that a thing now?? Harry applauds his "brave choices," and while I don't like the song, I like his performance and his stage presence.
Nick Fradiani is "Thinking Out Loud" with his Ed Sheeran cover, and he's also one that I'm rooting for. He's a seasoned performer, and the stage looks good on him.
Last up is Qaasim Middleton, who tries to uptown funk us up. While he's one of my least favorites, he brings the house down with an amazing performance. He has a great stage presence and knows how to work the stage and the audience, ensuring that the virgin won't be sacrificed this week.
My predictions for the four that will be eliminated (assuming it's four boys and four girls): Adam, Savion, Rayvon and Riley. (I don't know if that's actually my prediction or more of my hope, but maybe they're the same? And why do I use so many parentheses when I write??) #trademark
Thursday night brings us the top 12 girls, and we shall see if they shine as bright as the boys.
[Photo via FOX]